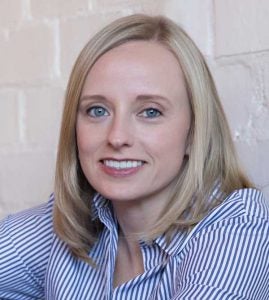 When I was a student, I often heard my professors talk about "fire in your belly."
"If you want to succeed in journalism," they'd say, "you have to have fire in your belly."
If you're a student or prospective student, maybe you've heard professors talk about this concept, too. "Fire in your belly" is difficult to define, but you know it when you see it and when you have it. It starts as a spark of ambition that turns into the blaze of passion, drive and grit. It's caring about your impact as a journalist and wanting to be part of something meaningful. It motivates you to work the late hours, ask the difficult questions and try again after you've made a mistake, and you will make mistakes.
As a student in the SOJMC, I developed critical thinking skills, honed the craft of storytelling and learned about media ethics and law, but it is that "fire in your belly" admonition that I remember most often. I've called upon the power of the fire many times, and you will, too.
In college, that fire motivated my work as editor of The Parthenon, as president of the student chapter of the Society of Professional Journalists and through internships at my hometown newspaper The (Beckley, West Virginia) Register-Herald, the Cincinnati Enquirer and the Dallas Morning News.
Later, that fire powered me through the challenges of being a young reporter in Huntington at The Herald-Dispatch, where my first assignment was covering a city government on the brink of bankruptcy. My editor handed me a copy of the city budget, along with a list of the city's accounts payable and aging, and said, "Figure out what's going on here." I had never studied a budget, but I became friends with an auditor and learned what I needed to know.
From Huntington, I went on to work for several newspapers with Gannett Co. Inc. as a reporter and editor. Some of my most memorable assignments were covering the December 2004 tsunami in Meulaboh, Indonesdia; the civil war in South Sudan and the refugee crisis in Northern Uganda, experiences that made me a better journalist and a better person.
In 2011, I became managing editor of the Tallahassee (Florida) Democrat and Tallahassee.com. I was one of the youngest managing editors in Gannett, and I called upon that fire again as I tackled the challenges of being a new leader.
"Fire in your belly" motivated me as a columnist to share my story – on the front page of Florida's capital city newspaper –  as a survivor of domestic abuse. It also drove me to become an advocate for families facing dementia after my father died with Alzheimer's disease in 2005. I've served on the Board of Directors for Alzheimer's Project Inc., a North Florida nonprofit, since 2011.
My plan was to work in journalism forever, but after 10 years in the same newsroom, I needed a change. I wanted more independence and flexibility. I wanted the opportunity to define success by my own terms. I called upon that fire again and set out to redefine my career.
I resigned as managing editor after 15 years with Gannett and began to work as an independent media and marketing consultant. I had spent several years focused on digital media and audience analysis, using a variety of metrics to gain greater understanding of audiences and how best to serve them. Those skills easily translated into my work as a consultant.
My business grew, and this fall, I founded Rebeccah Lutz Content Strategy, LLC. I combine my skills as a storyteller and content strategist to help companies and nonprofits hone their authentic story and the most powerful ways of sharing it to accomplish their goals.
I use many of the same skills I developed as a journalist, and that fire, stoked by my professors, remains in everything I do.
I hope you find your fire, too.
The W. Page Pitt School of Journalism and Mass Communications, which is never far from my thoughts, is a great place to start.