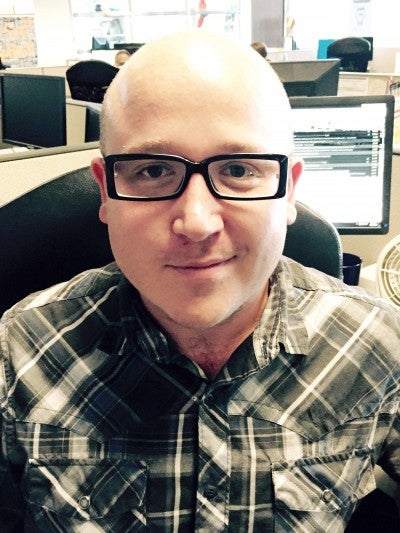 Here's the thing about journalism: No matter what your interest, you're likely to find someone willing to pay you to tell people about it.
My first exposure to Marshall University was through competition in state science fairs. As a high school student, I was intensely interested in science, particularly physics and biology. When I arrived up at Marshall's campus in 2005, I had intended on graduating with a degree in biology and had my heart set on medical school.
At about the same time I was giving serious thought to what being a physician or surgeon would actually entail, I picked up some new hobbies. A friend and I took shifts at Marshall's radio station, WMUL-FM 88.1, where we bantered, interviewed random guests and played new tunes. I was also writing about music and West Virginia for Graffiti, an alternative newsmagazine. The Parthenon, our school newspaper, also provided writing and editing opportunities. At the same time, I developed a rather expensive photography habit. One day, walking around campus, I realized my new-found hobbies may be something I could do for a living.
I switched majors after two years studying biology and never looked back. There was no doubt journalism was a better fit. Once I was in the School of Journalism and Mass Communications, I picked up more journalism opportunities, including covering crime and general assignments as an intern for The Herald Dispatch, where I was also allowed to run a blog about the music scene in the Tri-State.
When I graduated, I turned a couple interviews into a few job offers and was ready to take on a new challenge. My early options were Mississippi or Wyoming, and I do love the blues.
One thing I learned at The Greenwood Commonwealth was Mississippi is not for me. The year I spent there, however, was filled with adventure. Among the most memorable assignments was settling the controversial debate about whether the county was too far north for alligators (it was not).My editor let me take a trip south of New Orleans to bring back a dispatch on BP's Deepwater Horizon oil spill. Much to the horror of my stomach, I even did a first person narrative on an eating contest at the World Catfish Festival — and won third place.
Can you think of another career that exposes you to so many new people and unique experiences?
After the Delta, I took a job at the Beckley Register-Herald in southern West Virginia where I learned about coal and the coalfields community. I had already figured out I could feed my interest in science with health and environmental reporting, but in Beckley I came to love writing about the energy sector. It's a field rife with all manners of reporting opportunity: science, human interest, law, finance, and more. After writing an extensive series on the Marcellus Shale natural gas boom, I was hooked on complex journalism about the energy industry.
Later, I went to The State Journal in Charleston, W.Va. to write about the energy sector. The publication is owned by West Virginia Media and occupies the same office as television news station WOWK-TV 13. After letting me occasionally play around as a videographer, they even brought me on television for some live reporting.
With experience as an energy reporter, I took a job as a coal reporter at SNL Energy, a division of SNL Financial that integrates news, data and research for the electric power industry.
Due to the focused, specific needs of our readers, my colleagues tend to be highly-specialized in their coverage areas, often with a laser sharp focus on a particular sector or government agency. Add that to the fact that the company is not dependent on ad-revenue like traditional papers and you can begin to see there are definitely new, exciting and stable career opportunities out there going beyond traditional newspapers.
It is a challenging job that puts reporters in contact with some of the most knowledgeable people in the industry, who in turn expect us to be highly accurate, fast and comprehensive. My journalism degree from Marshall University has given me the skills needed to meet those expectations and more.