Dr. Simon Perry, Emeritus Professor

---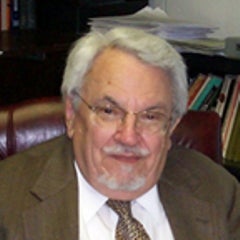 Dr. Perry received his Ph.D. in Political Science from Michigan State University in 1961 and came to Marshall from the University of Michigan in 1962. He is currently a Professor Emeritus in the department after having been Chair for many years and has the honor of being the longest serving member of the Marshall Faculty.
Dr. Perry has won many, many awards in his long and distinguished career, beginning with the Leonard D. White Award for the Best Dissertation in Public Administration (presented by the American Political Science Association) in 1963. He has also won the Marshall Distinguished Service Award (1989-90); First Drinko Fellow (1994-5); the John Deaver Drinko Distinguished Fellow (1998); College of Liberal Arts Outstanding Teacher Award (2001, 2004); Distinguished West Virginian Award (presented by Governor Arch Moore in 1988 and Governor Joe Manchin in 2007); and finally, Dr. Perry was selected as one of five "Living Legends" (by alumni, colleagues and current students) in Marshall Magazine in the spring of 2007.
Courses Taught
PSC 104 – American National Government and Politics
PSC 303 – American Political Parties
PSC 307 – Public Opinion and Propoganda
PSC 383 – American Executive Process
SC 429/529 – Politics of Conflict and Revolution
PSC 440/540 – Power in American Society
PSC 446/546 – Politics in History
PSC 485/585 – Seminar on John Marshall
Research Interests
Dr. Perry's interests lie at the intersection of theory, history, and the empirical in American politics. He is especially interested in pivotal moments in American history, such as the founding, the tenure of John Marshall, and the Civil War. His book, Morality, Self-Interest, and the Cities, was published in 1997 by the John Deaver Drinko Academy.