Flight School Application Form and Information
Bill Noe Flight School
Marshall University's Professional Pilot, B.S., degree program will help meet the nation's projected significant need for commercial pilots over the next 20 years. Its ground and flight courses lead to a series of FAA certifications and prepare graduates to become commercial pilots of single and multi-engine aircraft.
The program officially opened in the Fall 2021 semester and is growing each year. When in full operation, the Marshall University Bill Noe Flight School is expected to enroll more than 200 students and produce some 50 commercial pilots annually.
Why earn your commercial pilot's degree at Marshall?
The involvement of Marshall alumnus and flight school executive aviation specialist Bill Noe means our program was developed by an aviation professional with decades of experience;
Our curriculum is designed to teach students the principles of aeronautics, navigation, flight control and communication systems, as well as the regulations governing commercial aircraft operation;
Based on national data, a pilot's return on his/her educational investment is considerable. Professional pilots enjoy a greater ROI (estimated at 55x) when compared to other popular professions that require specialized training, including attorneys, physicians and engineers (estimated at 30-40x); and
Having a bachelor's degree will open doors to additional career options in the field, including opportunities in management or teaching.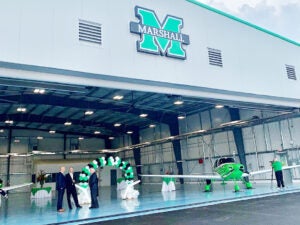 Our Facilities
New facilities for the FAA Part 141 pilot school, including a classroom building and hanger, have been constructed at Yeager Airport in Charleston.
See photos from the August 2021 ribbon-cutting ceremony.
Students will complete the flight school's FAA curriculum at the flight school in Charleston and the general education courses at Marshall's South Charleston campus and/or through the university's Online Learning program.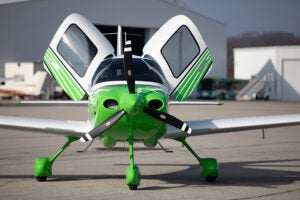 Our Fleet
The Cirrus SR20 aircraft Marshall will use are single engine, state-of-the-art small planes ideal for student training. They are fully instrumented and have a variety of sophisticated avionics, including 10" display screens, a Garmin-outfitted cockpit, synthetic vision technology, all-digital Bluetooth audio, engine and fuel monitoring, dual alternators, and weather and traffic monitoring systems and navigation. The composite 4-seater or 5-seater monoplanes feature a whole-airplane parachute that, when deployed in the event of an emergency, will safely lower the plane to the ground. Click here to see photographs of our aircraft.
Career Outlook
It is estimated that over the next two decades, 143,000 new pilots will need to be trained and ready to fly commercial airliners to meet the demand for air travel. According to the U.S. Bureau of Labor Statistics, overall employment of airline and commercial pilots was projected to grow 6% from 2018 to 2031. Most job opportunities will arise from the need to replace pilots who leave the occupation permanently over the projection period.
The median annual wage for airline pilots, copilots and flight engineers was $202,180 in May 2021. The median annual wage for commercial pilots was $99,640.
Admission Requirements
For initial consideration, all applicants to this program must meet Marshall University's general freshman or transfer admission requirements. Admission to the program will be selective each year, depending on both the number of applications received and the capacity to enroll new students. Not all applicants who qualify for general admission to the university will be admissible to this program.
Additionally, candidates for admission must provide proof of at least 20/20 vision or 20/20 corrected vision, and an FAA Medical Certificate Second or First Class provided by an Aviation Medical Examiner. A First Class FAA Medical Certificate is recommended.
Current Pilots
Students who hold one or more FAA pilot certificates will not need to repeat required courses for these certifications. Students with previous FAA pilot certifications will be required to complete a course designed to teach them to operate the airplanes in the university's fleet.
Transfer Students
Transfer students who completed college-level courses from a regionally accredited institution of higher education may receive credit for those courses. Please visit the Admissions website for more information regarding the university's transfer policies.
High School Students
Students with access to dual credit courses at their high school may be able to complete the non-aviation courses before coming to Marshall. Please check with your high school guidance counselor about this option.
A high school student who lives near one of Marshall's campuses—Huntington, South Charleston, Point Pleasant or Teays Valley—may be able to enroll in the courses as a dual enrollment student.
Next Steps
To request information and be added to our mailing list for updates about this program, please complete our online form.
Feel free to contact us with specific questions or inquiries.
Visit Our Facebook Page