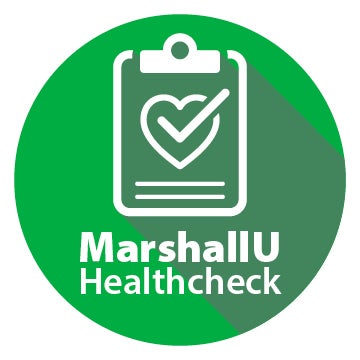 All on-campus Marshall University students must log onto MarshallU Healthcheck and complete a brief COVID-19 health self-assessment. This tool—which requires students to monitor and input their body temperature and symptoms—is intended to help ensure a safe campus. Students who are showing signs of illness are asked to stay home and follow the following steps.
Students who are experiencing symptoms can call Student Health at 304-691-1100 in the mornings from Monday through Friday.  They can also call the Cabell Huntington Health Department at 304-526-6544 from 8 a.m. – 6 p.m., Monday through Friday; the Marshall Health COVID-19 information hotline at 304-696-2900 from 8 a.m. to 4 p.m.; or the West Virginia Department of Health and Human Resources 24/7, toll-free hotline at 1-800-887-4303.
Students diagnosed with COVID-19 must remain isolated and should immediately contact Leah Tolliver at tolliver@marshall.edu for contact tracing to begin. Personal information will be kept confidential.
The brief daily MarshallU Healthcheck task is to be completed by:
Any student who has face-to-face classes on any Marshall University physical campus;
Any student who lives in the residence halls ; and
Any student who plans to visit campus that day for another reason.
Ways to Complete MarshallU Healthcheck
How to Make MarshallU Healthcheck Easy to Use from Your Phone
For iPhone
You can download the Shortcuts app to make this task easier. Once you have the app downloaded from the website, here are some steps:
In the Shortcuts app, Create New Shortcut.
Then add action.
Then click on "Web."
Scroll down to Open URLs.
Paste link: https://gateway.marshall.edu/?service=https://healthcheck.staysafetogether.org/53.
Give it a name.
To add it to your home screen, tap "…" on the shortcut, then "…" again, and scroll down to add to home screen.
For Android
Open a browser on your phone.
Type in the following URL: bit.ly/3anQDnK.
When the page opens, you should see the Marshall SSO login page.
Instead of entering your credentials, hit the "…" located in the upper right hand side of your screen. A menu should appear.
Find "Add to Home Screen" in the menu and select it.
You should be presented with a prompt to provide a name for your new shortcut.
Enter the name you would like to refer to the MarshallU Healthcheck service as, and select Add.
That's it. You should find your new shortcut on your phone's home screen.
Troubleshooting Tips
If you choose to save the MarshallU Healthcheck page, it is important to add the link to your favorites as https://healthcheck.staysafetogether.org/53. If you attempt to bookmark the link after you have opened the survey, it will save as a cached version of the page. When you next complete the survey, your responses will not be collected, and you will receive a "Not Cleared" event pass. Instructions are provided above about how to save the link to the home screen on your phone. Students can also access the link at any time through MyMU, the Marshall University app and the link on www.marshall.edu.
Please complete your survey in a timely fashion once it is opened. The survey takes less than one minute to complete. Surveys will time out after a period of time for security reasons. If your survey times out, your responses will not be saved, and you will receive a "Not Cleared" event pass.
Sanctions
Completing the MarshallU Healthcheck by 1 p.m. daily is a requirement for students, with University Conduct sanctions for students who do not comply.
Sanctions for on-campus students who fail to input their health information in the MarshallU Healthcheck app each day are similar to the sanctions for not wearing a mask and other university violations ranging from harassment to destruction of property and more. Sanctions could include:
Formal warning
Conduct probation (which limits participation in extracurricular activities and student privileges)
Probationary suspension
Suspension
Expulsion
Thank you for your efforts to take care of yourself and others by cooperating with this requirement.