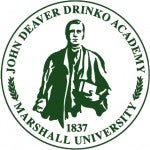 The John Deaver Drinko Academy was founded in April of 1994. In establishing the Academy, John and Elizabeth Drinko had two principal objectives. The first was to foster better citizen understanding of how the U.S. Constitution was written and ratified in order to encourage our will to collectively participate as engaged and informed voters. The second objective was to create a body of Distinguished Drinko Fellows comprised of the most accomplished members of the Marshall University faculty. Because John Drinko repeatedly attributed his success in life to the excellent instruction he had received as an undergraduate at Marshall, he asserted that the establishment of the Distinguished Drinko Fellows program was as a way of repaying that debt to the faculty.
In its first twenty five years of service to the university and the community, the Drinko Academy has established an impressive record of program development, special event organization, and sponsorship of scholarly and creative work. As we move forward to celebrate our 25th anniversary, we seek to publicize our history of achievement while also planning for the future. Our intention is to build upon what we have already accomplished while focusing new efforts on endeavors designed to invigorate our democratic civic culture.
In conceptualizing the Academy, John and Elizabeth Drinko were responding to the problem of citizen disengagement as reflected in such metrics as declining voter turnout. They were also concerned by the alarming levels incivility creeping into our political culture. Twenty-five years later, we can all certainly agree that the current state of our political culture calls out even more urgently for attention to both civility and greater levels of citizen engagement with the democratic process. John and Elizabeth Drinko, along with founding Executive Director Alan Gould and then President of Marshall University Wade Gilley, envisioned that in addition to its sponsorship of Drinko Fellow scholarship and creative activities, the Academy would model the highest standards of civility among individuals of differing political perspectives and would recognize and reward civic engagement initiatives within and beyond the Marshall University community through awards and special events programming.
Since its founding, the John Deaver Drinko Academy has championed the idea that democratic societies depend upon the collective commitment of citizens to the rule of law, to civility in debating all matters, and to active and informed participation in self-government.
Our Vision: The Drinko Academy fosters a vibrant, participatory, diverse, and inclusive civic culture.
Our Mission: The Academy will serve as a supportive educational unit to Marshall University's academic programs. It will engage in initiatives that engender public commitment to civic engagement as a means of strengthening our democracy. The Academy's activities will exemplify how free speech, mutual respect, intellectual integrity, peer-reviewed scholarly research, and original creative expression enrich our society and our country.
In recognition for quality programming, the Drinko Academy has received the following awards:
Recipient of the Secretary of Labor's Exemplary Voluntary Efforts (EVE) Award. Presented by the Honorable Robert B. Reich, Secretary of Labor, September 27, 1995, Washington, D.C.
Named a Center of Excellence at Marshall University by former President J. Wade Gilley in 1994
Recipient of a John Templeton Foundation Character Development Award, 1998
Selected as a National Free Institution Model Program by the Association for the Study of Free Institutions and Free Societies, Princeton, N.J., Spring 2004