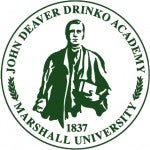 The John Deaver Drinko Academy at Marshall University is devoted to enhancing public understanding of the responsibilities of citizens to their society, particularly our sense of shared values and common purpose. The efforts of the Academy are designed to counteract the erosion of our civic culture, evident in the steady decline of citizens' participation in voting and jury duty, despite an expansion of the franchise in the 20th Century and federal laws protecting voting rights.
Colleges and universities are the obvious place to begin to address this crisis in American civic culture. As a multifaceted institution with a strong commitment to teaching and research, Marshall University is particularly well positioned to initiate an academic dialogue centered on common civic concerns.
History
The academy originated in 1985 when John and Elizabeth Drinko established a million dollar chair, the university's first, in the College of Liberal Arts.
The initial program proved so successful that in the spring of 1994 the Drinko Chair was redesigned, enlarged and renamed so as to encompass its newly defined objectives. Following John Drinko's suggestion that Marshall establish a center to examine the critical need in our society for a better public understanding of American institutions and the responsibilities of citizens to their society, the academy was established.
In recognition for quality programming, the Drinko Academy has received the following awards:
Recipient of the Secretary of Labor's Exemplary Voluntary Efforts (EVE) Award. Presented by the Honorable Robert B. Reich, Secretary of Labor, September 27, 1995, Washington, D.C.
Named a Center of Excellence at Marshall University by former President J. Wade Gilley in 1994
Recipient of a John Templeton Foundation Character Development Award, 1998
Selected as a National Free Institution Model Program by the Association for the Study of Free Institutions and Free Societies, Princeton, N.J., Spring 2004