New Drinko Fellowship Awarded April 15, 2023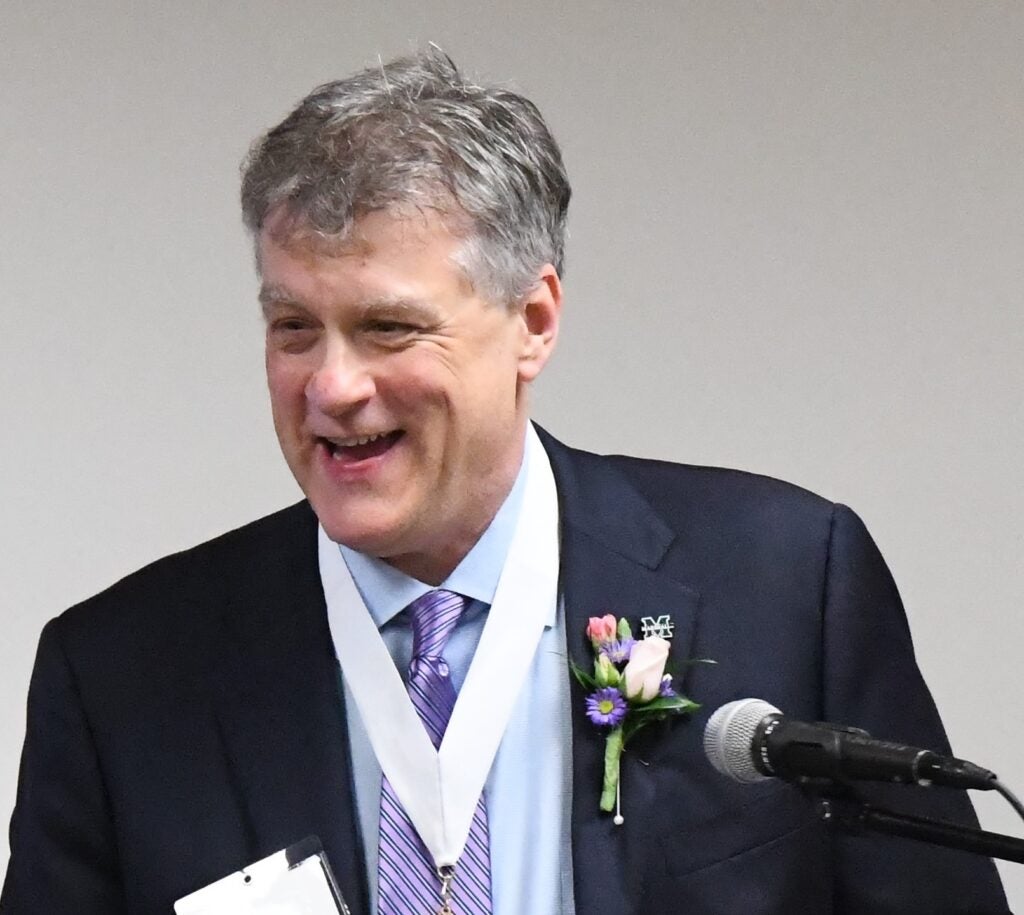 Dr. Luke Eric Lassiter (pictured), Professor of Humanities and Anthropology and Director of the Graduate Humanities Program at Marshall University, has been named the 28th Distinguished John Deaver Drinko Academy Fellow.  The award is the university's highest recognition for faculty and includes a stipend, re-assigned time from teaching, and other financial and clerical support for two academic years to undertake research, special projects, or other scholarly pursuits.
The announcement of Lassiter's appointment was made by the Drinko Academy's Executive Director, Dr. Montserrat Miller, during the academy's annual symposium dinner Saturday evening.  "It is truly an honor to welcome Dr. Luke Eric Lassiter to the ranks of Marshall University's Distinguished Drinko Fellows," Miller said.  "In addition to being an exceptional faculty member, with incredible mastery of experiential learning and community engagement, Dr. Lassiter is a prolific scholar with a national and international consulting profile."
Lassiter has been with Marshall University since 2005. He received his doctorate in anthropology from the University of North Carolina at Chapel Hill and taught at Ball State University in Indiana prior to joining Marshall.   Among his many awards and recognitions, Lassiter is a 2019 Weatherford Award winner, along with colleagues Dr. Elizabeth Campbell and Dr. Brian Hoey, for I'm Afraid of that Water: A Collaborative Ethnography on a West Virginia Water Crisis.  He is a busy researcher, collaborator and lecturer.
Lassiter was recently named President of the Historic Glenwood Foundation and has served since 2014 as Co-Director of the Glenwood Center for Scholarship in the Humanities.
26th Drinko Fellow Featured at Symposium Dinner, April 15, 2023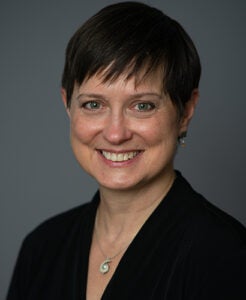 Sandra Reed, MFA, Professor of Art
Distinguished Drinko Fellow
Professor Sandra Reed, Marshall University's first visual artist to be named a Drinko Fellow, delivered the keynote address at the 2023 Drinko Fellows Symposium Dinner on April 15.  In addition to her personal creative practice, Reed described the range of Drinko Fellowship initiatives she has undertaken that redound to the benefit of students and the surrounding community.
Professor Reed's presentation began with an experiential activity, which illustrated how signatures reference individuals.  She explained referentiality as involving "a complex semiotic process, cultural learning, memory, and physiology," noting that likewise "an artist may reference a specific place or object through means other than … its direct likeness."  In describing her own creative practice, she explained that her "intentions vary from work to work and move between modes of signification based on these intentions."  Reed said: "My focus has centered on the human figure, urban landscape, and abstraction at different times over the years, yet my interest has been as much on how meaning is made as on the subject matter or content."
Professor Reed's Drinko Fellowship work has been carried out over the course of the 2021-22 and 2022-23 academic years.  After a remarkably productive first year, Reed has exceeded all expectations in her second year.
In terms of creative practice, Reed exhibited 29 new and selected works in Array, a solo exhibition in Moon Gallery at Berry College in Rome, GA from October 24-November 17, 2022 with support from the Drinko Academy, the College of Arts and Media and financial assistance from the West Virginia Department of Arts, Culture, and History and the National Endowment for the Arts, with approval from the West Virginia Commission on the Arts. In connection with the exhibition, she presented a lecture that was attended by more than 100 members of the Berry College community. Reed presented many of these works, plus additional new work, in her Drinko Fellowship Exhibition in Smith Hall 119A (the former Birke Art Gallery venue) throughout May 2023.
Continue reading here
Marshall Memorial Service Held for First Drinko Fellow, Simon Perry, March 30, 2023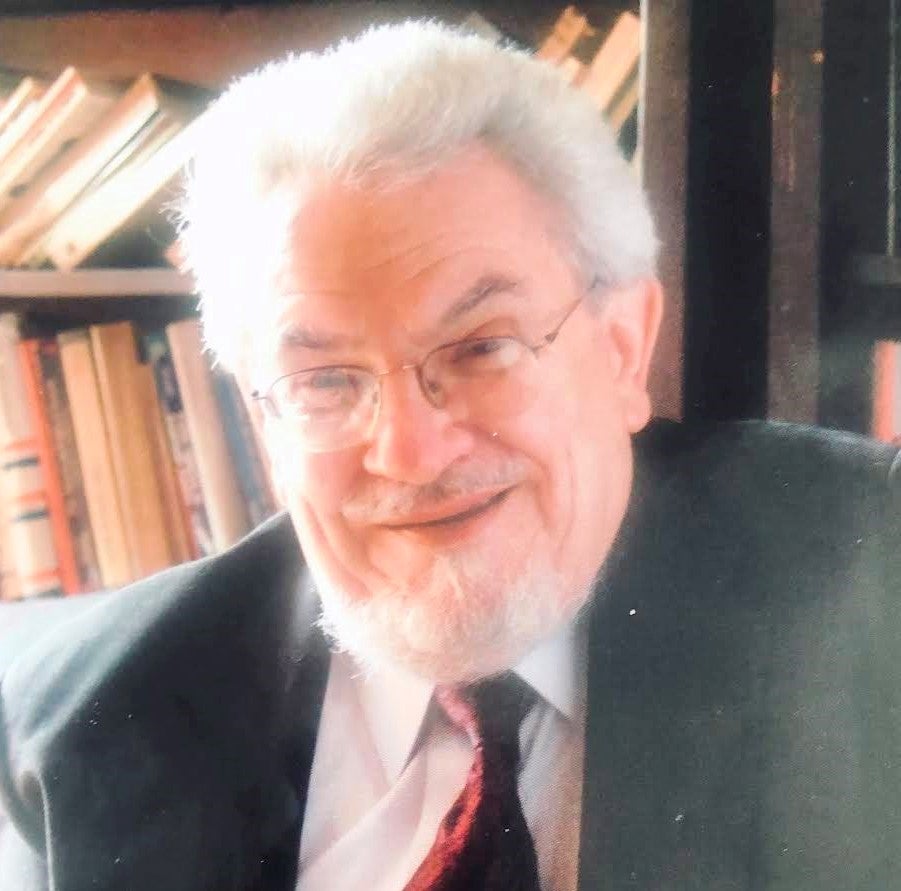 Dr. Simon D. Perry
January 16, 1931-January 27, 2023
View obituary here
View livestream here
Simon Perry joined the faculty at Marshall University in 1962. When he retired in 2010, he was the longest-serving faculty member in the history of Marshall University, beloved by generations of students and colleagues. He was professor emeritus in the Department of Political Science and served as its Chair for almost two decades.  Among the many honors he earned during his long and distinguished career, he was named the first John Deaver Drinko Distinguished Fellow in 1994.
The Simon Perry Center for Constitutional Democracy was launched in 2011 to ensure that his significant legacy continues. The Center honors his impact as the longest-serving faculty member in the history of Marshall University and as a much-beloved professor whose profound teachings changed thousands of lives. The Center seeks to inspire students to focus on how the U.S. Constitution and its application have been shaped by individuals in American history, as well as by various social, economic, and cultural forces. It approaches this mission academically and through various civic outreach efforts.
The Simon Perry Center comprises an interdisciplinary academic program with a minor in Constitutional Democracy that includes courses in political science, history, philosophy, English, and sociology. The Center offers a  university-wide pre-law program. It also sponsors the Amicus Curiae Lecture Series on Constitutional Democracy, which brings noted scholars from throughout the country to campus to lecture on issues central to the Constitution, law, history, politics, and governance.
Simon Perry believed that vigorous civic education is vital to a healthy democracy. His courses and mission continue through the work of the center established to honor him, which every day pursues his goals of bettering our world through education and outreach.
For More information on the Drinko Fellows, click here.