New Drinko Fellowship Awarded on April 15, 2023

Dr. Luke Eric Lassiter (pictured), a professor of humanities and anthropology and director of the graduate humanities program at Marshall University, has been named the 28th Distinguished John Deaver Drinko Academy Fellow.
The award is the university's highest recognition for faculty and includes a stipend, re-assigned time from teaching, and other financial and clerical support for two academic years to undertake research, special projects, or other scholarly pursuits.
The announcement of Lassiter's appointment was made by the academy's executive director, Dr. Montserrat Miller, during the academy's annual dinner Saturday evening.
"It is truly an honor to welcome Dr. Luke Eric Lassiter to the ranks of Marshall University's Distinguished Drinko Fellows," Miller said.  "In addition to being an exceptional faculty member, with incredible mastery of experiential learning and community engagement, Dr. Lassiter is a prolific scholar with a national and international consulting profile."
Lassiter has been with Marshall University since 2005. He received his doctorate in anthropology from the University of North Carolina at Chapel Hill and taught at Ball State University in Indiana prior to joining Marshall.
Among his many awards and recognitions, Lassiter is a 2019 Weatherford Award winner, along with colleagues Dr. Elizabeth Campbell and Dr. Brian Hoey, for I'm Afraid of that Water: A Collaborative Ethnography on a West Virginia Water Crisis.  He is a busy researcher, collaborator and lecturer.
Lassiter was recently named president of the Historic Glenwood Foundation and has served since 2014 as co-director of the Glenwood Center for Scholarship in the Humanities.
IN MEMORIAM SIMON D. PERRY
January 16, 1931-January 27, 2023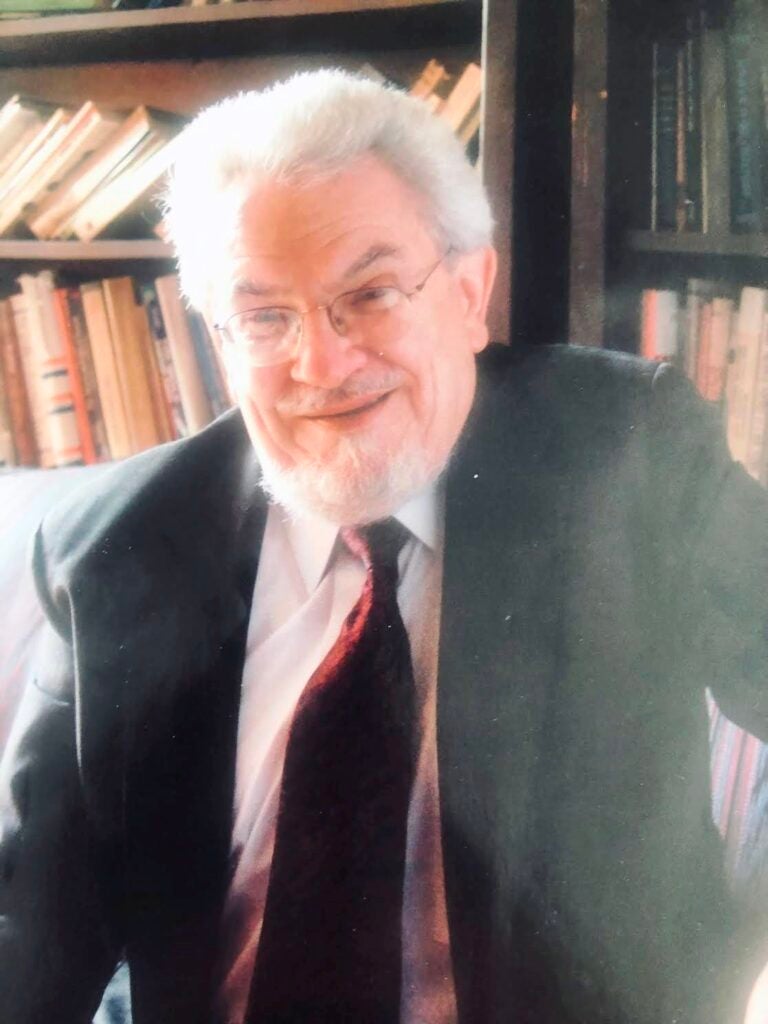 View obituary here
View livestream here
Simon Perry joined the faculty at Marshall University in 1962. When he retired in 2010, he was the longest-serving faculty member in the history of Marshall University, beloved by generations of students and colleagues. He was professor emeritus in the Department of Political Science and served as its Chair for almost two decades.  Among the many honors he earned during his long and distinguished career, he was named the first John Deaver Drinko Distinguished Fellow in 1994.
The Simon Perry Center for Constitutional Democracy was launched in 2011 to ensure that his significant legacy continues. The Center honors his impact as the longest-serving faculty member in the history of Marshall University and as a much-beloved professor whose profound teachings changed thousands of lives. The Center seeks to inspire students to focus on how the U.S. Constitution and its application have been shaped by individuals in American history, as well as by various social, economic, and cultural forces. It approaches this mission academically and through various civic outreach efforts.
The Simon Perry Center comprises an interdisciplinary academic program with a minor in Constitutional Democracy that includes courses in political science, history, philosophy, English, and sociology. The Center offers a  university-wide pre-law program. It also sponsors the Amicus Curiae Lecture Series on Constitutional Democracy, which brings noted scholars from throughout the country to campus to lecture on issues central to the Constitution, law, history, politics, and governance.
Simon Perry believed that vigorous civic education is vital to a healthy democracy. His courses and mission continue through the work of the center established to honor him, which every day pursues his goals of bettering our world through education and outreach.
UNITED STATES COURT OF APPEALS FOR THE FOURTH CIRCUIT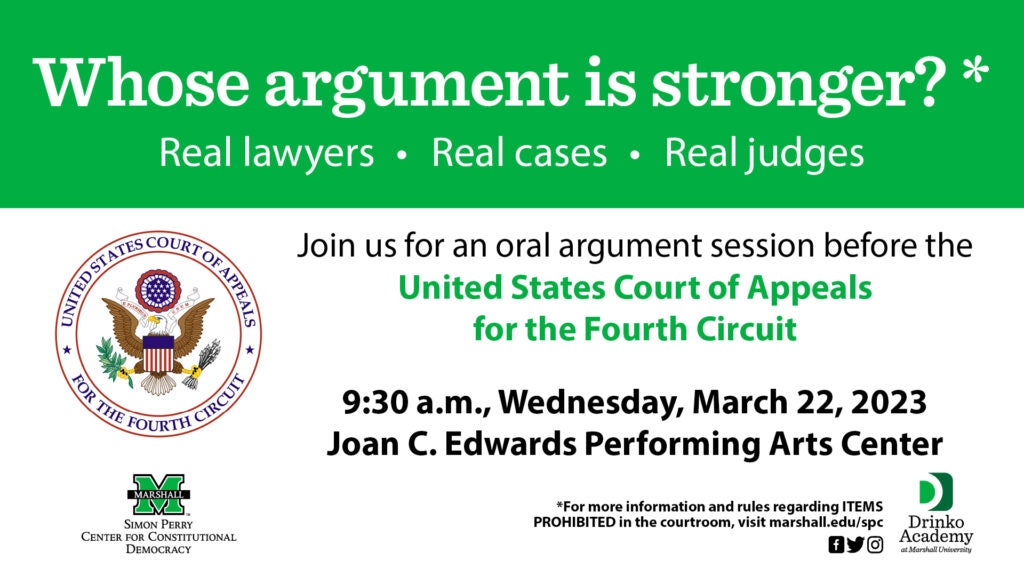 Information About the Cases on Appeal
Lower Court Orders being Challenged on Appeal:
Civic Literacy Campaign
Because our democracy depends upon civic literacy, the Drinko Academy has partnered with the Simon Perry Center for Constitutional Democracy to launch a new Take the Pledge Campaign.  We are distributing U.S. Constitutions and pledge cards to our campus community.
The pledge cards ask signatories to commit to: reading the Constitution of the United States of America; being conversant with its contents; discussing it with classmates, friends, and family; and exercising the rights and  responsibilities incumbent of citizenship. To date 434 students, faculty, and staff have signed the pledge. Please join us in doing so.
To request a U.S. Constitution, contact us at drinkoacademy@marshall.edu
To Take the Pledge electronically, here
To learn more about the U.S. Constitution, visit: https://constitutioncenter.org/interactive-constitution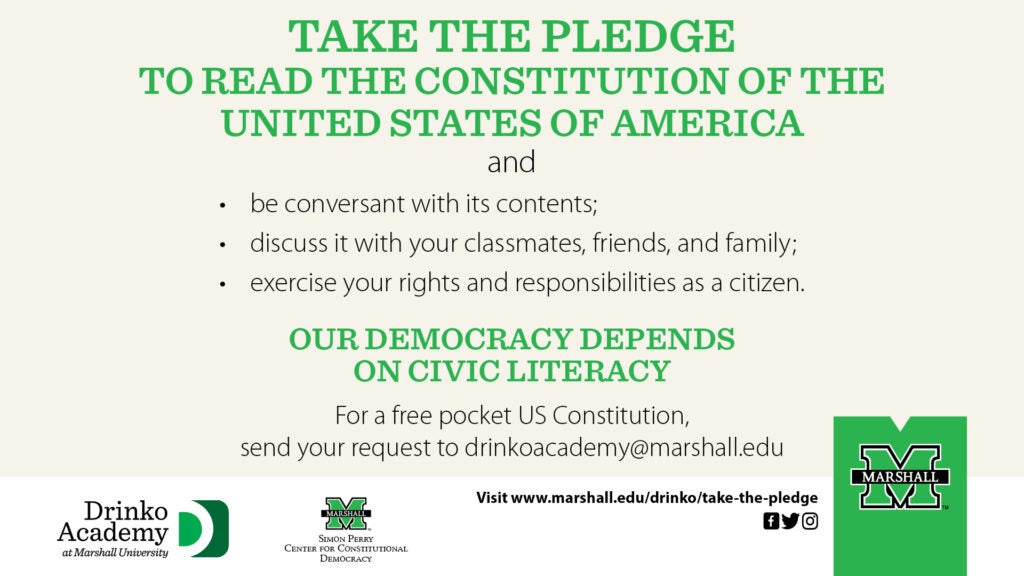 Distinguished Drinko Fellows News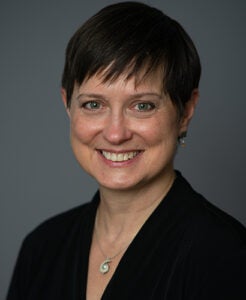 Professor Sandra Reed, Marshall's 26th Distinguished Drinko Fellow, engages in distinctive fine art activities and outreach initiatives.
Professor Sandra Reed curated two exhibitions in the Library Gallery of the Academic Center on Marshall University's South Charleston campus during Spring 2022. These exhibitions were made possible through American Rescue Plan funds earmarked for the arts. The first, a group invitational exhibition entitled Conceptions of Flight, featured works by Marshall students and alumni and an essay by Rachael Peckham, Professor of English at Marshall. Peckham also read from original short stories related to the impact of flight in her life. The second, a solo exhibition entitled Selvage, featured 24 drawings, paintings, and prints that Reed created since relocating to West Virginia. As part of the Selvage project, Reed presented an artist talk and author Daniel O'Malley, Assistant Professor of English at Marshall, wrote "On Selvage" based on studio visits and conversations with the artist. He also read one of his original short stories.
Conceptions of Flight and Selvage were presented with financial assistance from the West Virginia Department of Arts, Culture, and History and the National Endowment for the Arts, with approval from the West Virginia Commission on the Arts. The state funding provided honoraria for the exhibiting students and alumni artists, faculty authors, and the collaborating designer, alumna Savannah Julian, who developed the publications and exhibitions website, and other aspects of the programming. Additional support for Selvage was provided by the College of Arts and Media.
From May 12 to June 11, 2022, Reed was the Artist-in-Residence at the Weir Farm National Historical Park in Wilton, Connecticut, which is the only national park for art in the United States. This international program was started in 1998 and has hosted more than 200 artists from throughout the United States, Tunisia, Germany, Australia, England, India, Ireland, South Africa, and The Netherlands. During the month-long artist residency, Reed created numerous works responding to this historic site and its rocky, forested setting, which included a set of atomized acrylic ink plein air paintings and graphite drawings of rock walls and ruckles. These and other works will be exhibited in a solo exhibition, Array, at Moon Gallery at Berry College in Mount Berry, GA in October 2022. Participation in this artist residency was supported by the College of Arts and Media and financial assistance from the West Virginia Department of Arts, Culture, and History and the National Endowment for the Arts, with approval from the West Virginia Commission on the Arts.
She was also recently named the recipient of the 2022 Mid-Prairie Alumni Fine Arts Award.
The website, for the Selvage and Conceptions of Flight exhibitions, features online galleries of the exhibited artwork, audio recordings by the artists, and press releases from both exhibitions as well as the original exhibition essays by O'Malley and Peckham.
Mid-Prairie Alumni Awards: https://www.mphawksalumni.org/Alumni-Achievement-Awards
Weir Farm National Historical Park:
https://www.nps.gov/wefa/index.htm
Weir Farm Art Alliance (artist residency co-sponsor): https://www.weirfarmartalliance.org/
Reed named Distinguished Drinko Fellow: https://www.marshall.edu/news/2022/04/13/marshall-drinko-fellow-sandra-reed-to-present-art-exhibit-at-south-charleston-campus/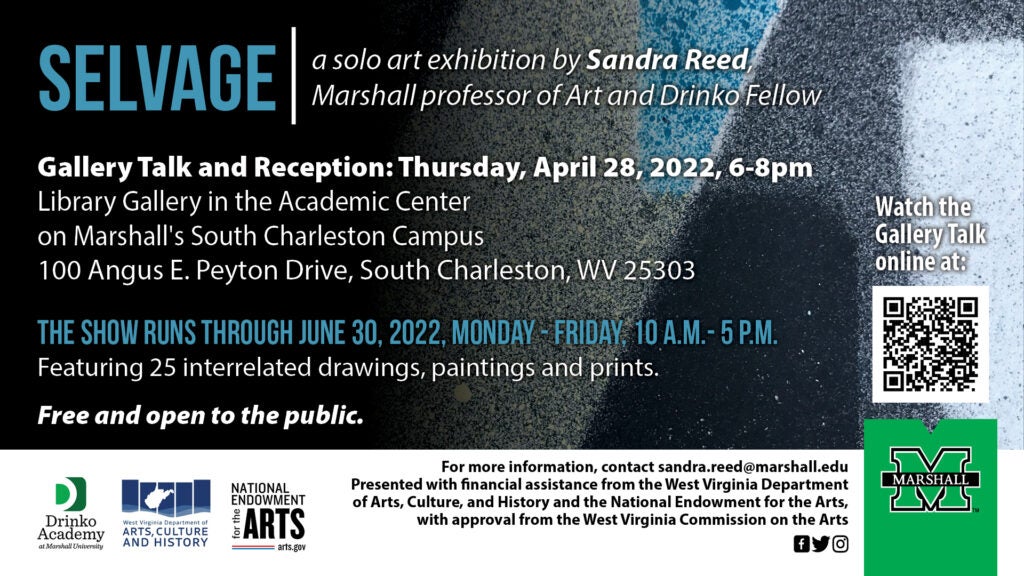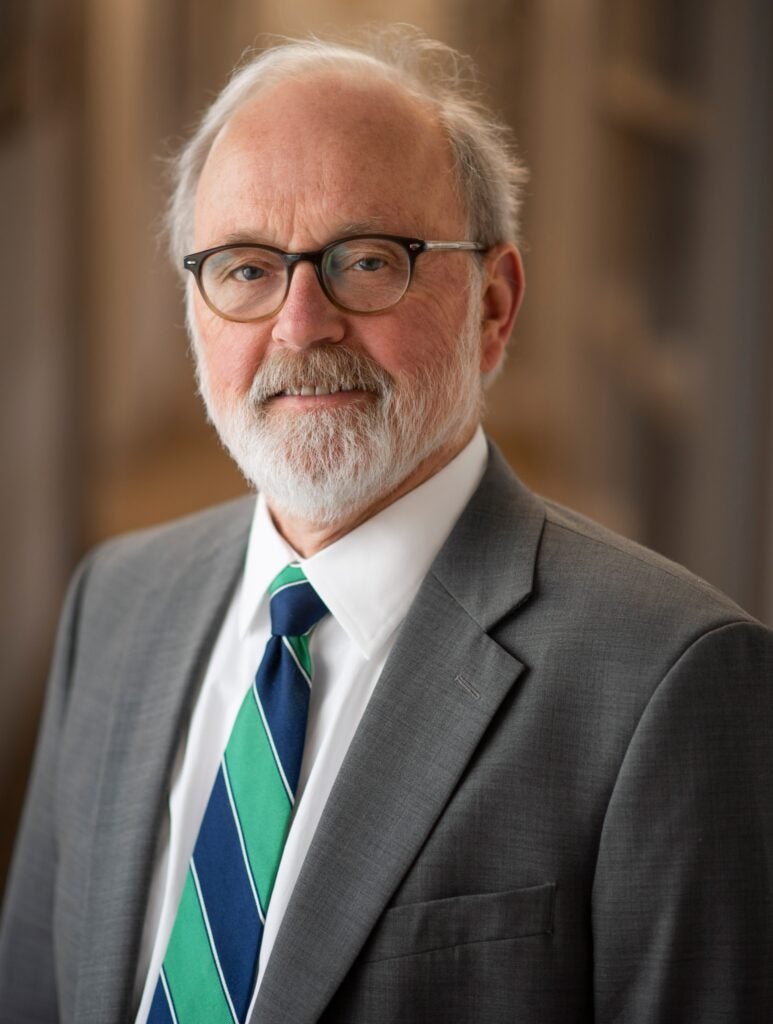 Dr. James B. Becker delivered the keynote address at the April 23rd, 2022, Drinko Symposium Dinner held at Marshall University.  Dr. Becker's presentation was entitled: "A Glimmer of Hope: Substance Abuse Disorder in the Primary Care Setting."  Becker was named the 25th Distinguished Drinko Fellow on March 26th, 2019.
Becker spoke about how he and his colleagues in the School of Medicine have established an Addiction Medicine Fellowship in Family Medicine program, the first in the state of West Virginia.  Dr. Becker, who is board certified in Addiction Medicine, is a strong advocate for the primary care model of treatment for people struggling with addiction issues.  The newly-established Fellowship, which was Dr. Becker's Drinko Academy project, will train more primary care doctors to be addiction medicine specialists.  Moving forward, those specialists will be able to work with teams of physicians to disseminate information about best practices in addiction medicine, including predictors and conditions for successful recovery.
Dr. James Becker is Vice Dean for Government Affairs, Health Care Policy and External Affairs at the Joan C. Edwards School of Medicine.  He also serves as Medical Director of the Bureau for Medical Services at the West Virginia Department of Health and Human Resources.  He is an Associate Professor in the Department of Family and Community Health where he maintains a family medicine practice and teaches.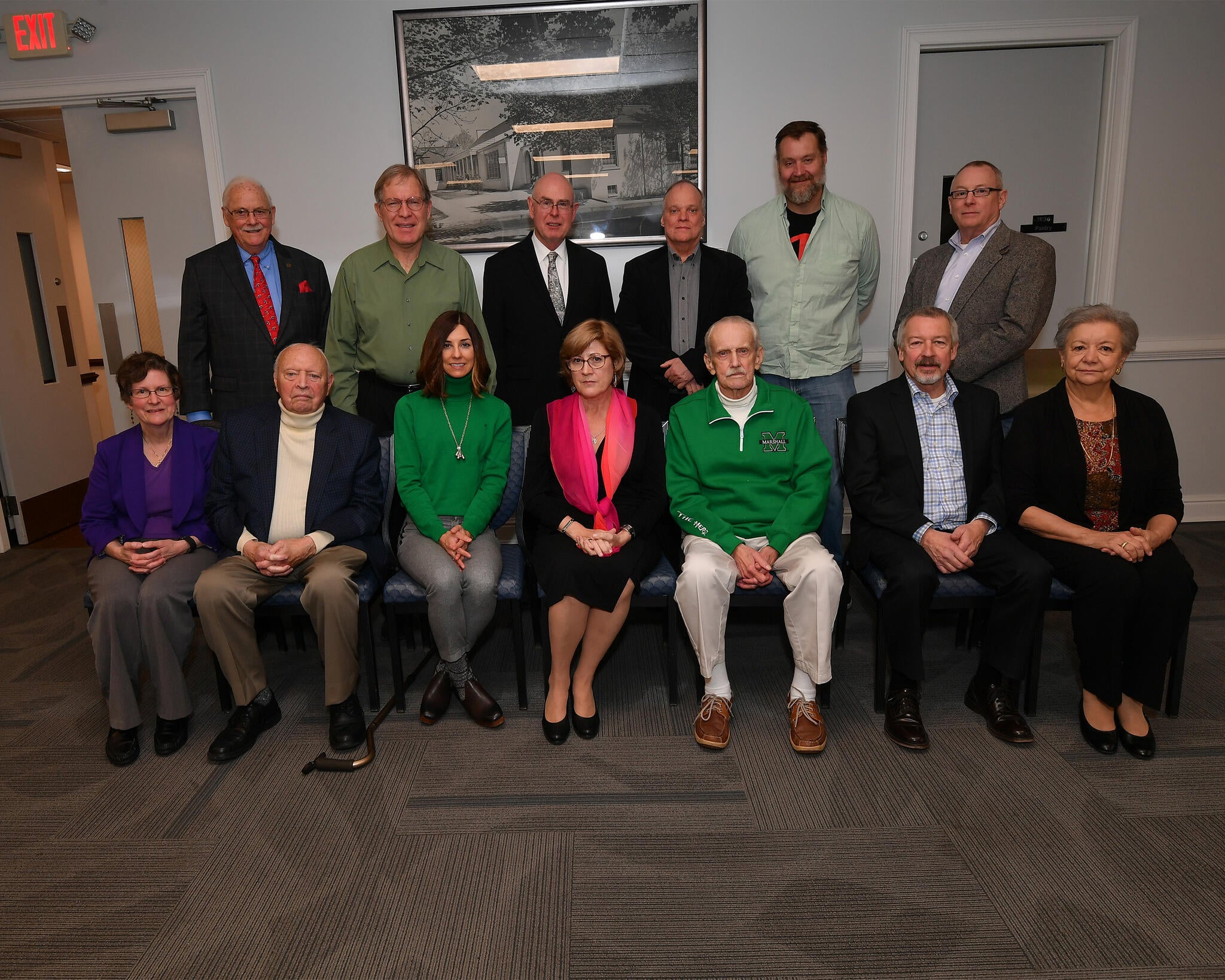 For More information on the Drinko Fellows, click here.