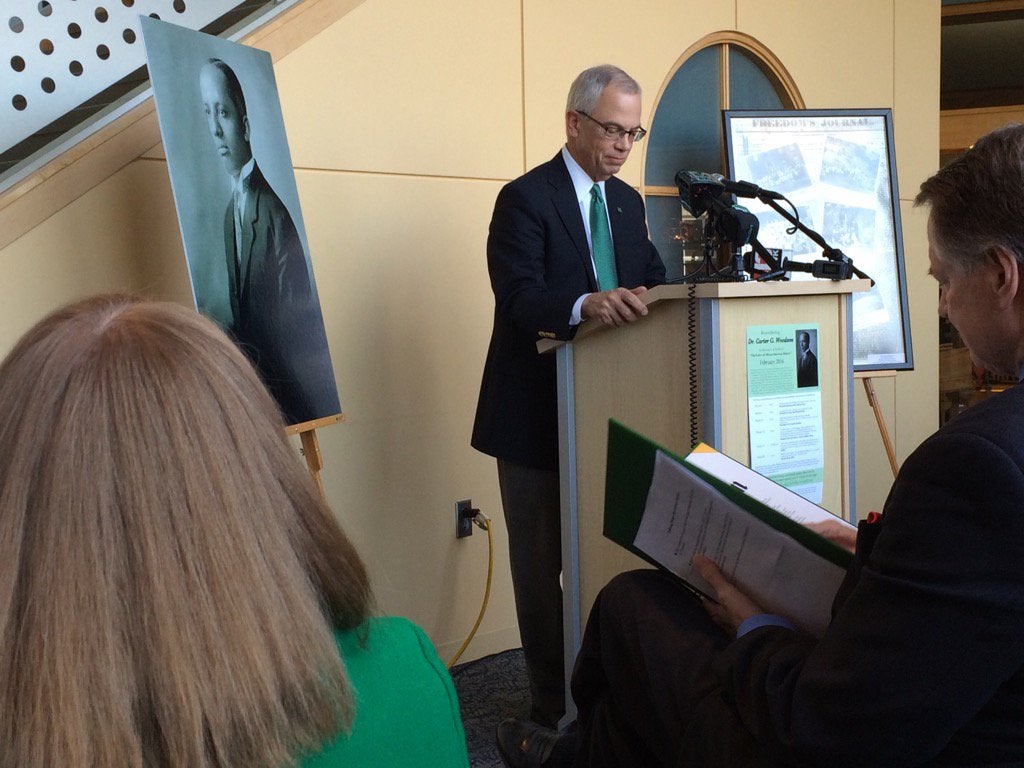 Huntington Mayor Steve Williams proclaimed Friday, Feb. 5, 2016, as Dr. Carter G. Woodson Day during a ceremony today at Marshall University.
The life of Woodson, a former Huntington resident known as The Father of African American History, is being remembered throughout February, which is Black History Month.
Among other speakers today were Marshall President Dr. Jerome Gilbert; Burnis Morris, Marshall's Dr. Carter G. Woodson Professor in the School of Journalism and Mass Communications; West Virginia Sen. Robert Plymale, and West Virginia Delegate Sean Hornbuckle.
"There is nothing to prevent you from changing the world," Williams said, addressing MU students before issuing the proclamation. "We expect you to change the world. First you do it with ideas, ideas then create dreams and dreams establish expectations. We expect you to change the world and we challenge you to do that."
The celebration continues with other events planned during the month, including:
2 p.m. Sunday, Feb. 7 – the annual Soul Food Feast, to be held in the John Marshall Dining Room, located on the second floor of the Memorial Student Center on the Huntington campus, will feature a tribute to Woodson.
6 p.m. Monday, Feb. 8 – Burnis Morris, Marshall's Dr. Carter G. Woodson Professor in the School of Journalism and Mass Communications, will present a lecture about Woodson's early career, especially his ties to Huntington and West Virginia, in the Huntington City Council chambers.
2 p.m. Friday, Feb. 12 – "This place matters," inspired by Woodson, uses technology to bring recognition to African American contributions in central Appalachia. Presentations will be by Dr. Monica Brooks, assistant vice president of information technology at Marshall, and Dr. David Trowbridge, associate professor of history, in the Morrow Library's Hoffman Room on the Huntington campus.
5:30 p.m. and 6 p.m., Thursday, Feb. 18 – WMUL-FM 88.1, Marshall's student-run public radio station, will broadcast two panel discussions on the official emancipation of 50 slaves in Cabell County and the only known return of their descendants to this area since the mid-19th century.
4 p.m. Thursday, Feb. 25, Bishop Samuel R. Moore will speak on "The Deceitfulness of Difference," the inaugural John Deaver Drinko Academy's Dr. Carter G. Woodson Lecture, Memorial Student Center's Shawkey Room, Huntington campus.
Cabell County Schools have produced a Black History Month curriculum, which honors Woodson and African American achievements. The lesson development plan, developed through a collaboration involving Vickie Linville, Rhonda O'Neal and Alexandria McCloud, will be made available to teachers for use in their classrooms in February.
Throughout February, the Drinko Library Atrium is displaying photographs from the West Virginia Division of Culture and History's exhibit of African Americans who made major contributions to the state's history. Other events planned include a presentation by David Harris, who is coordinating a historical interpretation of Woodson. Two documentary films also are being scheduled for presentation/discussion.
The project is being supported by Mayor Williams; the City of Huntington; Cabell County Schools; the Cabell County Public Library; the Carter G. Woodson Memorial Foundation; the office of Intercultural Affairs, the W. Page Pitt School of Journalism and Mass Communications, the College of Arts and Media and University Libraries at Marshall; the Black Ministerial Association; and the NAACP.