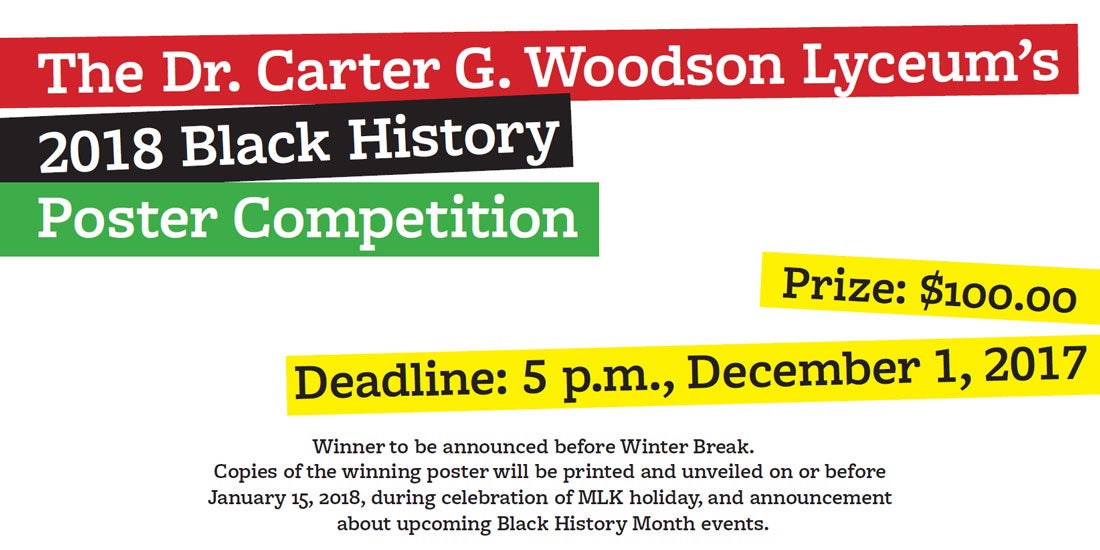 Prize: $100.00
Deadline: 5 p.m., December 1, 2017
Winner to be announced before Winter Break.  Copies of the winning poster will be printed and unveiled on or before January 15, 2018, during celebration of MLK holiday, and announcement about upcoming Black History Month events.
Qualifications:
Entrants must be Marshall University students from any major.
Theme:
An image/design that best captures the 2018 National Black History Theme ("African Americans in Times of War") and is consistent with Dr. Carter G. Woodson's goals for preserving and observing black history and improving race relations.
Poster:
To be used to promote the 2018 Black History Month events. Entrants automatically give The Dr. Carter G. Woodson Lyceum the right to print and use their submissions in various documents and promotions.
Size:
Designs should be formatted to 11 x 15 in. and submitted as a .pdf or .eps. The winning design will also need to be reformatted
to fit 8.5 x 11.
Submission:
Students should email their submissions to Professor Burnis Morris at morrisb@marshall. edu. File names should include the entrants' names, such as morrisb_MUposter. Entrants should include a short statement about why they are interestedin this contest. Anyone experiencing difficulties submitting large files should contact Professor Morris about other suitable arrangements for submissions.
Background:
Dr. Carter G. Woodson is considered the Father of Black History. Before Dr. Woodson receive international recognition for his research, he was a West Virginia coal miner and received his high school diploma in Huntington in 1896 at Frederick Douglass High School, where he returned four years later as principal. A statue on Hal Greer Boulevard honors his connections to Huntington and West Virginia. Marshall University memorialized Dr. Woodson's achievements by creating The Lyceum in his honor.