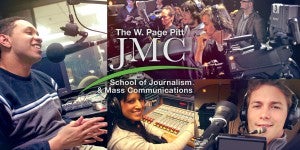 Five graduates of Marshall University's W. Page Pitt School of Journalism and Mass Communications (SOJMC) are being inducted into the school's Hall of Fame this fall.
Dr. Charles Bailey, Mike Cherry, Jody Jividen, Chad Pennington and Peter Ruest officially will be inducted during a Sept. 23 ceremony.
"The five alumni being honored each have left their own unique marks on mass communications," said Chris Dickerson, president of the SOJMC Alumni Advisory Council, which handled the nomination process. "They all are quite deserving of this honor."
Bailey is a 1974 SOJMC bachelor's graduate and a 1985 master's graduate. He is a professor in the SOJMC and faculty manager of WMUL-FM. Under his guidance, the radio station and its student broadcasters have won nearly 1,600 awards since 1985. He is a member of the West Virginia Broadcasting Hall of Fame and has been given the Lifetime Achievement Award from the West Virginia Associated Press Broadcasters Association.
Cherry, a 1980 SOJMC graduate, was an award-winning sportswriter who worked for the Charleston Gazette, the Charleston Daily Mail and for Florida Today. For most of his career in West Virginia, he covered Marshall and West Virginia University sports. He also worked in the Marshall University Athletic Department after graduation and later freelanced for The Sporting News. He died of cancer in 2010 at the age of 54.
Jividen, a 1981 SOJMC graduate, was an award-winning sportswriter for the Charleston Daily Mail. He covered everything from high school sports to Marshall and West Virginia University athletics to the 1996 Summer Olympics. He later became sports editor and city editor of the paper. He died of cancer in 2002 at the age of 44.
Pennington is a 2000 SOJMC graduate. He is best known as a standout quarterback for the Marshall Thundering Herd and for his time in the NFL with the New York Jets and Miami Dolphins. But the Rhodes Scholar finalist spent a season as an NFL analyst for Fox Sports. He also has helped the university raise millions of dollars through the Vision Campaign for Athletics, and he has helped the Tri-State area through his 1st and 10 Foundation.
Ruest is a 1997 SOJMC graduate. He currently is vice president and account director at Energy BBDO, a leading advertising and marketing company. He previously worked at Young & Rubicam as well as Wieden + Kennedy. He has worked on campaigns for Wrigley, Sears, Nike and many others.
Inductees must be graduates of the SOJMC program, but there are two other criteria in order to be nominated:
Contribution(s) to Journalism and Mass Communications as a profession. The nominee has made a contribution to the profession of journalism or has made a positive impact upon the profession.
Contribution(s) to Marshall University and/or the SOJMC. The nominee, either through talent, treasure or activity, has made an outstanding impact upon Marshall University and/or the SOJMC Department.
More details about the Sept. 23 induction ceremony will be released at a later date.
For more information or questions about the SOJMC Hall of Fame, please contact the school at sojmc@marshall.edu.