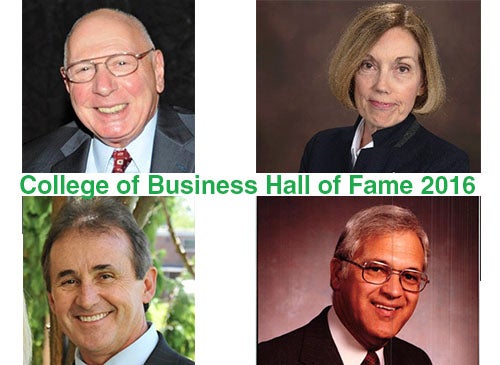 Marshall University's Lewis College of Business Advisory Board has voted four highly successful business leaders into the LCOB's Hall of Fame.
The 2016 Hall of Fame inductees are Michael W. Gerber, Carol Hartley, Jeff Hoops and Charles C. Lanham (1928-2015).
The College of Business 2016 induction ceremony will take place tomorrow, Thursday, April 28, beginning with a reception at 6 p.m. The induction ceremony begins at 7 p.m. Some tickets, which cost $300 apiece, are still available. For more information, call Molly Robertson at 304-696-2316, or e-mail her at robertsonm@marshall.edu.
This ceremony is an acknowledgement of success in the inductees' professional careers for at least 25 years, contributions to the college and university, and a display of the highest moral character and reputation, according to Dr. Haiyang Chen, dean of the College of Business.
Here is an introduction of the four inductees:
Michael W. Gerber
Certified Public Accountant
Michael Gerber began his career with Hayflich & Steinberg, CPAs (now Hayflich CPAs) in 1961 as an intern while an undergraduate at Marshall University. He became a full-time staff member after graduating with his B.B.A. in Accounting from Marshall in 1963 and became a Certified Public Accountant in 1967.
Three years later, in 1970, he became a partner in the firm.  From 1970 through 2004, he served as the Accounting and Audit Partner and subsequently the Managing Partner. From 2005 through 2007, he served as Chief Operating Officer.  Although he retired as a partner in 2005, he continued to serve in a consulting capacity through 2009. Gerber has been a member of the Lewis College of Business Advisory board since 2004 as well being a member of the LCOB Division of Accountancy and Legal Environment Advisory Board.
Gerber has been involved in the United Way, which he has served as a member of citizen review panels, personnel and finance committees, as well as chair of the allocation committees; the Huntington Pediatric Clinic and its foundation, both of which he has served as president several times, and the Cabell Huntington Foundation Board, of which he is a past chair.
He has been recognized with the Public Service Award of the West Virginia Society of Certified Public Accountants, as a Kentucky Colonel by the Commonwealth of Kentucky and as a member of the Cabell Huntington Hospital Medallion Society.
His association memberships include, among others, the American Institute of Certified Public Accountants; the West Virginia and Ohio societies of Certified Public Accountants; Sigma Alpha Epsilon Fraternity; the City Club of Huntington, which he served as secretary and treasurer; and the Rotary Club.
Gerber's hobbies include flying, photography, fishing, hiking, traveling, driving and music. He and his wife, Elizabeth Daniel Gerber, have been married for over 50 years. He is the son of Floyd David and Georgia Wingate Gerber, and has one sister, Lucinda Jane Gerber.
Carol Hartley
Vice President, Wealth Management
Morgan Stanley
Carol Hartley grew up in Ravenswood, West Virginia, and graduated from Ohio University in 1967 with an A.B. in English. Hartley is proud of her Ohio University legacy, as her great-grandfather graduated from that university in 1876. After graduation, she married, had one daughter and soon divorced. In 1975, at the age of 30, she explained to her 6-year-old daughter that they both would be starting in school, her daughter in first grade at Ceredo-Kenova and Mom in the "seventeenth grade" at Marshall University.
As a nontraditional student, Hartley was able to work during the day and take most of the required classes in the evening. It was the late seventies and the business workforce, particularly in the financial services industry, was overwhelmingly male. Acquiring the Marshall M.B.A. in 1977 meant more serious and productive interviews.
Hartley worked two years as associate marketing director for Kanawha Banking and Trust (now United National Bank). In 1980, at a friend's urging, she became a stockbroker with what is now Morgan Stanley. In an effort to give back to Marshall, she has served on the Marshall College of Business Advisory Board since 1992. She was the first woman president of that board from 1998 to 1999.
She has been a speaker for the College's Executive in Residence Program and a guest lecturer for two years for the Senior Economic Capstone experience. In 2001, she was appointed to the Marshall University Board of Governors. She is also a board member emeritus of the Marshall University Foundation.
Hartley is happily married to Dave Chenoweth and they live in Charleston with their cat, Lola. Her daughter, Heather, lives in Europe and Carnegie Mellon University Press has just published her second book.
Jeff Hoops
President and CEO
Revelation Mining
Jeff Hoops is founder, president and CEO of Revelation Energy LLC, one of the largest independent coal producers in the U.S., with over 700 employees and approximately $200 million per year in revenue. He began his career in the coal industry 42 years ago at age 17 with Consol Energy, then joined United Coal in Bristol, Virginia, as corporate chief engineer. He then relocated to Madison, West Virginia, as vice president of operations in 1984.
United Coal was acquired by Arch Coal in 1992 and Hoops became vice president of operations for that company, managing operations in Utah, Colorado, Wyoming, Illinois, Virginia, Kentucky and West Virginia until his departure in 1999. He then formed his own company, Trinity Coal Company, which became the largest independent producer in Central Appalachia until acquired by Essar Mineral, a steel company based in India in 2008, which allowed him to form Revelation Energy LLC.
In addition to his ventures in coal, Hoops also founded Black Diamond Insurance Agency in Allen, Kentucky, and owns and operates J.B. Long Sampling Company and Shamrock Scales in Knoxville, Tennessee; Active Medical LLC in Hurricane, West Virginia; Lexington Coal Company, with more than 1 billion tons of coal reserves in 6 states; Republic Industries, Wayland, Kentucky; and Triple H Real Estate. He also founded the Hoops Family Foundation.
The foundation has been involved in many projects around the world, such as an orphanage in India that provides a home and Christian education to over 2,200 children; a facility in the Dominican Republic that allows about 4,000 young people to do short term mission trips each year; a 63-unit dormitory for students at Appalachian Bible College in Beckley, West Virginia; an all-sport indoor athletic facility at the University of Pikeville in Kentucky; the new basketball practice facility at West Virginia University; the Hoops Family Field Soccer Stadium at the Veterans Memorial Soccer Complex at Marshall University, and the Hoops Family Children's Hospital at Cabell Huntington Hospital.
He is a former board member at Appalachian Bible College and a member of SCORE International, Encounter Revival Ministries and Mount Vernon Baptist Church in Hurricane, West Virginia, where he serves on the finance committee.
Hoops has an A.S. in mining engineering from Bluefield State College, a B.A. in economics from Davis and Elkins College, and an Executive M.B.A. from Syracuse University. He resides in Milton, West Virginia, with his wife of 42 years, Trish, and has 3 sons and 4 grandchildren.
Charles C. Lanham (1928-2015)
President – Citizens National Bank of Point Pleasant
 Mr. Charles C. Lanham, the son of Stanton and Westa (Jones) Lanham, was born Sept. 12, 1928 in Kanawha County and later graduated from Ripley High School in 1946. Lanham then went on to serve his country in the United States Army from 1946 to 1948. Upon his return, he enrolled at Marshall University and graduated in 1952. He also graduated from the West Virginia School of Banking in 1956, the Graduate School of Consumer Banking of the University of Virginia in 1958, Graduate School of Banking at the University of Wisconsin in 1962 and the Senior Bank Officer at Harvard University in 1968.
While developing his banking career, he served his alma mater on numerous high levels for decades. In the mid-1950s, a young Lanham served on the Charter Board of Directors at Marshall College while he resided in Ripley, West Virginia. He continued to be active for many years with the Alumni Association in Huntington, and later became actively involved with the Mason/Gallia/Meigs Chapter located in Point Pleasant. He nurtured that chapter, which provided thousands of dollars for scholarships for the Big Green. In 1977, Lanham was honored by the Alumni Association with the Alumnus Community Achievement Award.
Lanham began his banking career in 1952 at the First National Bank of Ripley. In 1963 he became executive vice president, then president, of Citizens National Bank in Point Pleasant, until Citizens National Bank became a division of the First Huntington National Bank, where he remained president until 1993. Between 1993 and 1997, he was senior vice president, president and chairman of Bank One West Virginia in Point Pleasant. Between 1997 and 1999, Lanham was executive vice president of Ohio Valley Bank, senior vice president of Ohio Valley Banc Corp. and a director of Ohio Valley Banc Corp.
Lanham was named "West Virginia Banker of the Year" in 1997, and was a member of the American Bankers' Association in 1978, serving as state vice president, and on the government relations council and BankPac committees. He was a lifetime member of the West Virginia Bankers' Association, having served as president in 1977 and 1978, and as a member of the board of directors. He also served on many task forces and was a member of the President's Club.
Lanham served for 12 years on the Marshall University's President's Advisory Board, the forerunner to the current Board of Governors. He also served on three presidential search committees. He served for more than 30 years on the board of directors of the Marshall University Foundation and on the Lewis College of Business Advisory Board from 1998 until his death in 2015, a total of 17 years. For his active and productive work in supporting the MU library, Lanham was honored in 2005 with the John Drinko Distinguished Service Award. In 2014, Lanham was honored with the Distinguished Service Award at the 77th annual Alumni Awards Banquet for his career in banking and his faithful service to his alma mater.
Lanham was a member and trustee at Trinity United Methodist Church in Point Pleasant, West Virginia, and was the chairman of the investment committee of United Methodist Charities. He is survived by his wife Lilly Faye (Staats) Lanham and four children, Terry Higgins, Joyce Berryman, Edgar Lanham and Bert Lanham. There are 10 grandchildren and two great-grandchildren.
———————
Photos: From top left then clockwise, Michael Gerber, Carol Hartley, Charles Lanham and Jeff Hoops will be inducted into the College of Business Hall of Fame at Marshall University.