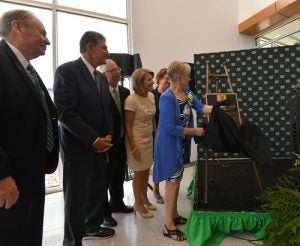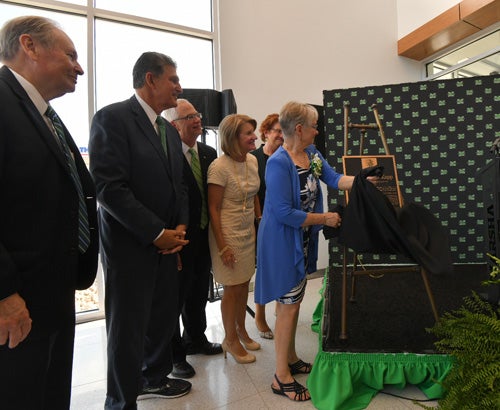 Just 16 months ago, an empty lot stood at the corner of Charleston Avenue and Hal Greer Boulevard in the Fairfield section of Huntington. Today, that same lot is graced by the impressive Stephen J. Kopp Hall, now home to the Marshall University School of Pharmacy.
The 49,560-square-foot, three-story building is named after Marshall's 36th President Stephen Kopp, who died suddenly while in office in 2014. One of his hallmark achievements was the opening of the School of Pharmacy in 2012, which graduated its inaugural class in 2016.  Under Kopp's leadership, the university saw more than $300 million invested in infrastructure projects across the institution.
"The legacy of Steve Kopp will live on for generations of Marshall University students, both here at the school of pharmacy and in numerous other programs like engineering and visual arts," President Jerome Gilbert said. "He was a visionary leader whose influence continues to touch many lives."
U. S. Senators Shelley Moore Capito and Joe Manchin were also in attendance for the ceremony Friday afternoon.  Kopp's widow, Jane Schade Kopp, and nearly a dozen members of his family also attended.
"We are humbled by your generosity in recognizing Steve's contributions to Marshall University and especially to the school of pharmacy," Jane Kopp said. "When he was appointed president of the university in 2005, Steve envisioned what the future of this university would look like and more importantly, what impact it could have on the community.  After studying the needs of the state, he realized West Virginia needed more pharmacists and so opening a pharmacy school became a top priority."
The new facility includes research, instructional, communal and administrative areas set in a 21st-century environment.  The location, just steps away from the Joan C. Edwards School of Medicine and the Forensic Science Center, allows for ramped-up interdisciplinary education and the evolution of a true health sciences campus.
"This beautiful new facility will be a cornerstone for Marshall's health sciences campus," said Dr. Gayle Brazeau, dean of the school of pharmacy. "Interprofessional teams providing patient-centered care is the way health care is delivered in today's world. The building is adjacent to our school of medicine and will allow for better collaboration and cross-training for our students, both medical and pharmacy, as well as faculty and staff team research."
Brazeau added that the building will be a tremendous asset to the university in years to come.
In addition to thanking former pharmacy deans, Dr. Kevin Yingling, and Brian Gallagher, as well as Gilbert and former interim president Gary G. White, Brazeau credited the success of the project to the following organizations:  City of Huntington Department of Public Works; Local Labor Councils; Huntington Housing Authority; Huntington Department of Planning and Development; Signet; Edward Tucker Architects PJ Dick Construction; and Marshall University Facilities and Planning.
The school of pharmacy has a current enrollment of 249 students, and 55 faculty and staff.
Part of today's celebration included tours of Fairfield Landing; the new graduate housing facility constructed at the same time as Kopp Hall. The housing is adjacent to the Erma Ora Byrd Clinical Center and includes 200 units featuring a main lobby with study and community space. The apartment-style, furnished units feature stainless steel appliances, 24-hour security and parking within easy walking distance of the schools of medicine and pharmacy and the forensic science center.
Today's event was streamed lived and can be accessed for future viewing at https://livestream.com/marshallu/events/8818207
Photo: Jane Schade Kopp unveils a plaque dedicating Stephen J. Kopp Hall at the Marshall University School of Pharmacy on Friday, September 13, 2019, in Huntington, W.Va.  The building was named in honor of Kopp, the 36th president of the university, who died in office in 2014. Joining her from left to right are:  James Bailes, chairman of the Marshall University Board of Governors, U. S. Senator Joe Manchin, Marshall University President Jerome A. Gilbert, U.S. Senator Shelley Moore Capito and Dean of the School of Pharmacy Gayle Brazeau.