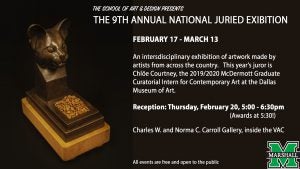 The Marshall University School of Art and Design presents its 9th Annual National Juried Exhibition, which will be on view Monday, Feb. 17, through Friday, March 13, in the Charles W. and Norma C. Carroll Gallery inside Marshall's Visual Arts Center at 927 3rd Ave. The public is invited to attend an awards reception for this exhibition from 5-6:30 p.m. Thursday, Feb. 20, at the gallery. Awards will be announced at 5:30 p.m.
This exhibition includes 32 art works by 21 artists from across the county, including four Marshall University students, all selected by an outside juror. The art works selected cover a broad range of conceptual and technical ground, from paintings on canvas to mixed-media pieces, ceramics, sculpture, photography and video.
"Viewers can expect works of art that are both visually stimulating and intellectually engaging," said Jamie Platt, gallery director and facilities coordinator for the College of Arts and Media. "One of the things that makes this show special and challenging is that the artists were not given a theme to address. Instead artists were asked to submit their best work. The juror was charged with the task of gleaning from amongst the myriad entries to find emergent themes and construct a show that looks and feels cohesive."
This year's juror was Chloe Courtney, a Dallas-based curator and art historian who is the 2019-2020 McDermott Graduate Curatorial Intern for Contemporary Art at the Dallas Museum of Art. She received her master's degree in art history from the University of New Mexico in 2018. Courtney's academic research focused on environmental history, performance and community-based art in Mexico City.
The Charles W. and Norma C. Carroll Gallery is open from 10 a.m. to 4 p.m. weekdays.