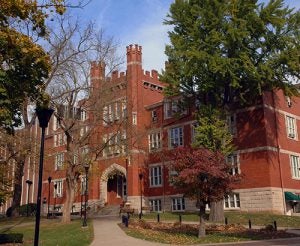 The Marshall University Trauma-Informed Mindfulness Engagement for Kids, or WV TIME4K, has recently expanded to four new schools in Cabell and Wayne counties.
In just the second year, the program focuses on bringing evidenced-based, mindful strategies to elementary school students who have been affected by the opioid epidemic and are struggling with emotional regulation. What's that mean? Social work students participating in the program use a variety of activities, such as breathing exercises, movement, meditation and creative expression, to help children build awareness of their own emotions and identify ways they can calm themselves when they are upset or overwhelmed.
The program already supplies trained social work graduate students to work with students individually and in groups at Spring Hill, Central City, Ceredo-Kenova and Wayne elementary schools. The expansion of TIME4K will now put graduate students into Milton, Guyandotte, Lavalette and Kellogg Elementary schools to provide age-appropriate mindfulness coaching.
When a child's parent or guardian approves his or her participation, social work graduate students can begin working with families and school staff to help identify how to best use their strategies to serve the child. Children affected by the epidemic often experience stress and are at a greater risk for anxiety, depression and academic problems.
Diane Criswell is the counselor at Lavalette and Wayne elementary schools.
"I love the program; it can serve students who might slip through the cracks," Criswell said. "Many youth have problems calming their bodies and minds so they can learn."
All activities are age-appropriate. A staff member may ask children to imagine being a tube of toothpaste, being squeezed, tensing and relaxing or to imagine themselves on a magic carpet ride. Different breathing exercises may be associated with certain animals or involve blowing bubbles at the same time.
TIME4K also aims to provide training opportunities for local teachers to help them understand how to better connect with these students as well. The next training session will be held Friday, Feb. 28, for Milton and Guyandotte elementary schools.
More information on the project can be found at https://www.marshall.edu/social-work/wvtime4k/.