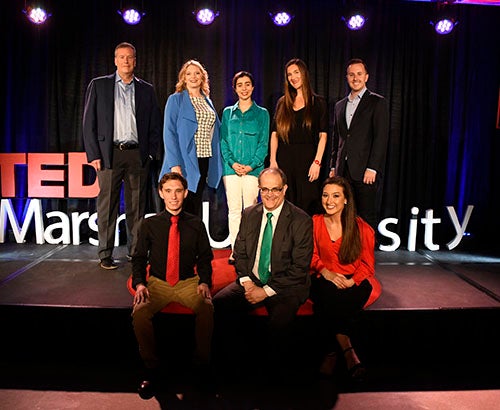 Marshall University will host the 2nd annual TEDxMarshallU event organized by students, faculty and staff. The event will take place at 5 p.m. Saturday, March 14, in Jean Carlo Stephenson Auditorium in Huntington City Hall. TEDxMarshallU is a public event, but will require the purchase of tickets. Tickets went on sale Jan. 28.
TEDxMarshallU will feature an array of speakers, including Hershel "Woody" Williams, WWII Medal of Honor recipient; Trey Kay, host of the Us & Them program for PRX and WVPB; Sabrina Thomas, Marshall University research librarian; Ellie White, Marshall University student and co-director of Open Source Radio Telescopes; Jennifer Wells, executive director of WV Healthy Kids and Families Coalition; and Dr. Edna Meisel, a faculty member in the university's College of Education and Professional Development. The theme for this year's TEDxMarshallU will be BRIDGES. Speaker bios and additional information about the event can be found at www.tedxmarshallu.com or www.ted.com/tedx/events/36329. The event is also on Twitter (https://twitter.com/tedxmarshallu), Instagram (https://www.instagram.com/tedxmarshallu/), and Facebook (https://www.facebook.com/TEDxMarshallU/).
Organizers invite the media to attend and cover the event. Per TED guidelines, no outside photography or videotaping of the event is allowed during the event, including from members of the press. Selections of the official media along with guidelines for their use will be made available to the press soon after the event. Direct queries or requests for press passes to the event can be directed to Dr. Brian Kinghorn by e-mail at kinghorn@marshall.edu or by calling 517-974-4996.
About TEDx (x = independently organized event)
In the spirit of ideas worth spreading, TEDx is a program of local, self-organized events that brings people together to share a TED-like experience. At a TEDx event, TED Talks video and live speakers combine to spark deep discussion and connection. These local, self-organized events are branded TEDx, where x = independently organized TED event. The TED conference provides general guidance for the TEDx program, but individual TEDx events are self-organized, subject to certain rules and regulations.
About TED
TED is a nonprofit organization devoted to Ideas Worth Spreading, often in the form of short talks delivered by leading thinkers and doers. Many of these talks are given at TED conferences, including an annual gathering in Vancouver, as well as TEDWomen, intimate TED Salons and thousands of independently organized TEDx events around the world. Videos of these talks are made available, free, on TED.com and other platforms. Audio versions of the talks from TED2019 are published to TED's podcast TED Talks Daily, available on all podcast platforms.
TED's open and free initiatives for spreading ideas include TED.com, where new TED Talk videos are posted daily; TEDx, which licenses thousands of individuals and groups to host local, self- organized TED-style events around the world; the TED Fellows program, which selects innovators from around the globe to amplify the impact of their remarkable projects and activities; the Audacious Project, which surfaces and funds critical ideas that have the potential to impact millions of lives; TEDSummit, which gathers the most engaged members of the global TED community for brainstorms, discussions, performances, workshops and an eclectic program of mainstage talks; and the educational initiative TED-Ed. TED also has a growing library of original podcasts, including The TED Interview with Chris Anderson, WorkLife with Adam Grant, TED en Español and Sincerely, X.
Follow TED on Twitter at http://twitter.com/TEDTalks, on Facebook
at http://www.facebook.com/TED, on Instagram at https://instagram.com/ted and on LinkedIn at https://www.linkedin.com/company/ted-conferences.
———-
Photo: Participants in last year's Tedx program at Marshall University were, from left to right in the back row, speakers Sean Callebs, Dr. Beth Wolfe, Rawan Elhamdani, Dr. Briana Nannen and Jordan Richardson; and from left to right in the front row,  Tedx lead organizers Hunter Barclay, Dr. Brian Kinghorn, and Hannah Petracca.