In January 2023 the School of Nursing started offering a
BA/BS to BSN Program
on the South Charleston campus. Click
here
for more information.
COVID Vaccination Requirements
While Marshall University does not require students receive COVID 19 vaccination, the COVID vaccine is a requirement of clinical agencies utilized by the School of Nursing. If a student cannot meet the clinical requirements due to not being vaccinated, they may be unable to complete the program requirements as clinical practice is an essential component of nursing education.
ACEN Accreditation
The Baccalaureate and Master's/Post-Master's Certificate programs (includes Family Nurse Practitioner, Nursing Administration and Nursing Education areas of emphasis) at Marshall University located in Huntington, West Virginia are accredited by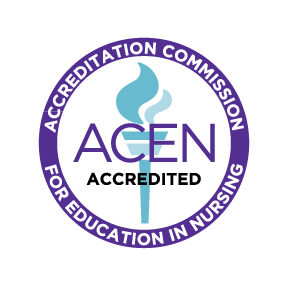 Accreditation Commission for Education in Nursing (ACEN)
3390 Peachtree Road NE, Suite 1400 | Atlanta, GA 30326
Phone: 404-975-5000
The most recent accreditation decision made by the ACEN Board of Commissioners for the Baccalaureate and Masters/Post-Master's Certificate Nursing Programs was continued accreditation.
Also, in cooperation with Shenandoah University Marshall University offers Nurse Midwifery and Psychiatric/Mental Health Nurse Practitioner Areas of Emphasis
Nurse-Midwifery Area of Emphasis
Shenandoah University's Nurse-Midwifery Program is accredited by the Accreditation Commission for Midwifery Education (ACME).
Accreditation Commission for Midwifery Education c/o American College of Nurse-Midwives
8403 Colesville Rd, Suite 1550 | Silver Spring MD 20910
Phone: 240-485-1800 | Fax: 240-485-1818
Psychiatric/Mental Health Nurse Practitioner Area of Emphasis
Shenandoah University's Psychiatric/Mental Health Nurse Practitioner Program is accredited by the Commission of Collegiate Nursing Education (CCNE)
Commission of Collegiate Nursing Education (CCNE)
655 K Street NW

Suite 750
Washington, DC 20001
Phone: 202-887-6791