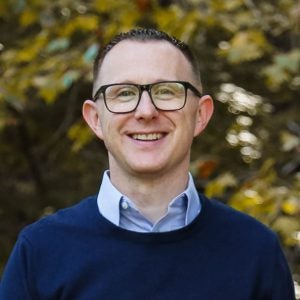 Smith Hall 739G | 304-696-2764 | Email | Curriculum Vitae
Dr. Arthur received his Ph.D. in Political Science from West Virginia University (WVU) in 2013. Before coming to Marshall in 2014, he served as an Assistant Professor of Political Science at West Virginia State University (WVSU). Recently, he was appointed to the endowed position of Distinguished Scholar and Director of the West Virginia Center for Consumer Protection (WVCCP). Currently, he serves as the Director of the Community-Based Learning Program in the Center for Teaching & Learning. He also co-directs the CORTEX Center.
Virtual Office Hours: By appointment only through Microsoft Teams. Schedule a time here via Microsoft Bookings.
Courses Taught
PSC 104 — American National Government and Politics
PSC 202 — American State Government and Politics
PSC 233 — Intro to Public Policy
PSC 303 — American Political Parties
PSC 311 — Issues in Public Policy
PSC 333 — Intro to Public Administration
PSC 383 — The American Presidency
PSC 4/533 — Public Administration and Policy Development
PSC 4/580 — Campaigns and Elections
PSC 4/552 — Public Personnel Administration
PSC 4/580 — Fundraising and Grant Writing
PSC 4/552 — Disaster Management Policy
PSC 4/554 — Administrative Organization and Behavior
PSC 618 — Seminar in Public Administration
PSC 532 — Non-Profit Management
PSC 660 — Seminar in Policy Analysis
Research Interests
Dr. Arthur is currently writing the definitive political biography of Senator Robert C. Byrd, contracted with Oxford University Press. The writing of this book has been, appreciatively, funded and supported by multiple organizations. For instance, the author received a Promoting Excellence in Education through Research (PEER) Grant from a former university, a John Marshall Scholar Research Award, a Congressional Research Grant from the Dirksen Congressional Research Center, a Fellowship from the West Virginia Humanities Council—a division of the National Endowment for the Humanities (NEH), a research grant from the Association of Centers for the Study of Congress, and multiple travel and research grants from various departments.
This manuscript tells the story of Robert C. Byrd, a distinguished senior Senator from West Virginia. Byrd was the longest serving Senator in American history, he cast more votes than any other member, reaching 18,689 in 2010. He was elected Senate Majority Leader on two separate occasions and Minority Leader from 1981 – 1987. He served as President Pro tempore of the Senate and he was President Pro tempore Emeritus. Lastly, he served as Chairman and Ranking Member of the powerful Senate Appropriations Committee on four separate occasions, for a total of 20 years, 1989 – 2009.
Byrd's journey from the hills of West Virginia to the halls of the Senate was long and wrought with changes, changes to the world, to the Senate, and to Byrd himself, from 1917 to 2010.
His state was birthed in the polemics over the Civil War and slavery, struggling to find its identity and political power. As West Virginia is an odd political force, so was Byrd. He came to power there on the controversies of his embrace of white supremacy and his connections to the Ku Klux Klan. His interest in politics was sparked by the 'race problem' facing the U.S. during and after WWII, in all its forms: anti-lynching, the Federal Employment Practices Commission (FEPC), and integration of the armed services. As seen through the newly discovered correspondence with Senator Theodore Bilbo, he was avidly against federal solutions to any of these problems—just like many of his Ku Klux Klan comrades.
Byrd had entered the Senate when he was 41 years old, a young energetic man with a lifetime of experience and work. Before arriving there, he had been to places and done things most men could not imagine—things that would have broken weaker men, things that were beneath dignified men, things that would kill a career before it even started. Instead, it empowered Byrd; he used those experiences and turned them into an exercise of power in the Senate—an unmatched power that frustrated presidents, colleagues, and the press.
His life and career and influence in the Senate was decades long. Still, he seemed to be vastly important at crucial times, and simultaneously, a permanent voice throughout every change and every historical moment for half a century. Byrd's authority and work reached every aspect of the Senate. Most notably however, he was the master of the rules—the true power of the greatest deliberative body the world has ever known.
Robert C. Byrd was not only a man of his times, he was a man of the times, and he was a man that created the times. Byrd's life and career was a masterclass in political power, intuitiveness, and knowing the essence of true power—an unrivaled pursuit through hard work. Throughout his entire life, he knew where power was, how to find it, and how to use it to his advantage. Byrd had an unmatched ambition and he had a penchant for that power. But, he also saw that power as a means to an end—not power for the sake of power.
Byrd ended his career as a radically different person and politician, using his position of power to force the federal government to live up to many of its promises and responsibilities to the people and the states. Some form of change is inevitable. But, it can destroy the careers and lives of those who refuse to embrace it—in many instances, Byrd did change and it propelled him throughout the twentieth-century, and into the next, into a life of great power and influence.
This story tells the account of a man, who was forever underestimated by everyone he met; yet, that man defied every expectation and masterfully transcended his deprived station in life. Within, is the story of a man, an Appalachian, and his life and legacy as an accomplished statesman in the U.S. Senate.
Selected Publications
— Books
Woods, J. & Arthur, C.D. (2017) "Debating Immigration in the Age of Terrorism, Polarization, & Trump" Lexington Books. Lanham, MD – an Imprint of Rowman and Littlefield.
Arthur, C.D. (2014) "Economic Actors, Economic Behaviors, and Presidential Leadership: The Constrained Effects of Rhetoric." Lexington Studies in Political Communication. Lanham, MD: Lexington Books – an Imprint of Rowman and Littlefield.
— Refereed Journal Articles
 "President Bush and Immigration Policy Rhetoric: The Effects Negativity on the Political Landscape at the State Level" White House Studies, Volume 14, Issue 1  –  With Joshua Woods
Woods, J. and Arthur, C.D. (2014). "The Threat of Terrorism and the Changing Public Discourse in Immigration after September 11." Sociological Spectrum Volume 34, Issue 5, pp. 421 – 441 (September/October).
Arthur, C.D. and Woods, J. (2013). "The Contextual Presidency: The Negative Shift in Presidential Immigration Rhetoric." Presidential Studies Quarterly 43(3) (September).