---
About Jazz-MU-Tazz
This six-day, five-night camp is an immersive experience for rising high school freshman through seniors to learn about the traditions of jazz, regardless of prior experience.Throughout the week, students perform in big bands and combos while learning jazz improvisation, history, theory and more — all within a fun, encouraging learning environment. Camp begins on Sunday, June 16 and ends with an evening concert on Friday, June 21.
REGISTER NOW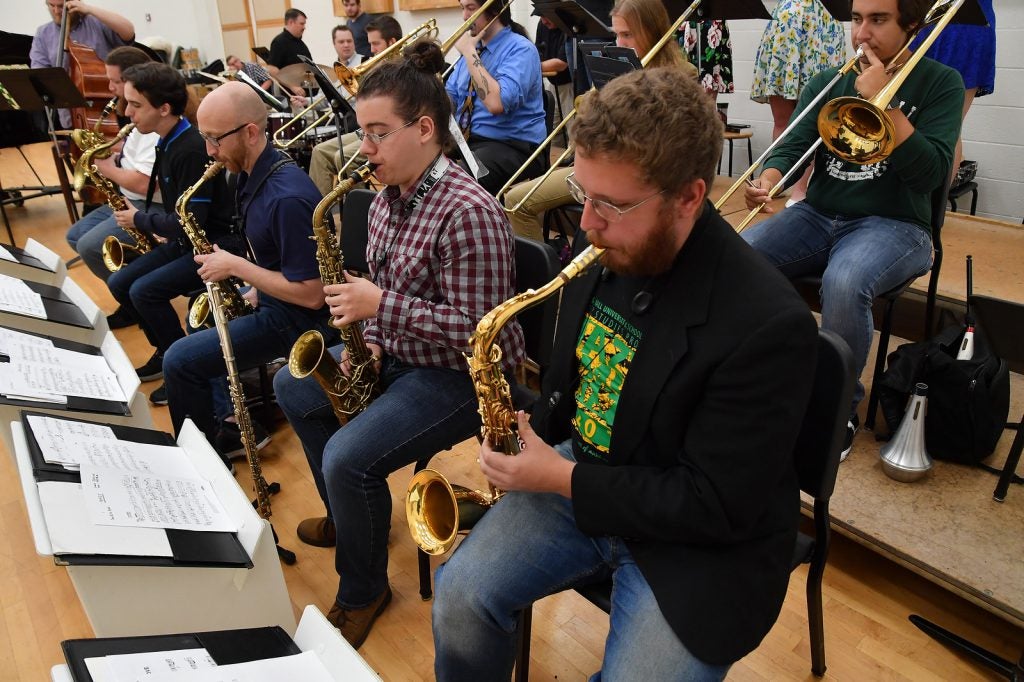 Guest Artists & Faculty
Through our partnership with the Huntington Summer Music Festival and Ellis and Delores Marsalis Legacy Campaign, internationally renowned artists will be part of the Jazz-MU-Tazz camp, including the winner of the 2019 Ellis Marsalis International Jazz Piano Competition, Ben Patterson. Along with the engaging Marshall faculty instructors, past Jazz-MU-Tazz participants have had the opportunity to interact with, listen to, and learn from Who's Who of jazz musicians including Ellis Marsalis, Delfeayo Marsalis, Arturo O'Farrill, Miriam Sullivan, Da Yeon Seok, Branford Marsalis, Jason Marsalis, Jon Batiste, Zack O'Farrill, and Chi Lin Lu.
The Marshall University Jazz Faculty will serve as the teaching faculty for the camp including: Ed Bingham (Saxophone), Martin Saunders (Trumpet),  Jeff Wolfe (Trumpet), Rick Tolbert (Trombone),  Duane Flesher (Piano), Nick Vassar (guitar), Danny Cecil (Bass), & Jesse Nolan (Drums).
 Jazz-MU-Tazz Tuition & Rates
There are three JMT tuition packages:
Camp Tuition Only – $375
Camp Tuition plus Meals in Campus Dining Hall – $510
Camp Tuition, Meals, and Housing – $675
A $50 non-refundable deposit is due at the time of registration. Full payment of remaining camp fees will be billed and due by June 14, 2019.
Financial Aid
Financial aid is available. Please see our registration page by clicking the link below to apply for financial aid.
Registration Information
Registration for Jazz-MU-Tazz is limited to 50 students total, with individual instrument limits to ensure balanced ensembles. Register early to reserve your spot!
REGISTER NOW Informational Brochure
---