---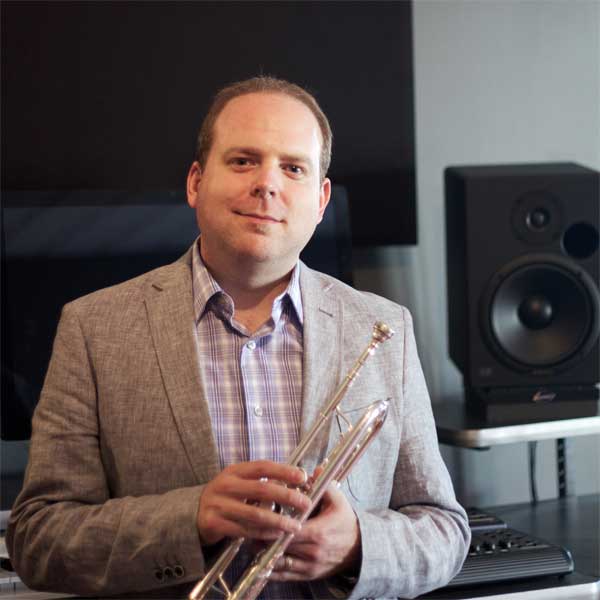 Jeff Wolfe – Director of Jazz Studies and Assistant Professor of Trumpet
Jeff Wolfe is the Director of Jazz Studies and teaches various courses across the jazz studies curriculum, as well as applied trumpet (jazz emphasis). He also conducts the MU Jazz Ensemble I and Jazz Combo I. Furthermore, Mr. Wolfe serves as the director and education coordinator for the Jazz-MU-Tazz summer jazz camp housed at Marshall University. Mr. Wolfe holds an M.M. in Jazz Studies from the Indiana University Jacobs School of Music, where he studied jazz improvisation, pedagogy, history, and composition with world-famous jazz educator and composer David Baker. As an Associate Instructor of Jazz Studies at Indiana University, Jeff conducted one of the IU jazz ensembles and taught jazz improvisation. Jeff also holds a B.A. in Music Education from Marshall University. He is a former trumpet student of John Rommel, Edmund Cord, Pat Harbison, and Dominic Spera. Jeff is an active performer, adjudicator, and clinician having appeared on NPR's nationally syndicated program Mountain Stage and as a soloist with Grammy Award-winning jazz artist and vocalist Gregory Porter. He frequently performs with Columbia Records recording artist and former America's Got Talent winner Landau Eugene Murphy, Jr., and has performed in the orchestras of numerous national touring and regional musical theatre productions. Jeff is the co-founder and music director of the Jewel City Jazz Orchestra, a 17-piece big band established as a non-profit organization dedicated to jazz education and performance in underserved communities. He has served as an adjudicator for the jazz division of the National Trumpet Competition, and appeared as a clinician for the Jazz Education Network and Nashville Songwriters Association International. Mr. Wolfe is a charter member of the Jazz Education Network where he serves on the education committee as the music technololgy chair.
---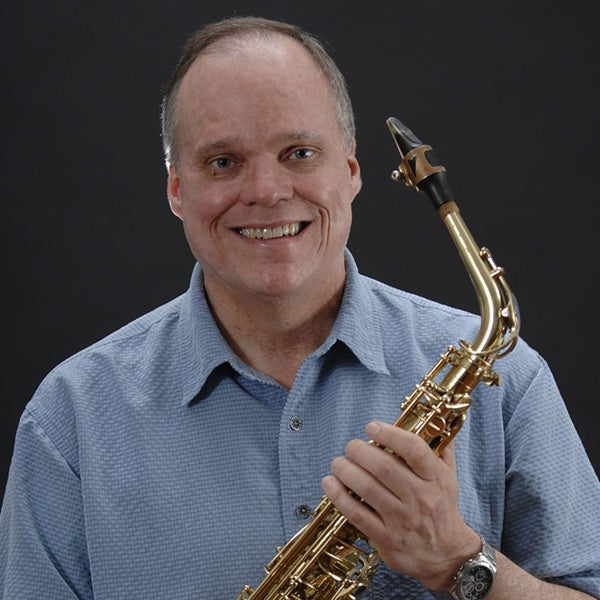 Ed Bingham – Professor of Saxophone and Jazz Studies
Dr. Ed Bingham holds degrees from the University of Tennessee, The Juilliard School and The University of Kentucky. In addition to the large saxophone studio ant Marshall University, he directs the Jazz II Ensemble. He is a founding member of Marshall's faculty jazz ensemble Bluetrane. Bingham is Fellow of the Drinko Honors Academy Marshall. His research into the creative process was featured at Marshall's Drinko Symposium and at the International Association for Jazz Education International Conference in Long Beach, California. Dr. Bingham maintains an active performance schedule in addition to his teaching responsibilities at Marshall and at Blue Lake. He is a bassoonist and saxophonist with the Huntington Symphony Orchestra and has performed with the Lexington (KY) Philharmonic, the West Virginia Symphony Orchestra, the River Cities Symphony Orchestra and the Ohio Valley Symphony. Current projects include a presentation at the national conference of the College Music Society in Salt Lake City and the release of Bluetrane's first CD.
---
Danny Cecil – Bass
Bassist Danny Cecil earned his BA in Music and MME (Jazz Emphasis) from the University of Kentucky as well as a BS in Biology from Marquette University, and has been an active member of the central Kentucky music scene since 1999. He has performed and/or recorded with such jazz luminaries as Joe Lovano, Bob Mintzer, Kenny Werner, Sam Rivers, Bob Degen, Jeff Coffin and Howard Levy. Additionally, he had the great fortune of performing with Arlo Guthrie and the UK Symphony Orchestra at Carnegie Hall in fall 2007 while pursuing his graduate degree. Cecil currently plays acoustic and electric basses in many local and regional acts including the DiMartino-Osland Jazz Orchestra (DOJO), Barry Mando Project, Paragon Music Theater, Osland-Dailey Jazztet, as well as freelance work with such notable local artists as Jay Flippin, Orville Hammond, Raleigh Dailey and Lee Owen. Danny brings a wealth of performing, recording and touring experience to his work as an educator, and stresses the importance of versatility and comprehensive musicianship to his bass students.
Brief Discography: DOJO Quotient, ODJ Evidence (2009) and Music of Raleigh Dailey (2011 release), New KY String Ticklers Generations, Andy Mason Illumination, Bob Mintzer GO!, Kenny Ray Kenny Ray, UKSO George McKay's Epoch, among others.
---
Nick Vassar – Guitar
Nick Vassar is a guitarist and educator from Huntington, West Virginia. He obtained a Bachelor of Fine Arts Degree in Jazz Studies from Marshall University in 2015, and a Master of Music in Performance degree from the University of Maryland in 2018. He has performed with musicians such as Gregory Porter, Sean Jones, Greg Fishman, Jim Snidero, and Chris Vadala. Vassar currently teaches jazz guitar lessons at Marshall University and has previously coached jazz combos and taught courses in jazz history, jazz improvisation, and pop music history.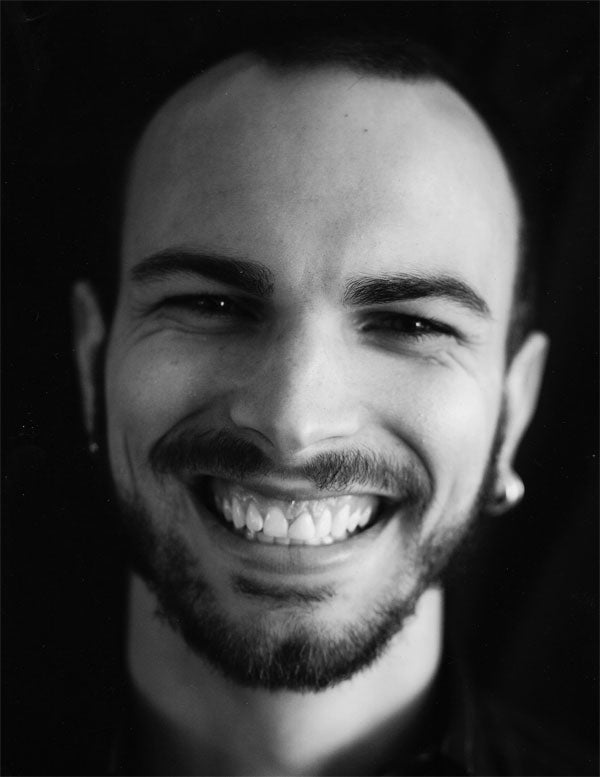 Jesse Nolan (Percussion) – Adjunct Professor of Jazz
Jesse received his BA in Music Education and MM in Jazz Studies & Percussion from the Indiana University Jacobs School of Music. He is currently working toward his DMA in Music Education from Boston University. Jesse teaches jazz courses (arranging, history, styles), music technology courses (intro to music tech, digital recording techniques), and applied jazz percussion. Jesse's most recent engagement, a four year tenure as a Resident Music Director for multiple Blue Man Group productions, saw him performing with the group on two North American tours and two international tours, as well as drumming as a member of the Chicago and Orlando casts. He has performed and toured the world with artists, bands, and shows including James Moody, Allen Vizzutti, Bob Shepard, Lorraine Feather, David Baker, the Rob Parton JazzTECH Big Band, the Buselli-Wallarab Jazz Orchestra, the 50th Anniversary European Tour of West Side Story (2 Olivier Nominations), and a 2009 North American Tour of Jesus Christ Superstar (w/ Ted Neeley). As a classical percussionist, Jesse has played under the baton of Fred Fennell, Harry Begian, Michael Barrett, and Ray E. Cramer, and has performed at The Midwest Band & Orchestra Clinic, Bands of America, and the College Band Directors National Association Conference.  As President of MashPlant, an education technology company, Jesse works to oversee all software development and educational initiatives throughout the United States. He is also the owner of Big Pear Productions, a company that specializes in commercial music, recording, audio & video production and live events for clients including State Farm, Banana Republic, Virgin America, Bergdorf-Goodman, & the Intercontinental Hotel Group.  Jesse is a sub-committee chair of the Jazz Education Network Ed Committee and a proud member of the Vic Firth Education team, with whom he holds an educational endorsement.
---