---
Festival Information
The Marshall University Winter Jazz Festival is one of the oldest collegiate jazz festival in North America. Founded in 1969, the festival is held in February of each year and features performance by the tri-state areas finest middle school and high school jazz ensembles along with clinics and performances by world-renown jazz artists. High school & middle school jazz ensembles and combos of any size are invited to participate. Each group will receive feedback and have the opportunity to work with and witness some of the best professional jazz musicians in the country.  Past guest artists include Steve Turre, Ashlin Parker, Jim Snidero, The Sean Jones Quintet, & The Stan Kenton Orchestra.
The 50th Winter Jazz Festival will be help February 22-23, 2019. Our special guests this year will be the Columbus Jazz Orchestra under the direction of Rob Parton (trumpet).
About The CJO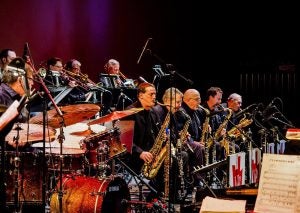 The CJO is led by world-renowned band leader and trumpet virtuoso Byron Stripling, former lead trumpeter for the Count Basie Orchestra. Under Stripling's leadership, the CJO presents over 20 subscription concerts each season in Columbus, Ohio.
By incorporating contemporary arrangements into its repertoire and commissioning new arrangements and masterworks for jazz orchestra, the CJO promotes the future of big band jazz and cultivates the dynamic, adventurous spirit that has kept audiences coming back again and again.
The CJO has toured Europe and has collaborated with the Columbus Symphony Orchestra, BalletMet Columbus, the Columbus Gay Men's Chorus, the Harmony Project, ProMusica Chamber Orchestra, Opera Columbus and the Dayton Contemporary Dance Company.
About Rob Parton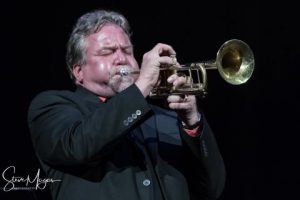 Rob Parton is well known as trumpet artist, performer and bandleader.  He has recently performed with the New York Philharmonic, Chicago Symphony, Cleveland Orchestra and Detroit Symphony as lead trumpet and soloist.  Parton has released nine CD's featuring the Rob Parton Big Band in Chicago and is Professor of Trumpet and Jazz Studies at Capital University.  In addition, Parton is currently the lead trumpet player in the Columbus Jazz Orchestra.
---
Festival Schedule
The festival begins on Friday, February 22 with performances by middle and high school jazz bands, each of which will receive a clinic from adjudicators Pete Mills, Rick Tolbert, Danny Cecil, or Nick Vassar. Friday afternoon and evening highlights include a masterclass by Rob Parton and performances by MU Jazz Combo I, the MU Jazz Ensemble I with special guest Rob Parton (trumpet), and the premiere performance of Huntington's own Jewel City Jazz Orchestra. The festival will continue on Saturday, February 23 with more school band performances and clinics in the morning and afternoon. Saturday afternoon and evening highlights include a second masterclass by Rob Parton and performances by the Thundering Herd All-Star Big Band, and our featured guests The Columbus Jazz Orchestra under the direction of Mr. Parton.
Select students and sections will receive outstanding soloist and section awards at a brief awards ceremony held during the evening concerts.
---
Festival Registration
To register your jazz ensemble or combo for the festival, please click the button below. Application deadline is January 31, 2019. At the current time, festival registration is closed.
Thundering Herd All-Star Big Band Nominations
The Thundering Herd All-Star Big Band, comprised of director-nominated students, is one of the highlights of the MU Winter Jazz Festival. High School directors are encouraged to nominate students for participation n the Thundering Herd All-Star Big Band. Directors may send nominations in bulk via email by clicking here.
Each student recommended must also fill out an online application! An audio or video file of the student playing a jazz selection must be submitted via the online form. This allows us to place students where they will enjoy the most success within the ensemble.  Directors, start thinking about any students that you feel could best represent your schools! Application deadline is January 31, 2019.
---
History of the Festival
Past Guest Artists
2019 – Rob Parton & The Columbus Jazz Orchestra
2018 – Bob Thompson & Tom Hildreth
2017 – Steve Turre & Ashlin Parker
2016 – Jim Snidero & Reggie Watkins
---