---
Festival Information
The Marshall University Winter Jazz Festival is the oldest collegiate jazz festival in North America. Founded in 1969, the festival is held in February of each year and features performance by the tri-state areas finest middle school and high school jazz ensembles along with clinics and performances by world-renown jazz artists. Jazz ensembles and jazz combos at the high school and middle school levels are invited to participate! Any size jazz ensemble is eligible and every group will receive feedback and work with some of the best professional jazz musicians in the country. Past guest artists include Steve Turre, Ashlin Parker, Jim Snidero, The Sean Jones Quintet, & The Stan Kenton Orchestra.
The 49th Winter Jazz Festival will be help February 22-24, 2018. Our special guests this year will be pianist Bob Thompson and bassist Tom Hildreth.
About Bob Thompson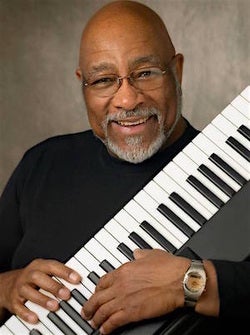 Since 1991 Bob Thompson has been pianist, and regularly featured artist on West Virginia's NPR syndicated radio show, Mountain Stage. For the past twenty-three years he has also been co-producer and host of joy to the world, a holiday jazz show, broadcast on public radio stations nationwide, and heard internationally on the Voice of America. In October 2015, Thompson was inducted into the West Virginia music hall of fame. Bob makes his home in Charleston, West Virginia, and has enjoyed a long and active career as a performer, composer, arranger, and educator. For decades he has played at festivals and venues around the country, and has also taken his music to Europe, Africa, and South America. Bob Thompson's resume includes guest appearances on Marian Mcpartland's piano jazz, on National Public Radio, and BET on jazz with Ramsey Lewis. His recordings on Intima Records, and Ichiban International, received high recognition on the jazz charts, with several reaching the top-ten. His recent recordings, Bob Thompson "Live" on Mountain Stage, and Smile, with the Bob Thompson Unit, are on his own label, Colortones.com. Bob's current group, The Bob Thompson Band, has a new recording, "Look Beyond The Rain". It was released January 8th 2016 on Blue Canoe Records.
About Tom Hildreth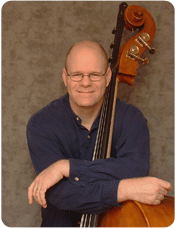 Tom Hildreth is a bassist (double bass and electric bass) who is comfortable playing in a wide variety of styles.  He has performed with jazz greats Clark Terry, Marvin Stamm, Chris Potter, Bob Sheppard, Harold Danko, Rich Perry, Tommy Newsome, Bill Mays, Ross Tompkins, Buddy Morrow, Gene Bertoncini, Mundell Lowe, Bernard Purdie, Bucky Pizzarelli, Larry Coryell, and Harry Connick, Jr.. Other artists he has appeared with include Earth Wind and Fire, Linda Ronstadt, Dolly Parton, Bernadette Peters, Michael Feinstein, Sam Moore, Clay Aiken, Taylor Hicks, The Radio City Music Hall Rockettes, Roger Williams, Don Rickles, Sandy Patti, Phil Driscoll, Phil Keaggy, Sandy Duncan, Bobby Vinton, Christine Ebersole, James Maddalena, Jennifer Holliday, Jodi Benson, and Tony Trischka. As a pit orchestra musician he has played in nearly 3 dozen different national touring productions of Broadway musicals, backing performers like Jerry Lewis, Theodore Bickel, Rachel York, Molly Ringwald, Sandy Duncan, John O'Hurley, Gregory Harrison, Sally Struthers, Alan Ruck, Cathy Rigby, and Mackenzie Phillips. His orchestral experience includes appearances with the Charlotte Symphony, the South Carolina Philharmonic, the Asheville Symphony, the Charleston Symphony, and the Augusta Virtuosi. He has recorded albums with the Noel Friedline Quintet, Loonis McGlohon, John Valerio, Janiece Jaffe, the Vince Lewis Trio, Susan Sherlock, Maddy Winer, and the Jim Stack Quartet.  He has also appeared on TV and movie soundtracks featuring actors Harrison Ford, Vincent D'Onofrio and Val Kilmer.
---
Festival Schedule
The Festival will begin the evening of February 22 with a performance by the selected High School Honor Jazz Ensemble. Performances on Friday and Saturday nights will highlight MU Jazz Ensembles and will feature some of our guest adjudicators, the Thundering Herd All-Star Big Band, the Marshall University Jazz Alumni Big Band, as well as guest artists Bob Thompson and Tom Hildreth. Concerts and clinics will occur during the day by the MU Jazz Ensemble, and by various clinicians and MU faculty, and will give all students opportunities to learn from the professionals!
Select students and sections will receive outstanding soloist and section awards during a brief awards ceremony held at the end of each day before the evening concerts.
---
Festival Registration
To register your jazz ensemble or combo for the festival, please click the button below. Application deadline is January 31, 2018.
Thundering Herd All-Star Big Band Nominations
The Thundering Herd All-Star Big Band, comprised of director-nominated students, is one of the highlights of the MU Winter Jazz Festival. High School directors are encouraged to nominate students for participation n the Thundering Herd All-Star Big Band. Directors may send nominations in bulk via email by clicking here.
Each student recommended must also fill out an online application! An audio or video file of the student playing a jazz selection must be submitted via the online form. This allows us to place students where they will enjoy the most success within the ensemble.  Directors, start thinking about any students that you feel could best represent your schools! Application deadline is January 31, 2018.
Thundering Herd All-Star Band Student Application Form
High School Honor Jazz Ensemble
The High School Honor Jazz Ensemble will perform on the opening concert of the Winter Jazz Festival on Thursday evening. To apply, each band is required to submit 3 recordings, one of which should be in a swing style. Application deadline is January 31, 2018.
Honor Jazz Ensemble Application
---
History of the Festival
Past Guest Artists
2017 – Steve Turre & Ashlin Parker
2016 – Jim Snidero & Reggie Watkins
2015 – Earl MacDonald
---