Join the Marshall University Jazz Ensembles!
Jazz Ensemble I
The MU Jazz Ensemble I is the premier large jazz ensemble in the Jazz Studies Program. Under the direction of Mr. Jeff Wolfe, this group maintains an extremely active performing schedule throughout the year, including local, regional, and international performances, highlighted by an appearance at the Montreux Jazz Festival. The band explores a variety of large jazz literature including canonic compositions from such luminaries as Duke Ellington, Count Basie, Mary Lou Williams, and Thad Jones, to modern works for the large jazz ensemble by Maria Schneider, Chuck Owen, Geoffrey Keezer, and Earl MacDonald.  Admittance into Jazz Ensemble I is by audition only.
Jazz Ensemble II
The MU Jazz Ensemble II is the second large jazz ensemble in the Jazz Studies Program and is directed by Dr. Ed Bingham.  Focusing primarily on important, influential, and historic jazz literature, Jazz Ensemble II performs works from across the spectrum of big band jazz music and surveys many different styles and time periods. Jazz Ensemble II performs several on- campus concerts per year. This group is open to anyone interested in studying jazz literature and pedagogy and does not require an audition.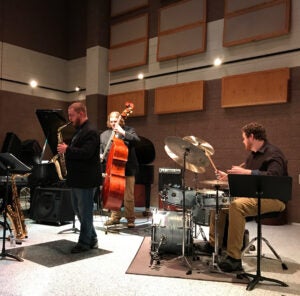 Jazz Combos
There are four jazz combo in the Jazz Studies program. Coached by various jazz studies faculty members, the combos are primarily student led and emphasize improvisation and the performance of small group jazz literature, as well as original compositions and arrangements. Each combo performs several times per year in the Jomie Jazz Forum, as well as at numerous university functions and community events.