Fall 2023 Jazz Audition Info
Monday, August 21: 12:00 p.m. – Jomie Jazz Center Rm. 210
Please sign up for an audition time online HERE (please choose the earliest available time)
Required excerpts can be found HERE
Required Excerpts "Back to the Apple" – Frank Foster
Tempo/Feel: Bright Swing, Quarter Note = 220
Pay special attention to all of the articulations, inflections, phrasing, dynamics, feel, and nuance. Not all of these are marked…LISTEN!
Reeds (Please indicate at the time of your audition which woodwind doubles you are able to play)

Alto: Bars 93 – 117
Tenor: Bars 93 – 117
Bari: Bars 93 – 117
Brass

Lead Trumpet: Bars 45 – 93

Also, prepare a chromatic scale ascending from low F# to high C and back down. Play in 8th notes at 120 bpm.

Section Trumpet: Bars 45 – 93
Trombone: Bars 45 – 93
Bass Trombone: Bars 45 – 93
Rhythm Section

Guitar: Bar 218 to end
Piano: Top through bar 20
Bass: Bar 9 through bar 32
Drums: Bar 194 to end
All rhythm section players may be asked to demonstrate various styles and feels (i.e. swing, Bossa Nova, Samba, funk, brush playing, Basie-style, etc.)

Vocalists

Prepare two tunes from the "Great American Songbook" (Cole Porter, Jule Styne, Harold Arlen, Sammy Cahn, George Gershwin, Jerome Kern, etc.) in contrasting styles. Consider songs like "All the Things You Are," "What is this Thing Called Love," "Misty," "September in the Rain," "Girl From Ipanema," "Have You Met Miss Jones," "Night and Day," "All of Me," All of You," etc. You may use backing tracks or sing a cappella.

 
Improvisation (Optional)
Sight reading of a typical big band chart
**If you have any questions about the audition requirements or trouble accessing the materials, please contact Prof. Jeff Wolfe at wolfe9@marshall.edu**
 Join the Marshall University Jazz Ensembles!
Jazz Ensemble I
The MU Jazz Ensemble I is the premier large jazz ensemble in the Jazz Studies Program. Under the direction of Mr. Jeff Wolfe, this group maintains an extremely active performing schedule throughout the year, including local, regional, and international performances, highlighted by an appearance at the Montreux Jazz Festival. The band explores a variety of large jazz literature including canonic compositions from such luminaries as Duke Ellington, Count Basie, Mary Lou Williams, and Thad Jones, to modern works for the large jazz ensemble by Maria Schneider, Chuck Owen, Geoffrey Keezer, and Earl MacDonald.  Admittance into Jazz Ensemble I is by audition only.
Jazz Ensemble II
The MU Jazz Ensemble II is the second large jazz ensemble in the Jazz Studies Program and is directed by Dr. Ed Bingham.  Focusing primarily on important, influential, and historic jazz literature, Jazz Ensemble II performs works from across the spectrum of big band jazz music and surveys many different styles and time periods. Jazz Ensemble II performs several on- campus concerts per year. This group is open to anyone interested in studying jazz literature and pedagogy and does not require an audition.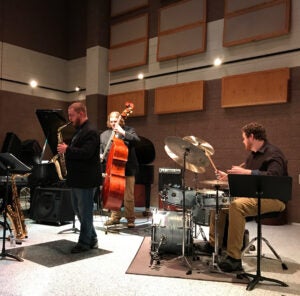 Jazz Combos
There are four jazz combo in the Jazz Studies program. Coached by various jazz studies faculty members, the combos are primarily student led and emphasize improvisation and the performance of small group jazz literature, as well as original compositions and arrangements. Each combo performs several times per year in the Jomie Jazz Forum, as well as at numerous university functions and community events.