Upcoming Feature Presentations
Grab a blanket and enjoy movies projected on our huge 20-foot inflatable screen out on Harless Field. All are FREE and open to both the community and Marshall University students.
Start time is 8 pm with FREE movie theater popcorn provided!
---
Pirates of the Caribbean: Dead Men Tell No Tales (2017)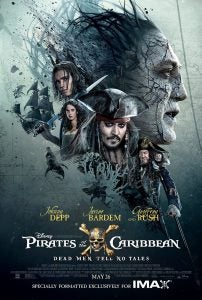 Thursday, August 31st
Johnny Depp, Javier Bardem, and Geoffery Rush
Thrust into an all-new adventure, a down-on-his-luck Capt. Jack Sparrow feels the winds of ill-fortune blowing even more strongly when deadly ghost sailors led by his old nemesis, the evil Capt. Salazar, escape from the Devil's Triangle. Jack's only hope of survival lies in seeking out the legendary Trident of Poseidon, but to find it, he must forge an uneasy alliance with a brilliant and beautiful astronomer and a headstrong young man in the British navy.
Despicable Me 3 (2017)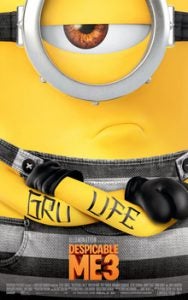 Wednesday, September 6th
Steve Carell and Kristen Wiig
The mischievous Minions hope that Gru will return to a life of crime after the new boss of the Anti-Villain League fires him. Instead, Gru decides to remain retired and travel to Freedonia to meet his long-lost twin brother for the first time. The reunited siblings soon find themselves in an uneasy alliance to take down the elusive Balthazar Bratt, a former 1980s child star who seeks revenge against the world.
Baywatch (2017)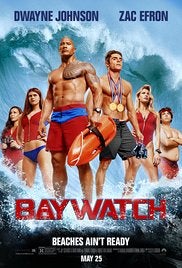 Tuesday, September 19th
Dwayne "The Rock" Johnson and Zac Efron
When a dangerous crime wave hits the beach, the legendary Mitch Buchannon leads his elite squad of lifeguards on a mission to prove that you don't have to wear a badge to save the bay. Joined by a trio of hotshot recruits, including former Olympian Matt Brody, they ditch the surf and go deep under cover to take down a ruthless businesswoman whose devious plans threaten the future of the bay.
Baby Driver (2017)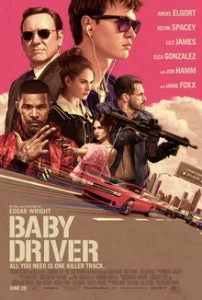 Tuesday, September 26th
Ansel Elgort, Kevin Spacey, Jamie Fox, Jon Hamm, and Lily James
Talented getaway driver Baby relies on the beat of his personal soundtrack to be the best in the game. After meeting the woman of his dreams, he sees a chance to ditch his shady lifestyle and make a clean break. Coerced into working for a crime boss, Baby must face the music as a doomed heist threatens his life, love, and freedom.
The Shining (1980)
Wednesday, October 4th
Jack Nicholson, Shelley Duvall, and Danny Lloyd
Jack Torrance becomes winter caretaker at the isolated Overlook Hotel in Colorado, hoping to cure his writer's block. He settles in along with his wife, Wendy and his son, Danny, who is plagued by psychic premonitions. As Jack's writing goes nowhere and Danny's visions become more disturbing, Jack discovers the hotel's dark secrets and begins to unravel into a homicidal maniac hell-bent on terrorizing his family.
Hocus Pocus (1993)
Tuesday, October 31st (HALLOWEEN)
Bette Midler, Sarah Jessica Parker, Kathy Najimy, Sean Murray, and Thora Birch
After moving to Salem, Mass., teenager Max Dennison explores an abandoned house with his sister Dani and their new friend, Allison. After dismissing a story Allison tells as superstitious, Max accidentally frees a coven of evil witches who used to live in the house. Now, with the help of a magical cat, the kids must steal the witches' book of spells to stop them from becoming immortal.