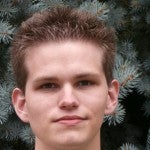 Derek Frasure, an undergraduate studying English and Humanities at Marshall, presented a paper titled: "V for Valerie: Lesbianism in V for Vendetta" at Mansfield College, Oxford University, as part of Inter-Disciplinary's 1st Global Conference: The Graphic Novel.
Derek's paper examined the character Valerie in Alan Moore's V for Vendetta, Derek successfully brings to the fore an otherwise critically overlooked aspect of Moore's graphic novel. His work challenges us to rethink concepts such as gender identity and its role in oppression/resistance, arguing that Vendetta ultimately calls for a radical recognition of the value of difference in love and the necessity of this difference in the flourishing of human life and human community.
Derek's paper was well received, and attendees expressed a considerable interest in his work—calling the methodology sophisticated and expressing their hope that he will expand his paper. "V for Valerie" will be published by Inter-Disciplinary Press as part of the conference proceedings.