Dr. Ancella Bickley and Dr. Rita Wicks-Nelson

---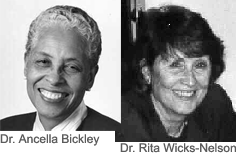 1999 Rockefeller Scholars-in-Residence
Life Experiences of Older, Black, West Virginian Women [Teachers]
Dr. Ancella Bickley and Dr. Rita Wicks-Nelson collaborated on a project which focused on the life experiences of older black women teachers who have experienced major sociopolitical transitions. These transitions included World War II, the civil rights movement, the women's movement, and increased opportunities for education and employment. Participants were interviewed from three West Virginia locales: the Kanawha Valley, the Bluefield area, and the Harpers Ferry area. The interviews were taped and transcribed and will be permanently housed in the archives of Marshall University's Oral History Program. The project aimed to collect, preserve, and make available the oral histories of a subset of older black, West Virginia women and to analyze and summarize the findings.
Dr. Bickley earned her B.A. in English from West Virginia State College, her M.A. in English from Marshall University, and her Ed.D. in curriculum and instruction from West Virginia University. She has taught kindergarten and high school English and social studies classes, as well as adult education classes for the U.S. Army. The first Black Literature class at West Virginia University was introduced by Dr. Bickley. She has also taught English at West Virginia State College. Dr. Bickley is the author of an oral history of Memphis Tennessee Garrison.
Dr. Wicks-Nelson earned a B.A. and a Ph.D. in psychology from State University of New York at Stony Brook. She also holds an Assoc. in Science from State University of New York, L.I. Agriculture and Technology Institute. Dr. Wicks-Nelson has taught at West Virginia University Institute of Technology, State University of New York, College at Old Westbury, and State University of New York, Stony Brook. She has also worked as a clinical psychologist and is licensed to practice in West Virginia and New York.