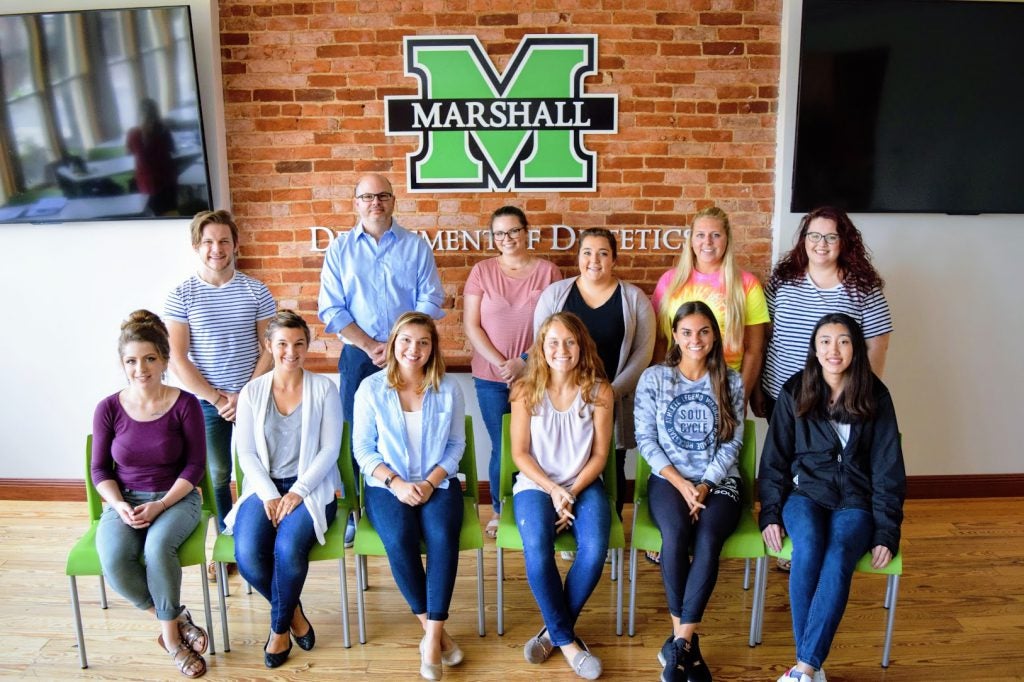 Admission Standards
The following standards are used to make admission decisions:
Completion of a Didactic Program in Dietetics. Admitted interns are required to provide a Verification Statement and transcript showing final degree confirmation prior to beginning the internship.
A minimum cumulative GPA of 3.0 (on a 4.0 scale) is preferred.
A minimum score of 285 on the verbal and quantitative portions of the Graduate Record Examination (GRE). The exam must have been completed within five years of internship application.
For more information on international student requirements, visit http://www.marshall.edu/graduate/admissions/international-admission/.
Documented volunteer or work experience in foodservice and/or nutrition care is preferred.
If you do not meet all of the minimum or preferred requirements, but believe you would be a good candidate for Marshall's Dietetic Internship, you are encouraged to apply.  All applications will be considered.
Why Choose a Marshall University Dietetic Internship?
---
Application Procedure
DICAS
The Marshall University Dietetic Internship participates in the online Dietetic Internship Centralized Application System (DICAS) process.
DICAS will be available December 4, 2020 for the Spring 2021 Match; more information may be found at http://portal.dicas.org/. The online application must be submitted by 11:59 PM Central Standard Time on February 15, 2021.  In addition to a complete application, submission of transcripts from all colleges and/or universities attended, letters of recommendation, and a verification or intent to complete statement must be included.  It is recommended that you begin the online application process well in advance of the February deadline to allow time for request, submission, and receipt of these items. The fee to use DICAS is $50 for the first application and $25 for each additional application.
Official transcripts from all colleges and universities attended should be sent to:
DICAS-Transcript Department
PO Box 9118
Watertown, MA 02472
When completing the application, applicants must include the name and contact information (specifically an email address) for each reference.  This will trigger an email message to that person requesting completion of the electronic reference form which will be sent directly to DICAS.  Marshall University requires three references, and prefers a minimum of two from Dietetics faculty.
As part of the centralized application, students will be asked to complete a personal statement in 1,000 words or less.  Questions to be addressed include:
Why do you want to enter the dietetics profession?
What are some experiences that have helped to prepare you for your career?
What are your short-term and long-term goals?
What are your strengths and weaknesses or areas needing improvement?
Why are you interested in Marshall's Dietetic Internship?
---
Matching with D&D Digital
Computer matching is a mandatory component of the application process.  To participate in matching, applicants should complete the online registration and select internship priority choices by 11:59 PM Central Standard Time on February 15, 2021. Please note this is in addition to DICAS.
Online registration is completed through D&D Digital at http://www.dnddigital.com/. There is a $55.00 fee for computer matching registration.  The applicant will find additional information regarding computer matching at the aforementioned website or by requesting information from the following:
D&D Digital, Inc.
304 Main Street, Suite 301
Ames, IA 50010
Phone: 515.292.0490
Please note:  Marshall University has two Dietetic Internships.  One is onsite/Huntington, WV based and the other is a distance track.  Be careful when selecting the internship code to ensure you are prioritizing correctly.  The codes are as follows:
Onsite/Huntington-based DI:  489
Distance-track DI: 783
---
Additional Application Requirement
All applicants must submit a copy of their GRE score to the program director, postmarked no later than February 15, 2021.  This can be a personal copy of scores. If the applicant matches with Marshall's internship in April, he or she will then be instructed to send official GRE scores to the University's Graduate Admissions Office.
Marshall University's GRE Code is 5396. GRE will not send a copy directly to the program director; therefore, it is the applicant's responsibility to scan a copy of the results and email to evans99@marshall.edu or mail the copy to the following address:
Mallory Mount, EdD, RDN, LD, CDCES, FAND
Dietetic Internship Director
Marshall University
One John Marshall Drive
Huntington, WV 25755
---
Financial Aid
Financial aid is available for qualifying students.  After match day, if an applicant is admitted to the internship he or she will receive instructions regarding formal application to Marshall's graduate school and for financial aid.
---
Assessment of Prior Learning & Experiences
Individuals with significant, relevant work experience may be eligible for Prior Assessed Learning credit (PAL). PAL is designed to grant internship credit in specific rotations of the internship based on the qualified applicant's previous work experiences.
An intern must apply for PAL credit prior to first round match.  Requirements are as follows:
Utilizing the Learning Outcomes for Supervised Practice, identify the area (Medical Nutrition Therapy, Community, Foodservice Management, or School Nutrition) of which credit is sought and write a detailed description of how the respective competencies were met.
Examples of activities or projects must be described or included.
Verification by a supervisor or manager must be provided.
Submit the description and documentation by May 1 of the year acceptance into the internship is sought.
PAL will not be provided for undergraduate coursework, projects completed as part of undergraduate coursework, or volunteer experience.
Credit for hours and competencies will be determined on an individual basis by the dietetic internship faculty and interns will be notified of the decision by June 1. Regardless of prior experience, all interns are required to complete a minimum of 1000 supervised practice hours.
If you are planning to submit PAL information for review, please contact Mallory Mount (evans99@marshall.edu) for additional forms/information.
---
New Entry Level Requirements
Effective January 1, 2024, the Commission on Dietetic Registration (CDR) will require a minimum of a master's degree to be eligible to take the credentialing exam to become a registered dietitian nutritionist (RDN). In order to be approved for registration examination eligibility with a bachelor's degree, an individual must meet all eligibility requirements and be submitted into CDR's Registration Eligibility Processing System (REPS) before 12:00 midnight Central Time, December 31, 2023. For more information about this requirement visit CDR's website: https://www.cdrnet.org/graduatedegree. In addition, CDR requires that individuals complete coursework and a supervised practice program accredited by the Accreditation Council for Education in Nutrition and Dietetics (ACEND). Graduates who successfully complete the ACEND-accredited Dietetic Internship at Marshall University are eligible to apply to take the CDR credentialing exam to become an RDN.
Successful completion of the Marshall University Dietetic Internship (DI), and subsequent issuance of the DI Verification Statement, meets requirements set forth by the WV Board of Licensed Dietitians to apply for WV licensure. Please contact the West Virginia Board of Licensed Dietitians for more information.  Students who will be working in another state after completing their supervised practice program should contact their state licensure board or Academy of Nutrition & Dietetics Affiliate for more information. For more information about state licensure requirements click here. More information regarding this will be provided to you upon admission to the University.
For more information about educational pathways to become a RDN click here.
Additional Information
Questions pertaining to the Dietetic Internship should be directed to:
Mallory Mount, EdD, RDN, LD, CDCES, FAND
Dietetic Internship Director
Marshall University
One John Marshall Drive
Huntington, WV 25755
Phone: 304-696-2507
evans99@marshall.edu