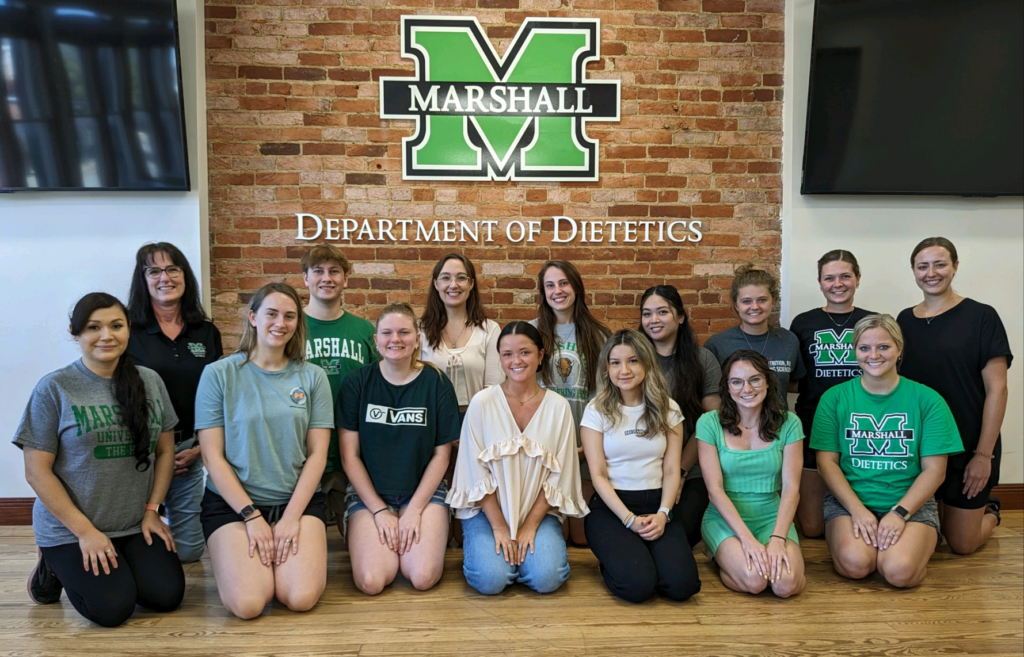 We know there are so many programs to choose from and it's a big decision – it can be scary. We can help you to be a successful entry-level RDN while gaining unique experiences in school nutrition and grantsmanship.  If you don't choose Marshall it's hard to get this experience on your own. Let us be the ones to help provide you valuable, unique learning opportunities.
Interested in learning more about our program? Check out our 2023 virtual open house below! It's easy: 1) learn about our program, 2) apply to our program, 3) succeed in our program.
Admission Standards
The following standards are used to make admission decisions:
Completion of a Didactic Program in Dietetics. Admitted interns are required to provide a Verification Statement and transcript showing final degree confirmation prior to beginning the internship.
A minimum cumulative GPA of 3.0 (on a 4.0 scale) is preferred.
A personal statement of 1000 words or less.
Documented volunteer or paid work experience in foodservice and/or nutrition care is preferred.
Three letter of recommendation (completed through DICAS).
Completion of an online personal interview.

Applicants will be notified with instructions on how to complete this after their DICAS application is received.

For more information on international student requirements, visit http://www.marshall.edu/graduate/admissions/international-admission/.
If you do not meet all of the minimum or preferred requirements, but believe you would be a good candidate for Marshall's Dietetic Internship, you are encouraged to apply. All applications will be considered.
Students, accepted to the dietetic internship program (either on-site or distance), who complete their undergraduate degree and verification statement more than 5 years ago will be required to successfully pass a dietetics content refresher exam before they can begin internship rotations. To help these students better prepare for clinical rotations, medical nutrition therapy rotations should be scheduled in the second half of the dietetic internship.
Vaccination, Laboratory Testing, & Certification Requirements
Please note that our internship rotation facilities require documentation of various vaccinations, laboratory testing, and certifications before beginning rotations. At this time, here are the general requirements for the distance internship. Please note that all facilities have different requirements and some facilities may require more than listed. Please check your facilities to be sure you have all requirements completed before rotations begin.
Infant, child, and adult CPR certification for health care providers from any reputable agency (certification must be valid during entire internship)
Measles, mumps, rubella (documentation of 2 vaccines or titer proven immunity)
Varicella (documentation of 2 vaccines or titer proven immunity)
Proof of vaccination (3 dose series) or signed waiver for Hepatitis B
Proof of vaccination or signed waiver for current season of influenza. (October 1st of each year)
Full immunization records
Tdap within last 10 years
Freedom from tuberculosis evidenced by either a current PPD or chest x-ray

2, two step PPD's or 1 TB blood screening within the last year. Usually the PPD tests are conducted one or two weeks apart—at max, 3 weeks.
If student has a positive skin test, confirm with blood test. If blood test is positive, will need a chest x-ray showing no active TB.

Background check
Drug screen
Proof of COVID 19 vaccination or signed declination form

Marshall University does not require the COVID-19 vaccination(s), but does encourage them. Currently, vaccinations are required for many facilities and internship completion requires experiences in many different facilities. Distance interns must check with their facilities about COVID-19 vaccination requirements. If required, you must receive the vaccinations or make alternative plans to find another facility to complete the required rotation.

Academy of Nutrition & Dietetics Membership Card
More information will be discussed after acceptance into the internship, but if you have questions, please contact Dr. Tim Bender (tim.bender@marshall.edu).
Application Requirements
The Distance Dietetic Internship location includes supervised practice completed at facilities that the intern secures anywhere within the United States.
The intern is responsible for identifying the preceptors and facilities in the area where he or she wishes to work. (For example, an intern living in Seattle, Washington may complete all rotations in the Seattle area.)
All preceptors and practice facilities must be identified by the applicant prior to submitting the application. Marshall University instructors do not assist with this process. The Find-A-Preceptor Database is a helpful tool to find preceptors in your area.
For information regarding the selection of preceptors and facilities, click here.
To plan your internship rotations, contact the Distance Internship Coordinator, Tim Bender at tim.bender@marshall.edu to receive a copy of the Marshall University Rotation Schedule Form.
It is preferred that you have your Rotation Schedule Form submitted with your application, but not required.
NOTE: For anyone who applies for the Distance Dietetic Internship in the vicinity of Marshall University, the following facilities are reserved for Campus-Based students ONLY. No Distance Dietetic Intern will be granted permission to complete any rotations at these facilities.
Gainful Employement Disclosure
| Facility | Area |
| --- | --- |
| CAMC | Charleston, WV |
| Cabell/Wayne VA Medical Center | Huntington, WV |
| Cabell County WIC Office | Huntington,WV |
| Cabell Huntington Hospital | Huntington, WV |
| Dunbar Center (Genesis Health Care) | Dunbar/Charleston, WV |
| Heritage Center | Huntington, WV |
| HIMG | Huntington, WV |
| Holzer Medical Center | Gallipolis, Ohio |
| Kingsbrook Lifecare Center | Ashland, KY |
| Kings Daughters Medical Center | Ashland, KY |
| Health Care Service Group | Multiple locations in the Huntington/Charleston area |
| St. Francis Hospital | Charleston, WV |
| St. Mary's Medical Center | Huntington, WV |
| Three Rivers Medical Center | Louisa, KY |
| WVU Extension Services | Charleston, WV |
| Southern Ohio Medical Center | Portsmouth, OH |
Application Procedure
DICAS
The Marshall University Dietetic Internship participates in the online Dietetics Inclusive Centralized Application Service (DICAS) process.
DICAS will be available September 1, 2023 for the Spring 2024 Match; more information may be found at http://dicas.liaisoncas.com. The online application must be submitted by 11:59 PM Central Standard Time on February 15, 2024.  In addition to a complete application, submission of transcripts from all colleges and/or universities attended, letters of recommendation, and a verification or intent to complete statement must be included.  It is recommended that you begin the online application process well in advance of the February deadline to allow time for request, submission, and receipt of these items. The fee to use DICAS is $50 for the first application and $25 for each additional application.
Official transcripts from all colleges and universities attended should be sent to DICAS. More information on how to send transcripts can be found in the application. 
When completing the application, applicants must include the name and contact information (specifically an email address) for each reference. This will trigger an email message to that person requesting completion of the electronic reference form which will be sent directly to DICAS. Marshall University requires three references, and prefers a minimum of two from Dietetics faculty.
As part of the centralized application, students will be asked to complete a personal statement in 1,000 words or less. Questions to be addressed include:
Why do you want to enter the dietetics profession?
What are some experiences that have helped to prepare you for your career?
What are your short-term and long-term goals?
What are your strengths and weaknesses or areas needing improvement?
Why are you interested in Marshall's Dietetic Internship?
If our program participates in the second round match process, the DICAS portal will be open in April to receive your application. Applications will be reviewed and students will be accepted on an ongoing basis until our class is filled. You will be contacted via email regarding your application status, so be sure to check it frequently and soon after submitting your application.
Matching with D&D Digital
Computer matching is a mandatory component of the application process. To participate in matching, applicants should complete the online registration and select internship priority choices by 11:59 PM Central Standard Time on February 15, 2024. Please note this is in addition to DICAS.
Online registration is completed through D&D Digital at http://www.dnddigital.com/. There is a $65.00 fee for computer matching registration. The applicant will find additional information regarding computer matching at the aforementioned website or by requesting information from the following:
D&D Digital, Inc.
304 Main Street, Suite 301
Ames, IA 50010
Phone: 515.292.0490
Please note: Marshall University has two Dietetic Internships. One is onsite/Huntington, WV based and the other is a distance track. Be careful when selecting the internship code to ensure you are prioritizing correctly. The codes are as follows:
Onsite/Huntington-based DI: 489
Distance-track DI: 783
Financial Aid
Financial aid is available for qualifying students. After match day, if an applicant is admitted to the distance dietetic internship he or she will receive instructions regarding formal application to Marshall University's graduate school and for financial aid.
Assessment of Prior Learning & Experiences
Individuals with significant, relevant work experience may be eligible for Prior Assessed Learning credit (PAL). PAL is designed to grant internship credit in specific rotations of the internship based on the qualified applicant's previous work experiences.
An intern must apply for PAL credit prior to first round match.  Requirements are as follows:
Utilizing the Learning Outcomes for Supervised Practice, identify the area (Medical Nutrition Therapy, Community, Foodservice Management, or School Nutrition) of which credit is sought and write a detailed description of how the respective competencies were met.
Examples of activities or projects must be described or included.
Verification by a supervisor or manager must be provided.
Submit the description and documentation by May 1 of the year acceptance into the internship is sought.
PAL will not be provided for undergraduate coursework, projects completed as part of undergraduate coursework, or volunteer experience.
Credit for hours and competencies will be determined on an individual basis by the dietetic internship faculty and interns will be notified of the decision by June 1. Regardless of prior experience, all interns are required to complete a minimum of 1000 supervised practice hours.
If you are planning to submit PAL information for review, please contact Tim Bender (tim.bender@marshall.edu) for additional forms/information.
After Match/Acceptance
Following match/acceptance, the Distance Internship Coordinator will provide the intern with a Supervised Practice Facility Information Form that must be completed for each facility the intern completes/plans to complete supervised practice. If the facility form has been completed for a previous Marshall University intern, the form doesn't need to be completed again (the Distance Internship Coordinator can provide these details).
In addition, the Distance Internship Coordinator will provide the intern with a Preceptor Information Form. This form must be completed by each preceptor providing supervised practice experiences for the intern. This does not need to be completed for past MUDI preceptors.
A Marshall University Dietetic Internship Affiliation Agreement will be completed and signed by a representative of the facility and by a representative of Marshall University once the intern is accepted.
New Entry Level Requirements
Effective January 1, 2024, the Commission on Dietetic Registration (CDR) will require a minimum of a master's degree to be eligible to take the credentialing exam to become a registered dietitian nutritionist (RDN). In order to be approved for registration examination eligibility with a bachelor's degree, an individual must meet all eligibility requirements and be submitted into CDR's Registration Eligibility Processing System (REPS) before 12:00 midnight Central Time, December 31, 2023. For more information about this requirement visit CDR's website: https://www.cdrnet.org/graduatedegree. In addition, CDR requires that individuals complete coursework and a supervised practice program accredited by the Accreditation Council for Education in Nutrition and Dietetics (ACEND). Graduates who successfully complete the ACEND-accredited Dietetic Internship at Marshall University are eligible to apply to take the CDR credentialing exam to become an RDN.
Successful completion of the Marshall University Dietetic Internship (DI), and subsequent issuance of the DI Verification Statement, meets requirements set forth by the WV Board of Licensed Dietitians to apply for WV licensure. Please contact the West Virginia Board of Licensed Dietitians for more information. In addition, you can view additional licensure information and full licensure determination for our program here. Students who will be working in another state after completing their supervised practice program should contact their state licensure board or Academy of Nutrition & Dietetics Affiliate for more information. For more information about state licensure requirements click here. More information regarding this will be provided to you upon admission to the University.
For more information about educational pathways to become a RDN click here.
Additional Information
Dietetics faculty members are committed to ensuring timely completion of the internship program.
Questions pertaining to the Distance Dietetic Internship should be directed to:
Tim Bender EdD, RDN, LD
Distance Dietetic Internship Coordinator
Marshall University
One John Marshall Drive
Huntington, WV 25755
Phone: 304-696-6431
tim.bender@marshall.edu