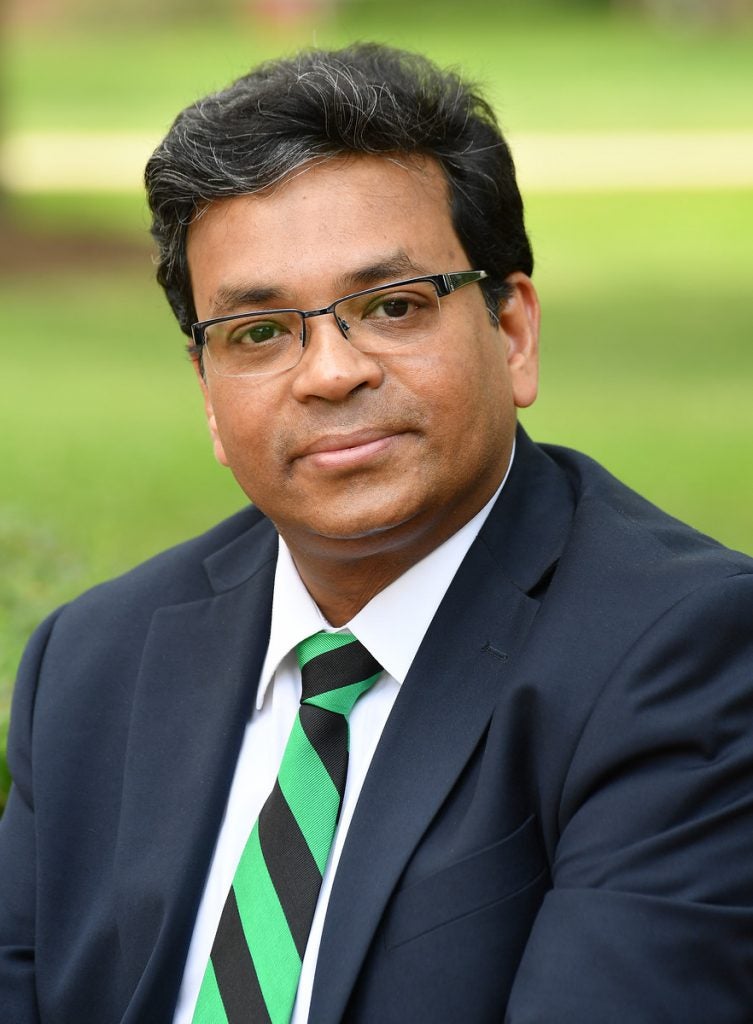 Provost and Senior Vice President for Academic Affairs
Old Main 200
304-696-3716
Welcome messages
Biography
Dr. Avinandan (Avi) Mukherjee is the Provost and Senior Vice President for Academic Affairs at Marshall University. In this role, Dr. Mukherjee is responsible for all Academic Affairs (including nine colleges and two schools), Student Affairs, Research, and Enrollment Management, with 564 full-time faculty and 370 staff/administrators. Two vice presidents (VP research, VP for student and intercultural affairs), the associate provost, the assistant provost, three associate vice presidents, nine academic deans, the dean of admissions and enrollment services, and the new Division of Aviation all report directly to the Provost. The Provost is responsible for $97.5M in academic expenditures and slightly over $50M in research expenditures.
As Dean of the AACSB-accredited Lewis College of Business at Marshall University from 2017 to 2021, Avi has managed the entire College of Business as the chief academic, financial, personnel and administrative officer, responsible for faculty, students, curriculum, budgets, and external engagement. Since starting at Marshall University in July 2017, Dean Avi has led a comprehensive reimagination of the Lewis College of Business in active collaboration with numerous external and internal stakeholders. Some of his major accomplishments as Dean include; securing the largest gift in college history of $25 million from Brad and Alys Smith; planning for and overseeing progress on the new College of Business building; getting the Lewis College of Business nationally ranked in several media outlets; launching the Doctor of Business Administration program; launching the first fully online program from the Lewis College of Business; launching the first STEM program from the College; creating the iCenter – Center for Entrepreneurship and Innovation; securing successful Maintenance of Accreditation in Business and Accounting by AACSB International in 2018; promoting numerous experiential learning initiatives including the Business and Economics Research Symposium; garnering more than $750,000 in research and community grants; launching the new Dean's Distinguished Speaker Series with CEO-level speakers on campus; initiating several new international partnerships; and managing record enrollment growth and record fund-raising.
Before joining Marshall, Dr. Mukherjee served as the Dean of the AACSB-accredited College of Business at Clayton State University in Metro Atlanta. Before his Deanship, Avi has been the Chair of the Marketing Department in the School of Business for six years at Montclair State University, which is New Jersey's second largest and fastest growing university. Dr. Mukherjee has a uniquely international academic and professional background, having taught as full-time or visiting faculty in as many as nine countries. Dr. Mukherjee has been a full-time faculty member in the United States (Marshall, Clayton State, Montclair State, Penn State), United Kingdom (Bradford), Singapore (NTU) and India (IIM). He has been a visiting faculty at Rutgers Business School, NJIT, INSEAD, Copenhagen Business School, ESC Toulouse, and Kathmandu University, among others. Additionally, Dr. Mukherjee has directed executive development programs and consulted with companies in USA, UK, Denmark, India, China, Bangladesh, Singapore and Malaysia.
In 2017, Dr. Avi was honored in Atlanta Business Chronicle's Who's Who in Education, which included the top 100 education leaders in metro Atlanta. He is a graduate of the prestigious Management and Leadership in Education (MLE) Program from Harvard University, and the Millennium Leadership Initiative (MLI) Institute from the American Association of State Colleges and Universities (AASCU).
Dr. Mukherjee has served as the President of the Society for Advancement of Management, the oldest continuously active professional management organization in the world, from 2019 to 2021. He has been a member of the Board of Directors of several organizations, including the Clayton Chamber of Commerce in Atlanta, MBAA International, AACSB Initial Accreditation Committee, and the New Jersey Advertising Club. He was president of the Business and Health Administration Association, and Chair of the Regents Academic Advisory Committee on Business for the University System of Georgia. Dr. Mukherjee is an active member of the Rotary Club of Huntington and other community-based organizations and has been invited as a speaker in numerous forums and events.
Dr. Mukherjee is a tenured Professor of Marketing and a distinguished researcher, with his published research having been cited more than 5,700 times, with an H-index of 29 and i10-index of 42 (Google Scholar Citation Report – https://scholar.google.com/citations?user=vhGmF50AAAAJ&hl=en). He co-authored a scholarly book titled "An Integrated Approach to Environmental Management" published by John Wiley & Sons, Inc. He has published more than 100 scholarly articles in leading journals such as Journal of Retailing, Psychology and Marketing, European Journal of Marketing, Journal of Business Research, Journal of the Operational Research Society, Communications of the ACM, Journal of Services Marketing, and Journal of Marketing Management, among others. He is the Founding Editor-in-Chief of the International Journal of Pharmaceutical and Healthcare Marketing (https://www.emeraldgrouppublishing.com/products/journals/journals.htm?id=IJPHM), a leading peer-reviewed scholarly academic journal, highlighting cutting edge research, new concepts and theories, and fresh practical ideas that advances knowledge on management and marketing in pharmaceutical and healthcare industries.
Related Media