Marshall University Spring Commencement
Saturday, May 5, 2018
Big Sandy Superstore Arena
Downtown Huntington
---
Congratulations to the Class of 2018!
Help us say congratulations to our graduates on Facebook, Twitter and Instagram using #MarshallGrad18!
---
Commencement Speaker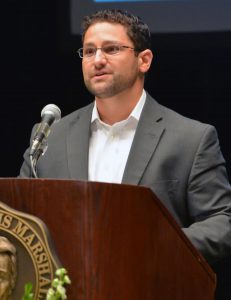 Son of Marshall and former student body president
---
Event Parking
Parking is available in the parking garage on Third Avenue across from the Big Sandy Superstore Arena. Parking in this garage is available on weekends at no charge. Parking is available in the Pullman Square garages for a fee.
Shuttle buses will be available to transport graduates and guests from the University lots at the 6th Avenue Parking Facility, Performing Arts Center, football stadium and across from Smith Hall (Lot F). Shuttle service will begin at 7:30 a.m. for the 9:00 a.m. ceremony and 12:30 p.m. for the 2:00 p.m. ceremony. After each Commencement, buses will transport passengers back to campus.
Security Procedures
The Big Sandy Superstore Arena and Convention Center has implemented new security procedures including walk-through metal detectors for all events occurring in the building including Marshall University's Commencement ceremonies. Graduates and guests should allow additional time to make it through security and find seats before the ceremony begins.
Prohibited items include: illegal drugs or substances, outside food and drink, knives, guns, pepper spray, lasers, glow sticks, fireworks, wallet chains, sharp spiked jewelry, selfie sticks, tripods and umbrellas. For a full list of prohibited items, please visit www.bigsandyarena.com.
Live Stream
The Commencement ceremonies will be streamed live on the Web for guests who are not able to attend. The link will be available at www.marshall.edu/it/livestream.
---
#MarshallGrad18 Photo Booths
Look for our free photo booths in the lobby of the Big Sandy Superstore Area! They provide the perfect backdrop for photos with your friends and family. Don't forget to share your photos on social media using #MarshallGrad18.
Event Photos and Videos
University Communications will be taking candid photographs throughout the ceremony. Those photos will be available for free download through this site after the ceremony.
HerdVideo: Marshall University Class of 2018
Your Graduation Photos
The professional photographer (Legacy Photographics, Inc.) will email proof information to graduates a few days after the ceremony.
Purchase of photographs is entirely optional.
---
Commencement Video
Marshall University and the Marshall University Alumni Association would like to congratulate you on your graduation! As a way of recognizing your achievement, a downloadable copy of the Commencement ceremony is available to you, free of charge, courtesy of the MUAA.
Relive this major life milestone by visiting www.herdalum.com to download your free copy of the Commencement ceremony.
Questions
For questions regarding Commencement, please contact the Registrar's Office, registrar@marshall.edu or 304-696-6410.