We Are…
The Marshall University Food Pantry!

Almost half of college students across the country are food insecure. The struggle of food insecurity is real in Huntington among our college students and community.
Marshall University is fighting this battle by giving students (and community members!) access to a Food Pantry.
Our mission is to eliminate hunger at Marshall University by providing food and promote nutrition to our students and the community. We pride ourselves on providing a variety of nutrient dense foods so we can help students and the community maintain a well-balanced diet.
NEW!! FALL 2023 SEMESTER HOURS
Monday: 10:30am-12pm
Wednesday: 4:30pm-6:30pm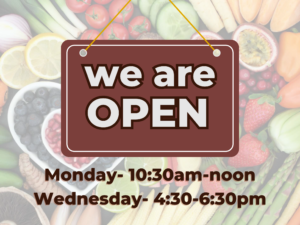 Accessing the Food Pantry
We are located at 1802 6th Ave Huntington WV, 25701 in the old Tri-State MRI building. There is free parking in front of the pantry door. Our hours of operation change depending on the semester.
How to Help
Donate:  We continually accept donations of food, recyclable bags, and toiletries. View the Marshall Food Pantry Wish List under the donations.   Donations may be dropped off at the food pantry during operational hours.
Spread the Word:  Alert your students, staff members, and our campus community about the Marshall University food pantry. We are here to serve them and we've helped so many students already
Participate:  We rely on volunteers to help customers shop and help with events. We encourage students to participate in any way that they can!