Featured News Archive
Marshall University and its Joan C. Edwards School of Medicine selected eight high school seniors from across West Virginia as the newest class of students for the B.S./M.D. program.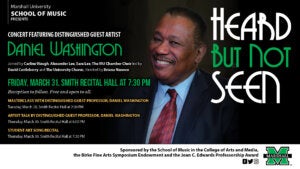 Guest artist Daniel Washington visits Marshall University this month to present a concert, "Heard But Not Seen — The African American Voice: A Musical Landscape," as well as teaching a master class and leading an artist talk. His visit is part of the Birke Fine Arts Symposium, a university-wide celebration of art featuring the theme
With the support of the U.S. Department of Health and Human Services' Office on Women's Health, the National Center on Domestic Violence, Trauma, and Mental Health will partner with agencies across the state, including the West Virginia Behavioral Health Workforce and Health Equity Training Center at Marshall University, to launch Weave West Virginia: Weaving Together Communities of Support for People Experiencing Substance Use and Domestic Violence.
Earth Week plans are underway for a full week of events from April 10-14 on Marshall University's Huntington campus.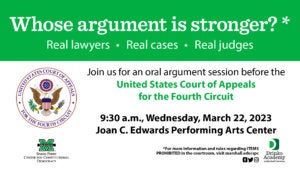 The United States Court of Appeals for the Fourth Circuit will hear oral arguments at Marshall University on Wednesday, March 22, beginning at 9:30 a.m.  The special session is part of the court's initiative to visit law schools and universities.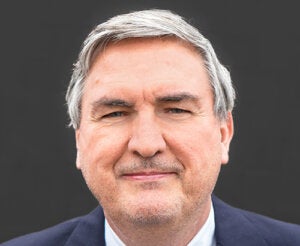 James W. Endicott, M.D., a longtime primary care physician in Mingo County, and his practice in Kermit, West Virginia, have joined Marshall Health. He will also serve as an assistant professor in the department of family and community health at the Marshall University Joan C. Edwards School of Medicine.
Marshall University's Department of Civil Engineering has received $1.3 million from Kenai Defense Company LLC to help with an Air Force Civil Engineering Center research project, exploring applications for the use of carbon nanostructures.
The Marshall University speech and debate team, Thundering Word, will compete this month at the International Forensic Association Tournament in Tokyo, Japan.
Five Marshall University students have won the U.S. Department of State's Benjamin A. Gilman Scholarship to study abroad. Gilman Scholars receive up to $5,000 to apply towards their study abroad or internship program cost with additional funding available for the study of a critical language overseas. Cynthia Collins, Chandreonia Harris, Juliana Hernandez, Leanasha Jones and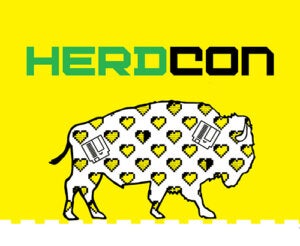 Marshall University's annual pop culture convention, HerdCon, kicks off at 1 p.m. Friday, March 24, with a visit from Justin and Dr. Sydnee McElroy of the internationally known podcast "Sawbones: A Marital Tour of Misguided Medicine." The Sawbones Live event will be in BE5 of the Memorial Student Center, and tickets became available at 9