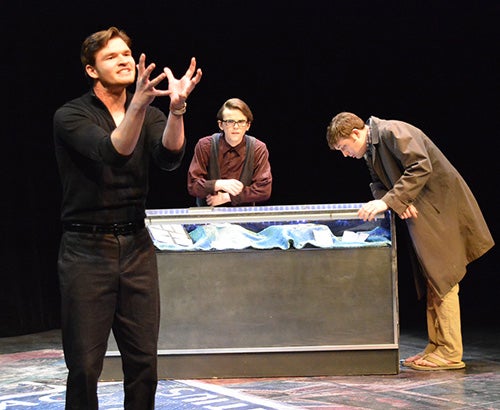 The Marshall University Theatre company, THEATRE ETC!, has received an anonymous grant in the amount of $20,000. The grant will improve the level of production and affordability of the company's performances, said the company's founder and director, John Colclough, a professor of theatre at Marshall.
THEATRE ETC! is an educational touring company composed of Marshall University theatre students. They tour to and perform for middle and high schools in the Tri-State area, with an emphasis on stage adaptations of literary classics in an effort to support the public and private school curriculum.
Past production titles include The Giver, The Adventures of Tom Sawyer, Fahrenheit 451, A Christmas Carol, Antigone and this year's production of 1984. In three years, THEATRE ETC! has performed for over 3,000 students throughout southern West Virginia and eastern Ohio. THEATRE ETC! also offers free study guide materials, post-performance discussions and workshops in improvisation, theatre games, movement, voice, playwriting and acting.
THEATRE ETC! was the brainchild of Colclough and former Marshall Theatre faculty member Nicole Perrone. The goal was to approach outreach in an innovative and entrepreneurial way, with Marshall theatre students forming their own production ensemble. Under the tutelage of faculty or staff, students design and build sets, properties and costumes, as well as rehearse and perform the shows. In addition to their duties as theatre artisans, students also create production-specific lesson plans and study guide materials. Aside from the educational impact the company has in the classroom, the company provides an excellent recruitment opportunity as well, both for the theatre department and Marshall University.
"Marshall University Theatre is committed to offering enriching theatre arts education to both primary and secondary school students while at the same time, preparing Marshall University theatre students for a career in professional theatre as well," Colclough said.
For more information, contact Colclough at colclough@marshall.edu or 304-696-2511.
——-
Photo: Marshall theatre students give a performance of "Mauritius" in 2016.