2022 WVIBMC's Top Award – Congratulations to Anna Cummings!
March 28, 2022 | Huntington, WV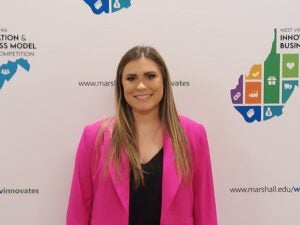 Anna Cummings, an Entrepreneurship/Innovation + Management double major from West Virginia University, claimed the top award ($3,000.00) from the WV Innovation + Business Model Competition (WVIBMC) state finals hosted on the campus of Marshall University.  Anna's new venture is named Earring BackTrack and is a device that allows an individual to easily remove and/or apply the stainless-steel backs to an earring stem once inserted through the piercing.  With the oldest population, West Virginians suffer from significant rates of arthritis and related dexterity issues.  However, many individuals benefit from the Earring BackTrack, including children and those with smaller hands.
As the top award winner, Anna may use the award for securing services, equipment, and/or materials that will assist her in the furtherance of Earring BackTrack as a new venture.  Congratulations to Anna for an outstanding concept, presentation, and all the work into making the device a reality.  Anna is coached by Anne Jones (Director Entrepreneurship, StartUp WV + Business Advisor, Morris L. Hayhurst LaunchLab) and Dr. Carrie White, Ed.D. (Exec. Director LaunchLab).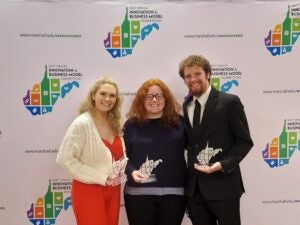 Derek Hess, Elizabeth Harvey, and Taylor Pugh from West Virginia Wesleyan College claimed the second position award ($2,000.00) for their new venture concept named Incubation Productions, a startup focused on drawing video production and filmmaking to the State of West Virginia.  The team observed that the costs of producing video content (creator-side) and the costs of securing video content (user-side) have been a discouragement to both sides of the equation.  Incubation Productions intends to close this gap with affordable creation and content that small businesses and small organizations can effectively utilize.  Derek, Elizabeth, and Taylor are coached by Dr. Tracie Dodson and Dr. Josh Beck, business faculty at WV Wesleyan College.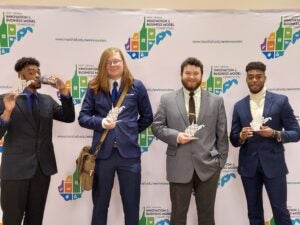 Marshawn Kelley, Marcus Kelley, Trenton Holcomb, and Jonathan Williams from Glenville State University were awarded the third position ($1,000.00) for their new concept named SCups, a new venture trying to address safety and security in public settings in which beverages are vulnerable to alterations.  In particular, the SCup is a restaurant-style beverage container that has a lid that sends a signal when it is removed without authorization.  The container uses processors and circuits to create the security that is accuated when the lid is removed.  This helps prevent individuals from ingesting doped or poisoned drinks, with the alert serving to warn the user and to replace the beverage.  Marshawn, Marcus, Trenton, and Jonathan are coached by Dr. Mark Sarver, business faculty at Glenville State University.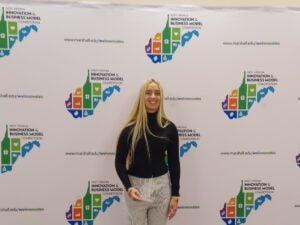 Ellie Hawcroft from Concord University was awarded $750.00 for her proposed new venture named NutriKick, a food and beverage alternative that provides healthy choices in areas where food and beverage choices are limited to fast food and chain restaurants.  In particular, NutriKick would target students and faculty members in the smaller college towns where on-campus and off-campus food and beverage offerings are quite limited in both selection and operating hours.  The target markets include those that work or practice beyond traditional operating hours, vegetarian and vegan consumers that experience restricted options and menus, and those that seek gluten-free alternatives to the traditional fare available in cafeterias and similar outlets.  Ellie is coached by Dr. Angela Addair, business faculty at Concord University.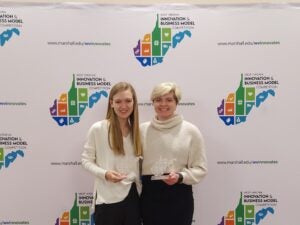 Katelyn Spears and Sydney Adkins from Marshall University were awarded $750.00 for their proposed new venture named Wildflower Homes, a startup intending to offer a new rental option to young adults by operating tiny homes.  While most young adults rent apartments or mobile homes, neither option is optimal.  Apartments usually include roommates and/or neighbors that may be difficult to live with or next to, while mobile homes are aesthetically unappealing and may carry a stigma.  Instead, a tiny home (500-700 square feet) can offer an aesthetically pleasing look without the crowded nature of apartment-living.  Moreover, tiny homes may be customized and multi-level living options may be utilized to provide sufficient floorplan alternatives that would attract a number of potential target customers.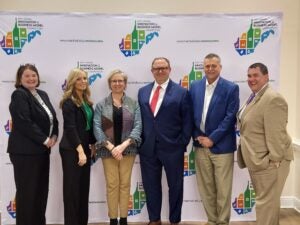 Special thanks to our partner institutions (Concord, Glenville, WVU, and WV Wesleyan) and their dedicated personnel serving as mentors and coaches to the student-teams.
The 2022 WVIBMC judges Kaylin Jorge, Mary Hott, Don Perry, Paula Taylor, and Bill Woodrum provided students with great questions and suggestions and have went above and beyond the call of duty this year.  Thanks to our great judges.
Emcee Bill Bissett performed masterfully in leading our event and providing the right information at the appropriate time.
Additional special thanks to Marshall University leadership, including Pres. Brad D. Smith, Interim Provost Avi Mukherjee, College of Business Deans Jeff Archambault, Ph.D. (Interim) and Nancy Lankton, Ph.D.  And special thanks to co-organizer and consultant Jeremy Turner.
Special thanks to Deacon Stone at RCBI for the outstanding work on the student trophies that we presented this year.
Congratulations to all the participants – your hard work and dedication was noticed!
Watch the Video Replay – WV State Finals (WVIBMC)
March 28, 2022 | from Memorial Student Center
West Virginia Innovation & Business Model Competition 2022
2022 marks the fourth year of the West Virginia Innovation & Business Model Competition (WVIBMC)! The fourth edition of the competition sees a return to an in-person presentation format.  WVIBMC is open to all students enrolled in a two- or four-year institution in the state of West Virginia.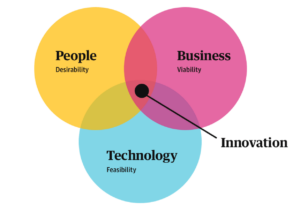 WVIBMC focuses on helping college students in West Virginia find a significant problem that they can apply their skills and strengths to solve. WVIBMC utilizes design thinking as inspired by institutions like IDEO and Intuit's Design-4-Delight (D4D) to test assumptions and experiment with possibilities to develop game-changing solutions and business models for and with real customers. Students will evaluate what they learn and either validate key assumptions or pivot and change course.
Image Source:  The Guardian​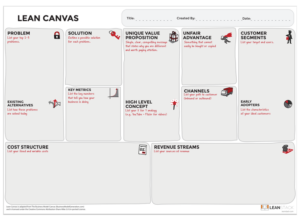 The WVIBMC is passionate about giving students the mindset and tools they need to innovate high-impact businesses that will change their lives and the lives of those in the state and beyond. The WVIBMC uses blend of entrepreneurial best practices like design thinking, business model canvas, and lean canvas to foster the development of desirable, viable, and feasible business models. The WVIBMC is made possible due to the generosity of the Robert E. Yancey, Sr. Entrepreneurship Endowment and Intuit.
Image Source:  LEAN Stack | Ash Maurya