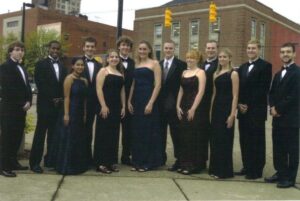 Ryan Adkins
Ryan is from Greenup, KY. Ryan majored in History and had a minor in French. Since graduation, Ryan has worked for Marshall University's IT department.
Facebook: Ryan Adkins
Matthew Prochnow
Matthew grew up in Tallmadge, Ohio. He is now in Philly. He majored in English and History and minored in French and International Affairs. Matthew got his Masters in Secondary Ed., English at Temple University after spending a few years bopping around internationally. He has worked for Big Picture Philadelphia and Big Picture Learning, nationally, since 2009.
Facebook: Matthew Prochnow; LinkedIn: Matthew Prochnow
Nicholas Phillips
Michael Wooten
Srijita DasGupta
Mary Crytzer
Jeremy Ashe
Jessica Kennedy

Katie Hempill
Katie is from Portsmouth, Ohio. She majored in International Relations. After Marshall, she took a job teaching English in Shanghai, where she lived for 3 years. Katie then moved to Auckland, New Zealand, and continued teaching ESL at a language school. Next, she relocated to Australia for 5 years and started working in the travel industry. When her visa expired, Katie's company sent her to Hong Kong, where she was based for 4 years, with the last two of those being full-time telework/travel. When COVID hit, Katie transitioned back to the US and took a job with the federal judiciary, and she is now located in Washington, DC. Katie is graduating in May 2023 with a master's in Government from Harvard Extension School.
Steven Taylor
Steven is from Huntington, WV. He majored in Physics with minors in Chemistry, Biology, Spanish, Math, and Honors. After the Yeager Program, Steven stayed at Marshall and attended the Joan C. Edwards School of Medicine. Following this, he joined USAF, did his residency at Saint Louis University Family Medicine, spent 4 more years in the USAF, was promoted to major, separated from USAF and joined HSHS medical group in Ofallon Illinois.