What are Current Yeager Scholars Doing?
The following are select stories of Yeager Scholars leading in engagement with the different communities of which they are a part.
---
Hunter Barclay
Here, members of the Marshall family—including Hunter Barclay, a Yeager Scholar and President of the Marshall University Student Government Association, together with the acclaimed John Marshall Fife and Drum Corps—traveled to Richmond, Virginia for the second consecutive year to celebrate the nation's longest-serving chief justice and the University's namesake, Chief Justice John Marshall.
---
Victoria Endres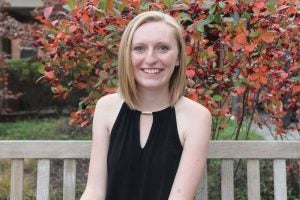 Yeager Scholar Victoria Endres who is a Literary Studies and Creative Writing major has had three recent publications. Her nonfiction essay "Skinny" appears in the Manhattanville Review.
Her poem "Tattoo" appears in the Underscore Review.  And, finally, her nonfiction essay "Mirror, Mirror" is in volume sixteen of Thoreau's Rooster.

---
Lexi Adams
Lexi Adkins is not the stereotypical cheerleader of Hollywood fame – ditzy, mean and knowing nothing about the sports for which she cheers.
Adkins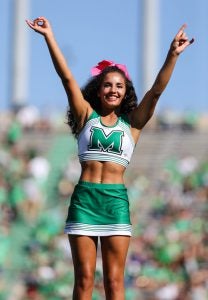 , 18, and a freshman at Marshall University, is the opposite of all those unflattering qualities. The young woman flying through the air and back flipping across the Thundering Herd's fields and courts is a Yeager Scholar, the recipient of the highest academic scholarship the university awards. Intelligent, polite and athletic, Adkins earned grades and test scores to qualify for entry into nearly any college in the nation. She chose Marshall. Read more on the Herald-Dispatch.
---
Liz Adams and Luca Brambilla
Yeager Scholars Liz Adams and Luca Brambilla are seen here proudly representing Marshall University at (nearly) the top of the world at the Mt. Everest base camp. Here we catch them experiencing time in Nepal and on the face of Everest before they spend the summer volunteering and teaching in India. #MarshallUFamily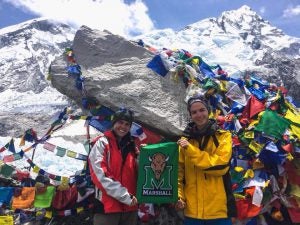 ---
Brooke Estep
"People love Huntington so much they're willing to fight for it and make it a better place." Yeager Scholar Brooke Estep shows us how she fights for her Huntington through exceptional work with the Convention and Visitors Bureau and various nonprofits in the city. Brooke is a senior Public Relations student in the W. Page Pitt School of Journalism and Mass Communication.
As a student at Marshall, Brooke has grown to love the community and feels Huntington is more than just a home–it is a place that encourages and inspires Marshall students. She knows that no matter where she goes, the people of Huntington and Marshall University will always be there to support her, like family. #MyHuntington #MarshallUFamily