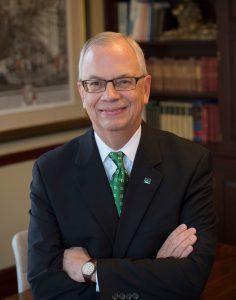 Dear Marshall University community,
Let me start by saying how incredibly proud I am to be your president, now perhaps even more than ever.
Over the past weeks, I have repeatedly been awed, inspired and almost brought to tears by the dedication to our educational mission by our faculty and staff, the acts of kindness and generosity by our students and employees, and the commitment to our community's safety and wellbeing by every member of the Marshall family.
As I wrote in a column for The Parthenon last week, I know our world is forever changed by the COVID-19 pandemic—in some ways for the better, although it may be hard to see that right now. I also know we all have questions that cannot be completely answered quite yet.
What will next academic year look like? (More on this in a minute.) Will we be able to gather 1,800 freshmen around the John Marshall statue for the traditional class photograph in August? Will we have football in the fall? Will we all be able to participate in traditional programs like Freshman Convocation and Commencement, with large numbers of people in the audience?
We will all know much more in the coming weeks and months, as incidences of the virus hopefully continue to decline and our communities start opening back up.
In the meantime, we must keep hope alive. Here are just a few of the things keeping hope alive for me right now:
Our faculty and students have taken the transition to distance learning head on and, for the most part, made it work. It has been difficult, I know, but we have adapted and will get through this semester.
Dr. Suzanne Strait from Biological Sciences, along with her West Virginia Mask Army, as well as a number of our theatre students, have sewn thousands of cloth masks for health care workers.
When our community's first responders were having trouble finding supplies, our School of Pharmacy made and bottled hand sanitizer for them.
Our research laboratories generously gathered up their stocks of masks, gowns and other personal protective equipment and sent it to local hospitals.
Marshall scientists addressed a state-wide shortage of the solution used to transport testing swabs by making the mixture in one of our labs.
Our Robert C. Byrd Institute (RCBI) led the state's efforts to 3D print N95 masks for use by health care providers.
Dr. Marianne Linz, chair of our Psychology department, was a driving force in putting together the inspirational Huntington COVID-19 Care Plan to help the most vulnerable in our local population.
There are many, many more examples of how the Marshall family has stepped up time after time to take care of one another, their neighbors and their communities. Thank you all for everything you have done and will do as we continue to face obstacles on the path to our new normal.
Fall 2020 Semester
We know our students and their families place great value on the personal approach we offer at Marshall, and we are working steadily toward safely and responsibly providing an on-campus academic experience for our students in the fall. Given the trends and projections available to us today, we believe that modifications to the fall semester—such as creative class scheduling and other social distancing strategies—can make that possible.
Provost Jaime Taylor is coordinating with the deans and our campus health/safety experts to develop academic and student life plans for the fall. We will be sharing more information as their plans are finalized, but I wanted you to know that at this time, we are committed to having as close to a normal fall semester for our students as we possibly can.
Campus Offices
We are also starting to plan for a re-opening of campus offices, although we are likely a few weeks away from taking that step. Our Office of Environmental Health and Safety is working with Human Resource Services and Marshall Health's chief medical officer to develop a comprehensive plan that we will share with all employees as soon as it is finalized. In the meantime, offices will continue to operate remotely and staff will continue to telecommute until further notice.
Budget Challenges
Due to the pandemic and the related uncertainty regarding enrollment, financial markets and other factors, we know we face a multimillion-dollar budget hole in the fall. Universities across the country are grappling with these same issues, so we are certainly not alone.
Most national higher education surveys are predicting a possible decrease in enrollment as families navigate the financial hardships associated with this crisis. We will continue to work diligently to ensure that a Marshall education is affordable and attainable, but we must face the possibility of a decrease in the tuition revenue that funds Marshall University—lower enrollment means less money to support our operations. It's as simple as that.
Add in the unknowns about college athletics, interest earnings on our endowment and possible effects of the economic downturn on our donors, and it becomes clear we have some great challenges still ahead. While we are in one of the strongest financial positions of any public higher education institution in West Virginia, we must prepare for the worst and hope for the best.
With this in mind, I have already put the following actions into motion:
I have asked Chief Financial Officer Mark Robinson to convene a budget work group made up of representatives of the student body, the faculty and the staff. The group will begin meeting virtually on Tuesday to help identify ways to make significant reductions to the university budget for the coming year. I am sorry to say that these cuts will be deep and they will be painful. I have charged the group with identifying savings of $15-25 million. Nothing is off the table, so if you have ideas, I urge you to complete our online form. All submissions will be forwarded to the university's leadership team for consideration.
We have put a hard freeze on all hiring of faculty and staff until further notice. Senior leadership is reviewing positions currently posted to decide which are critical to university operations and which can wait.
We have placed a hold on all state-funded travel for the next year.
Athletics leadership is planning for significant budget reductions next year. There is considerable uncertainty right now about the future of intercollegiate athletics at all levels, so they will need to be proactive about managing their budget, too. Reorganization and reductions will be necessary in Athletics just as they will be in the rest of the university's operations.
Beginning June 1 and extending for up to one year, Provost Taylor and I are taking voluntary pay cuts of 10% and 15%, respectively. Everyone at Marshall will have to make sacrifices in the coming months and, as two of the university's highest-paid administrators, we wanted the savings to start with us.
Marshall University has been through even tougher times than this, and we have a history of perseverance. Although the short term may be challenging, I am certain we will come out much stronger for the future.
Please stay safe and healthy. I look forward to when we can all be together again.
Sincerely,
Jerome A. Gilbert, Ph.D.
President