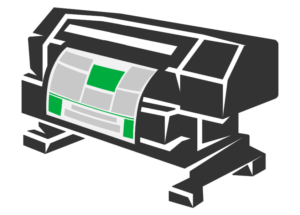 The COS IT Center provides poster printing services for faculty, staff, and students across Marshall University. We have an HP DesignJet printer using premium latex-based inks capable of printing projects up to 58 inches in the shorter dimension. Projects can be printed on various types of media to fill a variety of needs.

Media Options
Glossy Paper
Most posters are printed on glossy paper. The coatings on the paper and the latex-based printing provide UV resistance to help keep the image from fading while increasing contrast and making colors more vibrant.
Fabric
Fabric posters make it easy to travel with your poster and get it in front of the right people. The fabric material is soft, flexible, and most importantly, foldable. Even large posters can be folded and placed in a carry-on bag. The latex-based printing helps the image resist fading. We recommend black/dark text and a white/light background when using this option; this keeps the dark background ink from "bleeding" into the light colored text. Fabric is our most expensive printing option.
Backing Material
We are not able to provide any kind of backing material, stiffener, or mounting services for posters. This includes foamcore, poster board, or mounting strips. You will need to make your own arrangements for mounting and/or displaying your poster. If you will need a margin left around your poster for mounting, you must include that in your poster design.
Pricing
Pricing for print projects is based on four factors:
type of media (fabric or paper)
type of ink (latex-based or dye-based)
dimensions of the printed area
amount of extra media used in making the print
All posters are printed on 60-inch rolls of media; the space to the left and right of the printed area is considered the "extra media". Posters printed on fabric are also subject to an additional processing fee to cover increased setup and extra material used.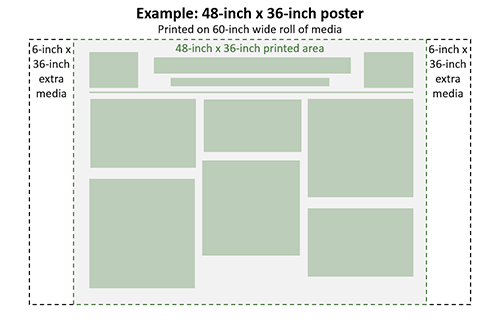 Price Estimator
Media
Cost
No media options fit these size requirements.
The prices provided above are merely estimates for informational purposes and are not binding. For a quote, please contact cositc@marshall.edu.
| Media & Ink | Printed Area | Extra Media | Processing Fee |
| --- | --- | --- | --- |
| Glossy Paper (latex-based) | $3.50 / sq. ft. | $0.50 / sq. ft. | – |
| Fabric (latex-based) | $7.50 / sq. ft. | $1.00 / sq. ft. | $10.00 |
Submission
We prefer posters to be submitted as a Portable Document Format (PDF) file, but we will accept posters in most common file formats (e.g. PowerPoint, Publisher, Photoshop) and convert them to PDF/PS for printing. Please specify the size at which you want your poster to be printed when submitting. If you do not specify dimensions, your poster will be printed at the size indicated by the file. Posters can be submitted in person in our office in Science Building room 162 or via email by sending it to cositc@marshall.edu.

Turnaround & Deadlines
Posters are printed on a first-come, first-served basis. Posters are placed in the queue based on when the file is received by the COS IT Center. Most posters are printed within one or two business days. However, during busy times – such as end-of-semester presentations or before an event or conference with many Marshall attendees – it can take longer for a poster to be printed.
We strongly recommend planning on five (5) working days for your poster to be printed to allow for most conditions. Extraordinary conditions – such as an order to print a large number of posters, an exceptional number of posters in the order queue, or unexpected catastrophic equipment failures – may cause prints to take longer and will be communicated as we are able. Feel free to contact us at cositc@marshall.edu to ask about current turnaround times.
Once a poster is printed and ready to be picked up, we will send and an email notification to a designated person.

Invoicing & Payment
After poster printing is complete, an invoice will be sent via email to a designated person.
Invoice payment is preferred by inter-departmental transfer via P-card for Marshall entities. In this case, invoices are typically sent to an administrative assistant to process the payment. Payment is due upon receipt of the invoice.
With prior approval, we can also accept payment via check or cash (exact change only) for those willing to pay with personal funds. Check and cash payments are to be made when the poster is picked up. Please bring these payments to our office in Science Building room 162.
We are unable to accept credit cards or debit cards in our office.
Please contact us at cositc@marshall.edu to discuss any payment questions.

Resources
Poster Design
Poster designs vary as much as the topics they cover. While the majority of posters we print are research posters, we have also printed maps, promotional materials, and more. Research posters are most commonly 4-foot wide by 3-feet high (48 inches x 36 inches). However, conferences and other presentation venues often have specific size requirements or limits. Other common poster sizes include: 36″x36″, 48″x48″, and 36″x24″.
We try to review each poster we receive for obvious errors (e.g. elements placed off the page, overlapping elements), but you are ultimately responsible for what's on your poster. If you have any particular questions, you can ask them before or when you submit your poster, and we will try to address them.
Here are some tips to consider when designing your poster:
Before you begin, adjust the dimensions of your page to the dimensions for your poster; posters will be printed at the size indicated by the file (or scaled proportionally as directed)
Proofread, proofread, PROOFREAD!
Avoid stretching images; use the corner resize handles to maintain the aspect ratio in PowerPoint
Whitespace is important for readability; filling every inch of your poster will make it difficult to read
Do not place text, graphs, pictures, or other design elements within 1/8 inch of the edge; trimming the poster will remove a small amount from the edges
Make sure that all elements of your poster are within the page – only elements within the page will appear on the printed poster
For paper posters, consider how you will transport the poster; folding a paper poster ruins its professionalism
For fabric posters, avoid dark backgrounds with light text; the background color will bleed into the text making it difficult to read
If you will be mounting your poster, include any needed margins in your poster design; extra material is not left on posters