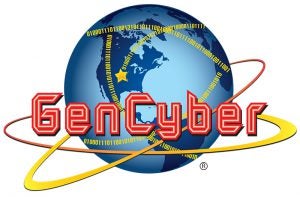 Welcome to the home of the 2017 GenCyber Camp at Marshall University in Huntington, WV.
The GenCyber program provides summer cyber security camp experiences for students at the 9-12 level. The goals of the program are to help all students understand correct and safe on-line behavior, increase diversity and interest in cyber security and careers in the cyber security workforce of the Nation.
The Marshall University "Thundering Hackers" GenCyber Camp will be the first digital forensics and cyber security student program in West Virginia and the surrounding Appalachian regions for students entering 9th – 12th grades.  The GenCyber Camp's foundational courses (Hardware & Software Programming, Digital Forensics, and Information Security) will cover the Cybersecurity First Principles, ethics, and online safety.  To ensure a level playing field, application to the Marshall GenCyber camps are open to all student participants at no cost on a competitive basis. Funding is provided jointly by the National Security Agency (NSA) and the National Science Foundation (NSF).
Application Deadline:
May 15th, 2017
Click Here to Access the Online Application
2017 Camp Dates:
June 26-30th, 2017 @ Marshall University Main Campus, Huntington, WV
Camp Schedule:
Check-in time is Sunday June 25th between 1:00 and 3:00pm (EST). Opening program and welcome will begin at 3:00pm (EST).
Cost & Accommodations:
The Marshall GenCyber Camp is FREE to all accepted students! All program costs, including all accommodations, meals, and activities, are covered through grants from the National Science Foundation (NSF) and the National Security Agency (NSA). This week-long residential program is limited to 24 students entering 9th-12th grades and will be selected on a competitive basis.
Questions & Contacts:
Josh Brunty
Assistant Professor & GenCyber Program Director
Digital Forensics & Information Assurance
Email: josh.brunty@marshall.edu
Phone: 304-696-5602
Erika Riley
GenCyber Program Director
MU Regional Center for Distance Education & Professional Development
Email: erika.riley@marshall.edu
Phone: 304-746-8960