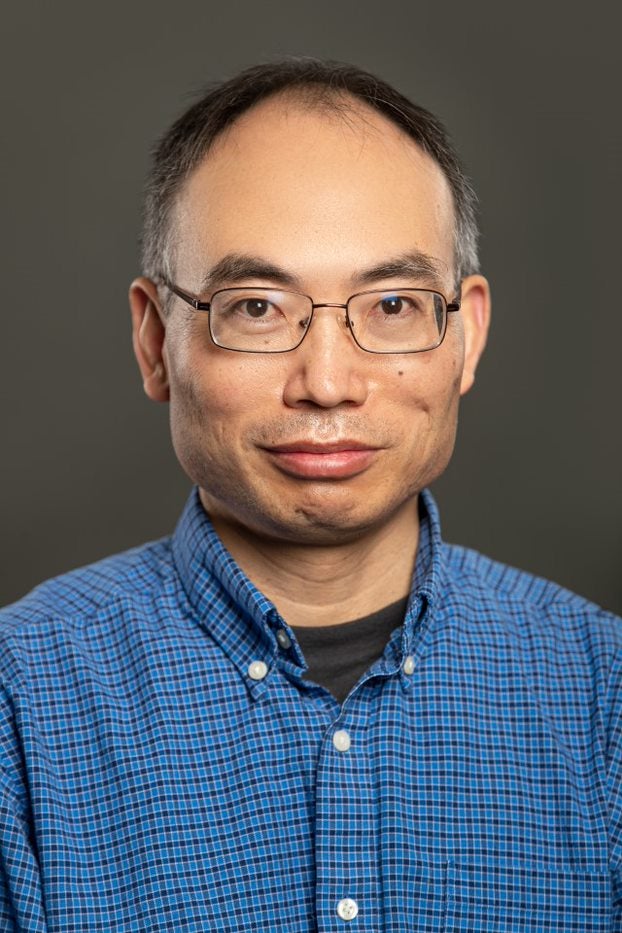 Biography
Dr. Liquan Cai currently serves as an Assistant Investigator at the Marshall Institute for Interdisciplinary Research at Marshall University.
New signaling mechanisms in muscle development and diseases
Muscle development is controlled by coordinated genetic factors. External signals transit through the cell membrane, affect cell fate, cellular physiology or pathology. As a membrane protein, Na+/K+-ATPase is essential to tissue morphogenesis.
Our current research involves human induced pluripotent stem cells, CRISPR gene editing, and mouse genetics to dissect out integrated new roles of Na+/K+-ATPase ion pumping and signaling functions. We focus on the biology of skeletal muscle cells and cardiomyocytes in physiological and pathophysiological conditions.
Selected Publications
Huang M, Wang X, Banerjee M, Mukherji ST, Kutz LC, Zhao A, Sepanski M, Fan CM, Zhu GZ, Tian J, Wang DZ, Zhu H, Xie ZJ, Pierre SV, Cai L. Regulation of Myogenesis by a Na/K-ATPase α1 Caveolin-Binding Motif. Stem Cells. 2022 Mar 16;40(2):133-148. doi: 10.1093/stmcls/sxab012. PubMed PMID: 35257186; PubMed Central PMCID: PMC8943859
Wang X, Cai L, Xie JX, Cui X, Zhang J, Wang J, Chen Y, Larre I, Shapiro JI, Pierre SV, Wu D, Zhu GZ, Xie Z. A caveolin binding motif in Na/K-ATPase is required for stem cell differentiation and organogenesis in mammals and C.elegans. Sci Adv. 2020 May;6(22):eaaw5851. doi: 10.1126/sciadv.aaw5851. eCollection 2020 May. PubMed PMID: 32537485; PubMed Central PMCID: PMC7253156.
Cai L, Phong BL, Fisher AL, Wang Z. Regulation of fertility, survival, and cuticle collagen function by the Caenorhabditis elegans eaf-1 and ell-1 genes. J Biol Chem. 2011 Oct 14;286(41):35915-35921. doi: 10.1074/jbc.M111.270454. Epub 2011 Aug 31. PubMed PMID: 21880729; PubMed Central PMCID: PMC3195645.
Cai L, Das B, Brown DD. Changing a limb muscle growth program into a resorption program. Dev Biol. 2007 Apr 1;304(1):260-71. doi: 10.1016/j.ydbio.2006.12.031. Epub 2006 Dec 19. PubMed PMID: 17234173; PubMed Central PMCID: PMC1868508.
Cai L, Brown DD. Expression of type II iodothyronine deiodinase marks the time that a tissue responds to thyroid hormone-induced metamorphosis in Xenopus laevis. Dev Biol. 2004 Feb 1;266(1):87-95. doi: 10.1016/j.ydbio.2003.10.005. PubMed PMID: 14729480.
Cai LQ, Cao YJ, Duan EK. Effects of leukaemia inhibitory factor on embryo implantation in the mouse. Cytokine. 2000 Nov;12(11):1676-82. doi: 10.1006/cyto.2000.0758. PubMed PMID: 11052819.
Cai L, Huang C, Li Q. The adaptive thermogenesis of the gerbils' brown adipose tissue. Dong wu xue bao. [Acta zoologica Sinica]. 1998; 44(4):391-397.
 Previous Positions
Senior Scientist, University College Cork, Ireland
Research Assistant Professor, Department of Urology, University of Pittsburgh
Research Instructor, Department of Pharmacology, University of Illinois at Chicago
Education and Training
Carnegie Institution for Science: Postdoctoral Associate. Xenopus Development
Chinese Academy of Sciences: Ph.D. Animal Reproductive Biology
Beijing Normal University: S.  Animal Physiology
Xinyang Normal University: B. S. Biology Science