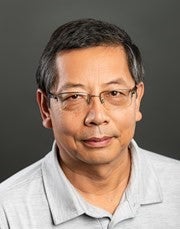 Biography
Jiang Tian, Ph.D., serves as a Principal Investigator at the Marshall Institute for Interdisciplinary Research at Marshall University.
His research focuses on the pathology of uremic cardiomyopathy. My laboratory uses partial nephrectomy (PNx), myocardial infarction (MI), transverse aortic constriction (TAC) animal models, as well as cell culture system to study the role of Na/K-ATPase in cardiac hypertrophy, fibrosis, apoptosis, and regeneration. Major research area include:
Molecular mechanisms of cardiovascular disease, with special emphasis on uremic cardiomyopathy. Use of Na/K-ATPase alpha1 heterozygous knockout mouse models to study the role of Na/K-ATPase reduction in content, circulating levels of CTS, and cardiovascular functions.
Regulation of Na/K-ATPase expression. We are studying a natural antisense RNA of Na/K-ATPase and its role in regulation of Na/K-ATPase signaling. We also investigate an inverse agonist of Na/K-ATPase, which can maintain Na/K-ATPase membrane abundance and improve cardiac function in animal models of chronic kidney disease.
MicroRNA-29 (miR-29b) regulation and cardiac tissue fibrosis. We demonstrated that Na/K-ATPase signaling regulates miR-29, an anti-fibrotic RNA, through Src and NFkB signaling. We also established special vectors that can conditionally express miR-29 to counteract with collagen synthesis and fibrosis formation.