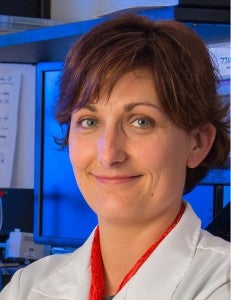 Sandrine Pierre, Ph.D.
Associate Investigator and Education Coordinator
Adjunct Associate Professor of Pharmacology, Physiology and Toxicology, Joan C. Edwards School of Medicine
Dr. Sandrine Pierre was named associate investigator and education coordinator at the Marshall Institute for Interdisciplinary Research in February 2014.
Pierre most recently was on the faculty of the University of Toledo College of Medicine, where she had served as an associate professor in the Department of Biochemistry and Cancer Biology since July 2013. Prior to that, she was an assistant professor in the same department. From 2003 to 2011, she was an assistant professor in the college's Department of Physiology and Pharmacology. In addition, she was a research instructor and post-doctoral fellow in the Department of Physiology at Texas Tech University from 2000-2003.
She has a bachelor's degree in cell biology and a doctorate in cell communication in endocrinology from Aix-Marseille II University in France. She is an active member of the steering committee of the American Physiology Society's Cell and Molecular Physiology section.
Pierre's group at MIIR is focused on exploring new treatments for heart attacks and other cardiovascular conditions by studying how the dual role of the "sodium-potassium pump," Na+, K+-ATPase, regulates cardiac cell physiology in health and diseases.
As the institute's education coordinator, Pierre also works with Marshall academic program directors to facilitate students' access to research opportunities in the MIIR labs.
Education
B.S., Cell Biology/Immunology, 1996, Aix-Marseille II University, France
M.Sc., Cell Communication in Endocrinology, 1997, Aix-Marseille II University, France
Ph.D., Cell Communication in Endocrinology, 2000, Aix-Marseille II University, France
Appointments
Associate Investigator and Education Coordinator, Marshall Institute for Interdisciplinary Research, Marshall University, February 2014-present
Assistant Professor, Department of Physiology and Pharmacology, University of Toledo College of Medicine, Health Science Campus, 2003-2014
Research Instructor, Department of Physiology, Texas Tech University Health Sciences Center, Lubbock, Texas, February 2003-August 2003
Postdoctoral Fellow, Department of Physiology, Texas Tech University Health Sciences Center, Lubbock, Texas, 2000-2003
Research Interests
The integrity of Na+,K+-ATPase protein complexes at the cell surface of the cardiac myocyte is not only critical for the maintenance of ion homeostasis, it is also key to adequate initiation and transduction of digitalis signalling and subsequent pharmacological effects. We focus on the mechanism of ischemia/reperfusion-induced Na+,K+-ATPase alteration and preconditioning by digitalis as tools to develop novel approaches for therapeutic intervention in myocardial infarction
Representative Publications