Overview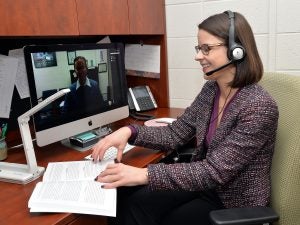 Telepractice, the "application of telecommunications technology to the delivery of speech language pathology and audiology professional services" (American Speech-Language-Hearing Association, 2016), offers an alternate service delivery model to meet the needs of clients who are unable to access in-person therapy or specialty services. Recent research supports the efficacy of telepractice for clients who represent various ages and communication disorders (e.g., Edwards, Stredler-Brown, & Houston, 2011; Short, Rea, Houston, Scott, & Forducey, 2016; Theodoros, 2011)
---
Purpose

The newly developed telepractice clinic at Marshall University is an extension of the Marshall University Speech and Hearing Center (MUSHC). It seeks to provide remote, high-quality speech-language services to eligible clients. Services are available to clients who live in West Virginia and other states.
---
Determination for Eligibility
We are currently enrolling clients for our stuttering and feeding telepractice clinics. Enrollment for clients seeking other speech-language services will begin Summer, 2017.
Clients seeking telepractice services must first arrange an in-person evaluation at MUSHC. Following the evaluation, a speech-language pathologist will determine the client's eligibility for telepractice. In order to ensure the highest quality of care, all clinical recommendations are made based on each client's unique needs. As such, telepractice may not be recommended for all clients. Eligibility for telepractice will be based on various factors including the age of the client and type and severity of the client's communication disorder.
---
How It Works
Technology requirements for clients
Telepractice sessions are conducted via a videoconferencing system that is compliant with regulations set forth by the Health Insurance Portability and Accessibility Act (HIPAA). Clients need a computer with a webcam and a reliable internet connection. For privacy purposes, it is recommended that clients be in a quiet, private setting during therapy sessions (e.g., their home).
Session Format
All sessions will be 30-minutes or as scheduled, and occur synchronously (i.e., the client and the clinician will interact with each other in real time). As with in-person sessions, telepractice sessions are conducted by a Marshall University graduate student and closely supervised by a licensed, certified speech-language pathologist. Clinicians utilize various instructional materials and technology (e.g., a document camera) during therapeutic activities. Therapy is conducted from a designated telepractice therapy room at the MUSHC. Sessions will be scheduled based on available openings, and reoccur at a regular time and frequency.
Patient Confidentiality
All services provided via telepractice will abide by the policies and procedures of the Marshall University College of Health Professions and the School of Medicine, Marshall Health, and the Health Insurance Portability and Accessibility Act (HIPAA).
---
Billing
Per state regulations, telepractice is not covered by medical insurance. Accordingly, clients are solely responsible for remitting payment for their telepractice sessions at time of service delivery. Payments are accepted via check, money order, or PayPal. Questions about cost and arranging payment plans can be directed to the clinic office: 304-696-3641.
---
Contact
General inquiries about the MUSHC telepractice clinic as well as specific inquiries about the stuttering clinic can be directed to:
Sarah Clemins, M.S., CCC-SLP
Phone: 304-696-3246
E-mail: nuckels@marshall.edu
Inquiries about the feeding clinic can be directed to:
Pam Holland, M.S., CCC-SLP
304-696-2985
holland@marshall.edu
---
References
American Speech-Language-Hearing Association (2016). Telepractice. Retrieved from http://www.asha.org/Practice-Portal/Professional-Issues/Telepractice/.
Edwards, M., Stredler-Brown, A., & Houston, K. T. (2012). Expanding use of telepractice in speech-language pathology and audiology. The Volta Review, 112(3), 227-242.
Short, L., Rea, T., Houston, B., Scott, S., Forducey, P. (2016). Positive outcomes for speech telepractice as evidence for reimbursement policy change. Perspectives of the ASHA Special Interest Groups on Telepractice, 1(18), 3-11.
Theodoros, D. (2011). Telepractice in speech-language pathology: The evidence, the challenges, and the future. Perspectives of the ASHA Special Interest Groups on Telepractice, 1, 10-20.