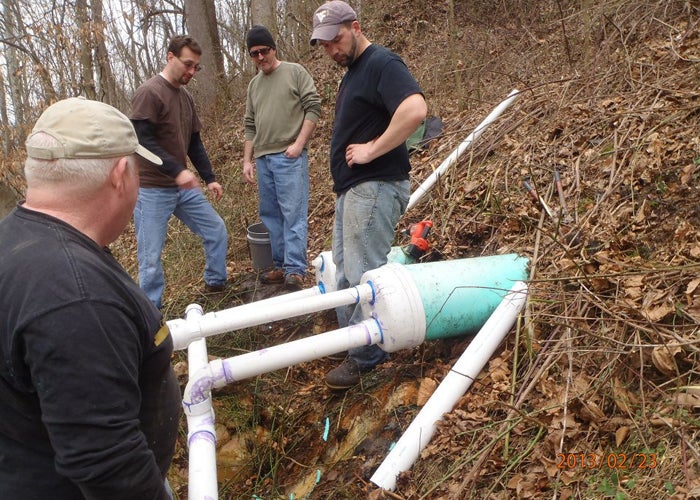 Tuesday, June 18, 2013
---
HUNTINGTON, W.Va. – Marshall University's Center for Environmental, Geotechnical and Applied Sciences and the West Virginia Brownfields Assistance Center at Marshall University have announced the installation of a hydro generator to be used as a demonstration and education project in the Morris Creek Watershed near Montgomery.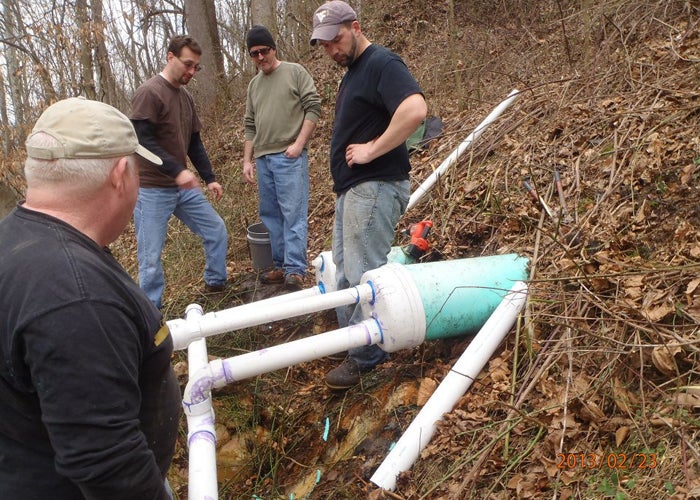 Installed in conjunction with the Morris Creek Watershed Association, the hydro generator is using acid mine drainage discharge as its water source. It is the latest in a series of projects the university is conducting in partnership with the West Virginia Division of Energy's Office of Coalfield Community Development to demonstrate renewable energy applications on former surface-mined properties.
The Morris Creek Watershed is located in an extensively mined area of Kanawha and Fayette counties. According to George Carico, director of the West Virginia Brownfields Assistance Center, mining has not occurred in the watershed since the late 1980s but acid mine drainage discharges are present.
He says water from a discharge has been diverted to provide the water source for the generator. After the water passes through the generator, it is directed back into the main stream for treatment before entering Morris Creek.
Power generated from the 1.3 kilowatt system is being used to charge the Morris Creek Watershed Association's stream monitoring equipment and meeting facility. The association is monitoring the generator's performance and will be offering informational tours of the system as part of its ongoing educational program.
Carico worked with the West Virginia Division of Energy to find a suitable site to demonstrate this type of renewable energy. He says that while the project provides renewable energy to the watershed association, it also has a great deal of educational value.
"We're seeing an increasing interest in various types of renewable energy all around the state," he adds. "Electricity generated from hydropower is definitely not new, but using mine water discharge as a power source is.
"This system, though quite small in terms of electrical generation capacity, will help people better understand this particular type of renewable energy. With the Morris Creek Watershed Association providing educational outreach programs, members of the local community and students and teachers, as well as other watershed groups, will get to see close up how hydropower in the right setting can provide a reliable power supply."
A total of $14,000 in federal and local funding was provided for the project, including $7,000 from the Appalachian Regional Commission and $7,000 in cash and in-kind funding from the Morris Creek Watershed Association. The association's match included engineering expertise and support from the West Virginia University Institute of Technology and Bridgemont Community and Technical College.
For more information about the project, contact Carico at 304-696-5456 or carico@marshall.edu. To schedule a site tour, contact Mike King of the Morris Creek Watershed Association at 304-442-4185 or mikewvoa@suddenlink.net.
---
Caption:  Mike King, left, and other members of the Morris Creek Watershed Association check out the pipes carrying mine drainage discharge to power a hydro generator recently installed in the watershed. The project is one of a series being conducted by Marshall University and the West Virginia Division of Energy to demonstrate renewable energy applications on former surface-mined properties. (Photo courtesy of Morris Creek Watershed Association.)
---
Contact:  George Carico, Director, West Virginia Brownfields Assistance Center at Marshall University, 304.696.5456, or Ginny Painter, Communications Director, Marshall University Research Corporation, 304.746.1964