Welcome to Testament: Recovering Identity after War
About the program
Testament is an innovative initiative that seamlessly merges the profound insights of humanities texts with conversations. Our mission is to create a robust network of testimony, fostering a space for veterans to heal, recover, and rediscover their identities after the ravages of war.
Based in the picturesque state of West Virginia, we are committed to making a lasting impact on the lives of those who have sacrificed so much.
Our Approach
Our program empowers veteran discussion leaders through a comprehensive preparatory program at Marshall University. These leaders then extend their expertise to facilitate engaging discussion groups both in the area and virtually. Together, we delve into humanities texts that explore historical military conflicts, fostering insightful dialogues and reflections.
Experience the vision
Discover the heart of our program through this insightful video, where we explore the profound impact of the Testament on the lives of those who have participated.
At Testament, we believe in the transformative power of narratives and the boundless possibilities of personal expression. Join us in this remarkable journey of recovery, discussion, and community.
For more information and inquiries, please get in touch with us at Testament@Marshall.edu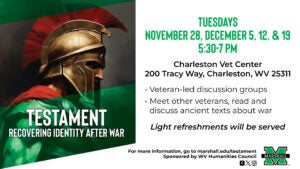 This project is presented with financial assistance from the West Virginia Humanities Council, a state affiliate of the National Endowment for the Humanities. Any views, findings, conclusions, or recommendations do not necessarily represent those of the West Virginia Humanities Council or the National Endowment for the Humanities.