Marshall University's Creative Writing Contest for AWP INTRO AWARDS Nominations
The Intro Journals Project is a literary competition for the discovery and publication of the best new works (in poetry, fiction, and creative nonfiction) by students currently enrolled in AWP member programs. Program directors are invited to nominate students' works for the national competition, and the winning submissions are showcased in participating literary journals, including Artful Dodge, Colorado Review, Hayden's Ferry Review, MidAmerican Review, Puerto del Sol, Quarterly West, and Tampa Review.
This is the second year Marshall has participated in the competition, a budding tradition in our Creative Writing program. The selected nominations are announced at the annual Faculty Reading in December, with the nominees' names added to a plaque on display in the English Department.
For more information on the contest guidelines, visit https://www.awpwriter.org/contests/intro_journals_project_overview.
2013 NOMINATIONS
Fiction
Wendi Kozma's short-story "The Declaration"
Creative Nonfiction
Whitney Naylor-Smith's essay "Cincinnati"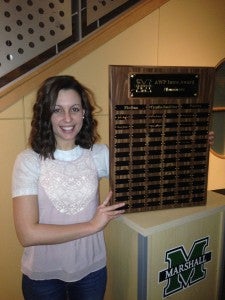 Poetry
Aaron Morris's poems "To a Very Tasty Sandwich"; "Why There Are No Toasters"; and "Mock Pastoral Stupor"