The 2023 Young Writers Day was held on May 5, 2023 to recognize the outstanding West Virginia writers from this year's contest. Students, teachers, and county coordinators gathered at the University of Charleston to participate in an awards ceremony and a variety of writing workshops!
HOMER HICKAM VISITS
Keynote Speaker and Author, Homer Hickam Visits West Virginia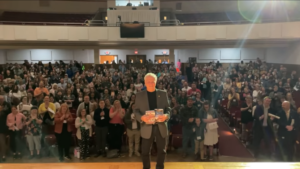 The Central West Virginia Writing Project, CWVWP, reached out to WV author Homer Hickam to be the keynote speaker of the 2023 Young Writers Day event. Thankfully partners from Marshall University, CWVWP, and the WVDE supported the costs for Homer Hickam's attendance of speaking to Marshall University on May 4 and Young Writer's award winners on May 5 at the University of Charleston.