Fall 2022 Student Workshops
The CWVWP designed and delivered three writing workshops this fall to help local districts prepare students for the Young Writers contest. They were held in Kanawha County in person. The CWVWP expanded this opportunity to experienced writing teachers,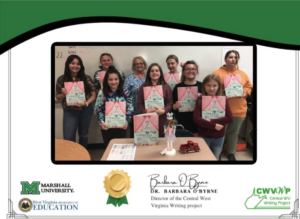 Dr. Susan Malinoski, Nancy Kline, and Ashely Greene,  to develop and deliver workshops to support this important initiative.
These workshops were developed around West Virginia published texts and potentially led to possible entries for Young Writers contest.
Susan Malinoski's workshop used "The Princess and the Pickup Truck" book and students were able to FaceTime with  Lottie Looney who is the illustrator of the text. 3rd, 4th, and 5th graders from Sacred Heart Grade School in Kanawha County attended the workshop.
Nancy Kline is an 8th grade ELA teacher. On November 15, 2022, a group of creative writers meet at Lenore
PreK-8 for a writer's workshop hosted by Marshall University, and facilitated by Lenore's middle
school ELA teacher, Mrs. Nancy Kline. Students from all schools were invited to participate in
the workshop. The mentor text used during the workshop was "The Princess and the Pickup
Truck" written by Bill Lepp; illustrated by Lottie Looney.  Mr. Lepp currently lives in Charleston,
WV and Mrs. Looney was an art teacher in Charleston; she currently lives in Colorado. All
student participants received a certificate of completion from Marshall University.
If this of interest to you in the future, please send all questions and communications about future student workshops to Dr. Donna Atwood, wallace74@marshall.edu. 
Here are a few photos from the workshops: