Laura Tracy Baisden Award for Exemplary Teaching of Writing
The West Virginia writing community lost a friend and advocate in 2018 with the untimely passing of Laura Tracy Baisden. During her two decades as a Logan County educator and member of the National Writing Project, Ms. Baisden touched countless lives with her generosity, compassion and dedication to the craft of writing. The Central WV Writing Project wishes to celebrate the life and work of Laura Tracy Baisden by establishing a memorial award that will recognize an exemplary teacher of writing within West Virginia. The award will be presented annually at West Virginia Young Writers Day,
Eligibility
Nominees must:
be teachers of writing in public and private schools in grade 1-12 in the state of West Virginia
have at least one year, full-time teaching experience.
Self-nominations will not be accepted. Teacher, administrators, and supervisors from grades 1-12 are invited to make a nomination by completing the online form found below. The deadline for nominations is December 7, 2020
Submission Materials
Nominees will be notified by December 11, 2020 and invited to submit documentation for this award.  Candidates who accept the nomination will submit documentation by January 29, 2021.
Submission materials include:
an original lesson plan for a writing assignment reflective of the values and practices of the candidate
2-3 artifacts of student work that capture elements of the lesson
a 300-500 word essay on the values and practices that inform the candidate's teaching of writing
Submit all materials in a single Word or PDF document.
Evaluation Process
A Selection Committee composed of teacher-leaders of the Central West Virginia Writing Project will evaluate the submissions and decide who will receive the Laura Tracy Baisden Award for Exemplary Teaching of Writing. The winner will be notified by email in early April 2021 and be recognized at Young Writers Day which is tentatively set for May 7, 2021.
Please direct questions to:
Dr. Barbara O'Byrne
Director, Central West Virginia Writing Project
Marshall University,
(304)746-1986
bobyrne@marshall.edu
The 2020 Recipient of the Laura Tracy Baisden Award for Exemplary Teaching of Writing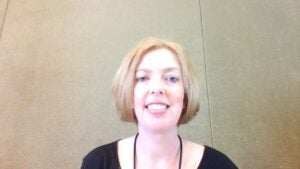 Stephanie Runion is a Title 1 teacher at North View Elementary in Harrison County, WV.  She has been teaching in WV since 2000 at elementary and middle school grade levels.
Stephanie is a National Board Certified teacher in Literacy/ Reading-Language Arts.  She achieved her initial certification in 2007, and renewed this certification in 2016.
Stephanie has been involved with the National Writing Project @ WVU since 2005.  She participated in the NWP@WVU Summer Institute and also served as its co-director for two summers.  She has been a member of the NWP@WVU Advisory Team since 2006.
In 2018, Stephanie was selected to participate in the George Washington Teacher Institute Fall Residential Program at Mount Vernon in VA.
Stephanie enjoys running, playing tennis, reading, writing, traveling, and spending time with her family and friends.
The 2019 Recipient of the Laura Tracy Baisden Award for Exemplary Teaching of Writing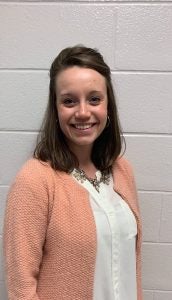 Kayla Yocum
Union Elementary School, Upshur County
As educators, we all dream to teach, inspire, and make a difference in the lives of children. Kayla Yocum, a native of Buckhannon, West Virginia, accomplishes this goal through her current teaching practices and life-long learning opportunities. Kayla is a first-generation college student and a 2014 graduate of West Virginia Wesleyan College, where she obtained her Masters of Education Degree as a Reading Specialist and a Bachelor of Arts Degree in Elementary Education. She currently teaches Second Grade at Union Elementary School in Upshur County, where she enjoys sharing her passion for teaching and learning with students, colleagues, and community members.
Within her classroom, Kayla strives to build a strong community that allows students to understand, appreciate, and respect each other's differences. As an exploratory art, writing provides the opportunity for one's true colors, emotions, experiences, imagination, and values to emerge. Kayla shares her values and encourages her students to find their voice as they identify values of their own and build on those they have acquired. She sparks students' interest in writing by allowing them to generate writing ideas, constructively write about their lives and experiences, learn cooperative structures, and listen to one another while expressing interest and appreciation for the writing of others. As students learn and grow together, they become more apt to freely express themselves through writing, where they may not feel comfortable to do otherwise. When asked about her values and practices of writing, Kayla stated, "The stories we share are the foundation of who we are and who we will become. One person can make a difference in the life of a child, and I follow through with my goal of educating, motivating, and encouraging the students who enter my classroom today, tomorrow, and the days to come."