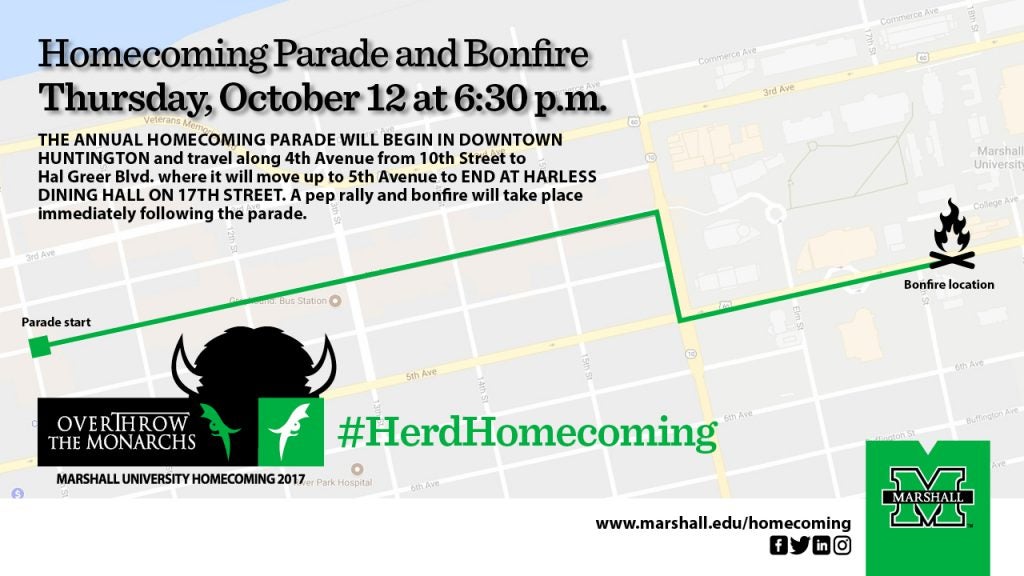 Homecoming parade and bonfire set for Thursday, Oct. 12
The Marshall University Student Government Association is once again organizing the annual Marshall University Homecoming Parade, which will be held on Thursday, Oct. 12.
This year, the parade will begin on Fourth Avenue at Tenth Street and travel east to Hal Greer Boulevard where it will move up to Fifth Avenue and continue east to 17th Street at Harless Dining Hall.
A bonfire and pep rally are once again scheduled to take place immediately following the parade on Harless Field (located between Harless Dining Hall and City National Bank).
"The parade line-up will begin at 5 p.m. and the actual parade will start at 6:30 p.m. on the corner of Tenth Street and Fourth Avenue," said Matt Jarvis, Student Government Association president. "We're currently expecting this to be our largest and most successful parade to date! We look forward to seeing all of our Sons and Daughters of Marshall next week as we celebrate that school we get to call home!"
The bonfire will begin immediately following the parade and will feature head football coach Doc Holliday, members of the 2017 Thundering Herd football team, the Marching Thunder, cheerleaders, dance team and everyone's favorite bison, Marco.
"Our entire Thundering Herd community rallies around Homecoming week at Marshall. There is a great run of fun-filled events such as the Unity Walk, the parade, bonfire, basketball's annual Rock the Rec event … capped off with what will be a tremendous football game with the Monarchs of Old Dominion. We are fired up to see all of the Herd faithful come out and support such a special week," said Aaron Goebbel, associate director of athletics.
Roy and Pam Tabb named 2017 Homecoming Grand Marshals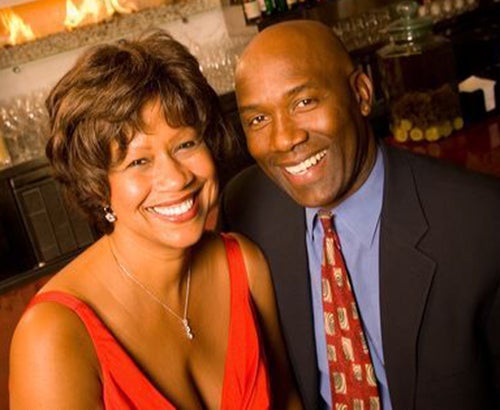 Marshall University alumni Roy and Pam Tabb, 1976 graduates of the university, will serve as co-grand marshals for the university's 2017 Homecoming events taking place Oct. 9-14.
Pam Galloway-Tabb is the Senior Vice President of Conferences and Special Services at the Freedom Forum/Newseum in Washington, D.C., while Roy Tabb is a Senior System Analyst for the District of Columbia Department of Human Services and a former member of the Young Thundering Herd.
Alongside the Newseum, Galloway-Tabb hosts the university's annual State of the University address each summer. She said both she and her husband were honored to be selected to lead this year's Homecoming festivities.
"It is a true honor. I know there are so many others that deserve this wonderful honor," Galloway-Tabb said. "I just want to thank Dr. Jerry Gilbert and the amazing Marshall University staff for giving us both this opportunity. This weekend is a great opportunity to connect with old friends and enjoy the fantastic events that surround Homecoming."
As part of the Homecoming festivities held on the Huntington campus each fall, the grand marshals have the special honor of leading the parade as it travels from downtown Huntington through the campus. The parade will take place at 6:30 p.m. Thursday, Oct. 12.
"We are so happy to welcome Roy and Pam back to Huntington to be a part of this year's Homecoming celebration," said Matt Hayes, executive director of alumni relations. "I have known the Tabb family for many years and they are exceptional ambassadors of our university. We are so excited for all of the great events and activities planned for Homecoming 2017 and I know it will only be enhanced with their involvement and support."