Thursday, March 7, 2013
---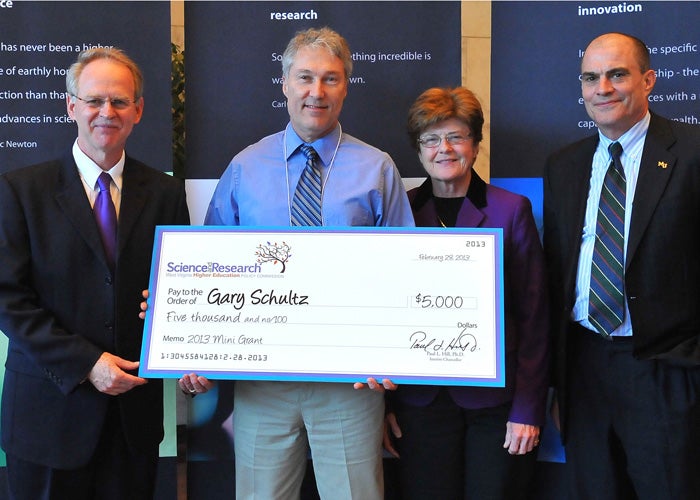 HUNTINGTON, W.Va. – Members of Marshall University's biology faculty have received two of six competitive grants recently awarded statewide by the West Virginia Higher Education Policy Commission.
The awards, worth $5,000 each, assist faculty members with the preparation of proposals for funding of research or research equipment. The proposals will be submitted to external funding agencies or foundations.
The Marshall faculty members who were awarded grants are Dr. Gary Schultz, assistant professor, and Dr. Wendy Trzyna, associate professor, both in the Department of Biological Sciences.
Faculty members are expected to prepare research proposals as part of their routine activities. These summer stipends are designed to provide uninterrupted work, allowing development of stronger, more-competitive proposals.
The awards were presented on Feb. 28 as part of the annual Undergraduate Research Day at the Capitol event.
The grants are made possible through the state's Research Challenge Fund, which is funded by a dedicated revenue stream from a small percentage of racetrack revenue.
Caption:  Dr. Gary Schultz, second from left, is one of two Marshall biology faculty members who recently received a $5,000 grant for research proposal preparation from the West Virginia Higher Education Policy Commission. He is shown here at the awards ceremony with, from left, Dr. Paul Hill, HEPC chancellor; Dr. Jan Taylor, director of the commission's Division of Science and Research; and Dr. John Maher, Marshall's vice president for research.
---
Contact:  Ginny Painter, Communications Director, Marshall University Research Corporation, 304.746.1964