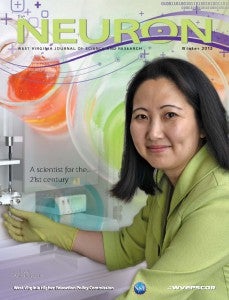 Dr. Bin Wang, Marshall assistant professor of chemistry, is featured on the cover of the winter 2013 issue of "The Neuron"—the state's journal of science and research.
This issue also includes Marshall-related articles about the successes of the Research Challenge Fund and Bucks for Brains programs, Dr. Laura McCunn's petroleum research and more!
Click here to download the publication from the website of the West Virginia Higher Education Policy Commission.