Tuesday, Nov. 5, 2013 
[social_share/]
---
HUNTINGTON, W.Va. – Dr. Zijian Xie, whose laboratory is internationally recognized for its groundbreaking work to understand the behavior of cellular pathways and their relationship to cancer, renal disease and cardiac failure, has been named the director of the Marshall Institute for Interdisciplinary Research.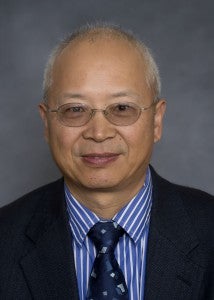 Xie comes to Marshall from the faculty of the University of Toledo's College of Medicine, where he was a professor of physiology, pharmacology and medicine, and served as the co-director of the M.D./Ph.D. program. He was chosen to lead MIIR through a national search.
"I am thrilled Dr. Xie has agreed to take on this vitally important leadership role at MIIR," said Marshall University President Stephen J. Kopp. "He is a brilliant scientist with a track record of patented discoveries and successful research collaborations with clinical scientists, including those at our own Joan C. Edwards School of Medicine. He has demonstrated the rare ability to bring together interdisciplinary teams and resources to address compelling research questions, while blending them with his considerable interpersonal skills to produce high-level results. These attributes make him the ideal person to take our institute to the next level."
MIIR was established five years ago as Marshall University's key vehicle to advancing regional economic development through entrepreneurship and commercialization of scientific discoveries. Scientists at the institute are developing a focused program of biotechnology research dedicated to producing patentable scientific breakthroughs and creating new businesses based on those discoveries.
In addition to conducting his own active research program at MIIR, Xie will be responsible for adding to the team of interdisciplinary researchers who comprise the core of the institute and for fostering collaborations with other scientists at Marshall.
"I was attracted to Marshall by MIIR's business orientation," said Xie. "I've been doing research for a long time and President Kopp's vision for the institute is compelling:  How do we really promote research from our labs and translate it into something tangible that will help people down the road? By all working together, I think we can build this institute and integrate research programs at Marshall into a much larger enterprise that will help improve human health, promote international exchange and stimulate economic development in the region."
A molecular biologist/pharmacologist, Xie has focused his research for nearly 30 years on an enzyme commonly referred to as the "sodium-potassium pump" because it controls the levels of potassium and sodium entering and exiting cells. This pumping process is vital to transporting essential nutrients like glucose and amino acids into cells and maintaining the electrical charge within cells, which is particularly important in controlling normal functions in nerves and muscles, as well as in the kidney and heart.
Xie's research shows that in addition to its critical pumping function, which was discovered by scientists in the 1950s, this "pump" plays a second, distinct role by directing a variety of cellular processes in the heart, kidneys and other tissues. Through their studies to learn more about the molecular mechanisms by which this cellular signaling occurs, Xie and his colleagues are working to develop new treatments for cancer, heart and kidney disease.
Xie holds international patents and patent applications on seven medical inventions resulting from his research. He has served as principal investigator, project leader or co-investigator on National Institutes of Health-funded projects totaling more than $10 million, and has established active international collaborations with total funding of more than $1 million. He has been involved with the creation of two spin-off companies from his research.
Marshall's Vice President for Research Dr. John M. Maher has been serving as MIIR's interim director since the institute's founding director Dr. Eric Kmiec left in August 2011. Maher said he is pleased at Xie's selection.
"Dr. Xie will be a wonderful addition to the Marshall research community," said Maher. "He embraces the entrepreneurial focus of MIIR. He brings to the institute significant external funding for his own research and understands the institute's commercial and economic development goals.
"In addition, his existing research partnerships with scientists at our medical school and elsewhere are testament to his commitment to conducting collaborative translational research, where laboratory discoveries are quickly moved to clinical trials and then to treatments for patients."
Maher added that there is a nice synergy between Xie's work and the research already in progress at MIIR.
"The research group at MIIR has been exploring the biomedical applications of nanofiber scaffolds. Their work has implications in the development of techniques to treat conditions like heart attacks, and for tendon repair and skin grafts, so there is a natural fit there, too," he said. "I look forward to watching the institute grow and prosper under his leadership."
Research in Xie's laboratory is currently supported through funding from the National Institutes of Health (NIH) and Youbo Pharmaceutical Co. Ltd. He is the author or co-author of more than 100 articles published in scientific journals, has authored a number of book chapters and has been invited to give numerous presentations as part of national and international conferences, symposia, seminars and visiting professorships. He serves as a regular member of NIH study sections and has chaired and co-organized several international symposia.
Xie earned a bachelor's degree from the Nanjing College of Pharmacy in Nanjing, China, in 1982. He went on to complete a master's degree in toxicology at the Chinese Academy of Medical Sciences in Beijing in 1984 and a doctorate in pharmacology at the Medical College of Ohio (now University of Toledo) in 1990. He was a post-doctoral fellow at the Medical College of Ohio from 1990-91 and joined the institution's faculty in 1991 as an instructor of pharmacology and therapeutics. He advanced steadily, becoming a research assistant professor in 1992, an assistant professor in 1996 and an associate professor in 2000. He was named full professor with tenure in 2005.
While at Toledo, he mentored dozens of graduate and post-doctoral students and assistant professors. More than 10 of his trainees have established independent laboratories in the U.S. and abroad.
Xie, who begins his new duties at MIIR this week, will have a joint appointment with Marshall's Joan C. Edwards School of Medicine.
About MIIR
Since its founding in 2008, MIIR has grown to include three researchers in addition to the new director, Dr. Zijian Xie.
Scientific activity at the institute has resulted in grants from federal, commercial and private sources, and four patents/patent applications/invention disclosures. Collaborations with private industry have resulted in sponsored projects with global pharmaceutical company Pfizer and major diagnostics company IDT. In addition, MIIR scientists are collaborating with other researchers at Marshall, including those working in the Center for Diagnostic Nanosystems and at the Joan C. Edwards School of Medicine.
The business plan for MIIR calls for the institute to be a self-sustaining enterprise supported by grants and a $36 million endowment created from public and private sources. An economic impact study by Marshall's Center for Business and Economic Research estimated that once the endowment is fully funded, MIIR will create thousands of new jobs and generate millions of dollars in tax revenues over 20 years.
The endowment, which currently stands at $6 million, has been funded through both private donations and matching state funds made possible by the "Bucks for Brains" West Virginia Research Trust Fund. Fundraising efforts to increase the endowment are ongoing.
At its current level, the MIIR endowment provides continuing support for two endowed scientists, one of whom—Dr. Jingwei Xie (no relation)—has been working at the institute since January 2011. Dr. Zijian Xie is the second endowed scientist.
For more information about MIIR, visit www.marshall.edu/miir.
---
Contact:  Ginny Painter, Communications Director, Marshall University Research Corporation, 304.746.1964